It's been 38 years since the World Health Organization declared smallpox to be eradicated, but there have been longstanding concerns that it could be used as a bioweapon. The variola virus, which causes smallpox, was primarily spread by direct contact between people. Initial symptoms included fever, exhaustion, headache and backache, and could ultimately lead to severe complications including encephalitis, corneal ulcerations and blindness.
SIGA Technologies SIGA received FDA approval for its lead product, TPOXX (tecovirimat), the first ever treatment for smallpox. The therapeutic was developed in conjunction with the US Department of Health and Human Services' Biomedical Advanced Research and Development Authority (BARDA). The FDA's Antimicrobial Drugs Advisory Committee had voted unanimously, 17 to 0, on May 1, 2018, that the benefits of TPOXX outweigh its risks, and the FDA followed the committee's recommendation last week with a relatively rapid approval—about three weeks ahead of the PDUFA action deadline.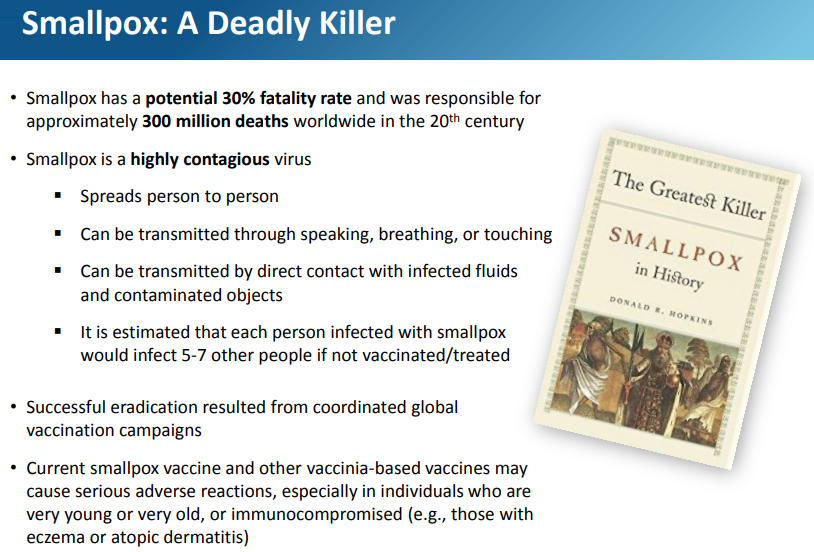 Source: SIGA Technologies presentation at Jefferies Global Healthcare Conference, June 8, 2018.
To address the risk of bioterrorism, Congress has taken steps to enable the development and approval of countermeasures to thwart pathogens that could be employed as weapons. Today's approval provides an important milestone in these efforts. This new treatment affords us an additional option should smallpox ever be used as a bioweapon. This is the first product to be awarded a Material Threat Medical Countermeasure priority review voucher. Today's action reflects the FDA's commitment to ensuring that the U.S. is prepared for any public health emergency with timely, safe and effective medical products.
– Scott Gottlieb, MD, FDA Commissioner
The priority review voucher is a significant win for SIGA, as it may be used to obtain an accelerated FDA review of a future SIGA product, or sold to a third party. It's the first such voucher awarded under the Material Threat Countermeasure program that was enacted by the 21st Century Cures Act. The act, which was signed into law in 2016, is designed to help accelerate medical product development and bring new innovations and advances to patients who need them faster and more efficiently.
In addition, the FDA approved a seven-year expiry for TPOXX. Under SIGA's existing contract, the company will ask BARDA to exercise an option for a $50 million payment to SIGA based on this extended shelf-life determination. (The exercise of this option is at the sole discretion of BARDA.) Additionally, SIGA is entitled to a $41 million hold back payment, provided that BARDA confirms that there is no difference between the approved product and the courses of TPOXX that have already been delivered to the Strategic National Stockpile (SNS).
The approval was based on data from 12 clinical trials of oral TPOXX in over 700 healthy human volunteers, which showed no drug-related serious adverse events. Four pivotal trials in non-human primates and two pivotal trials in rabbits demonstrated that TPOXX significantly reduced both mortality and viral load in thoseinfected with monkeypox virus and in rabbits infected with rabbitpox virus. The results of these studies were published in the July 5, 2018 issue of the New England Journal of Medicine.
TPOXX is proof that public-private partnerships work when the partners are committed to a focused mission… The approval validates this novel smallpox therapy as an important medical countermeasure in response to a potential smallpox outbreak.
– Phil Gomez, PhD, CEO, SIGA Technologies.
Please email us at [email protected] to see our Case Studies and Testimonials.
Please click here for information on our new trading platform.
Please click here to see our weekly newsletter.