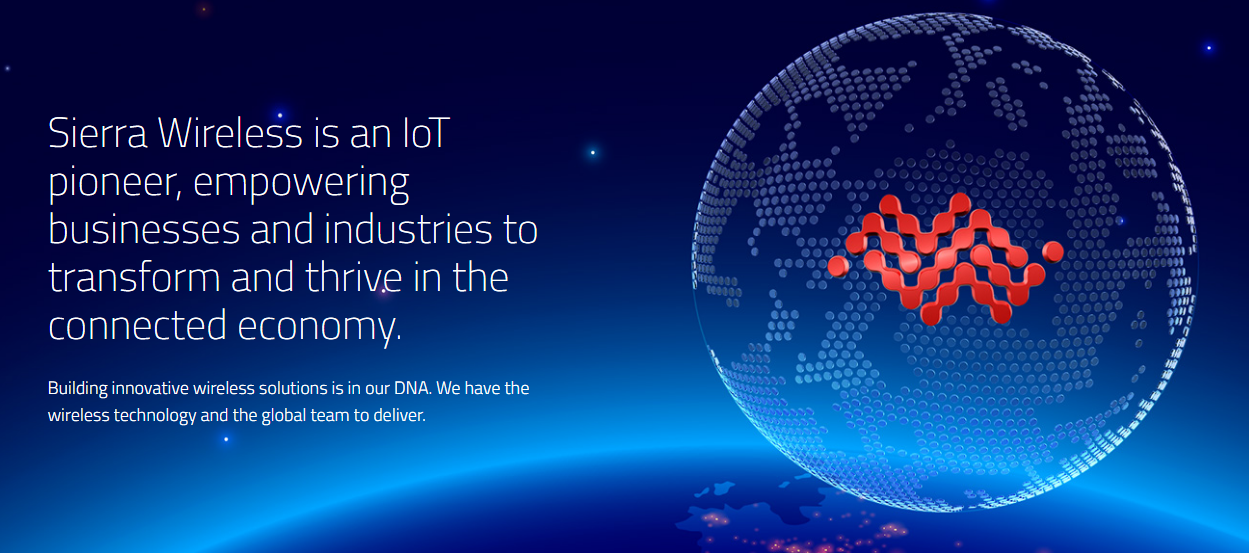 Sierra Wireless SWIR is a small Canadian business with a market capitalization is less than $500 million that is nonetheless a strong player in the emerging Internet of Things (IoT) industry.
The company makes a variety of modules and gateways that customers can use to connect their devices to the cloud. Sierra's low margins have made it difficult for the company to turn a profit, but they have zero debt, plenty of cash, and have survived two recessions over their operating history, so they retain a surprising amount of resiliency.
It's a stock I'm keeping my eye on because it has been the worst-performer in my portfolio over the past six months. When a stock performs worse than expected, it's important to answer the question: is it a value trap that should be cut loose, or is at an opportunity to double-down and buy at a low valuation?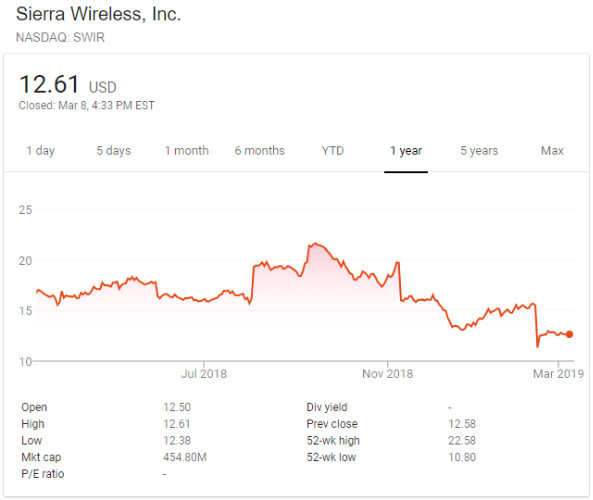 Image Source: Google Finance
The stock had a big drop in February when the company reported Q4 2018 results, despite the fact that the actual results for the full year were great: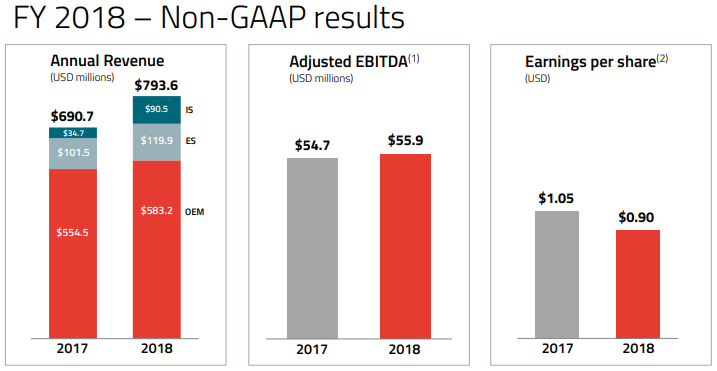 Image Source: Sierra Wireless 2018 Q4 Results Presentation
Revenue and EBITDA were up, and the company grew its cash balance from $67 million to $89 million despite lackluster bottom-line profits. The company has zero debt as well, Cash makes up 20% of the company's market capitalization.
What spooked investors was the 2019 guidance. Sierra has a new CEO as of November 2018, Kent Thexton, who reported that the company expects revenue to be flat for 2019, in contrast to its strong growth in 2018. Anticipated adjusted EBITDA and EPS are also lackluster.
But is there a silver lining? Many of the world's best investors prefer to be contrarian and buy in places where others aren't interested. The catch is, you have to be right for the strategy to work out.
The Challenge and Opportunity of Sierra Wireless
The Internet of Things is clearly coming, but it remains to be seen precisely how long it will take and who the major winners will be. Sierra Wireless is certainly a contender as well as a possible takeover target.
The benefit of connected devices is that an overall system composed of them, whether it is a manufacturing facility, electrical grid, pipeline system, vehicle fleet, or set of consumer devices, becomes more adaptable, programmable, able to be monitored, and able to be tied into big data and machine learning.
American Tower Corp (AMT) and their various research sources expect the number of connected IoT devices to quadruple over the next five years:
Image Source: American Tower Introduction Presentation 2018
Sierra's main challenge is figuring out how to make a profit from that growth. The company's OEM modules give very low margins, while their more expensive enterprise gateways are more profitable but make up a smaller portion of the business.
The big catalyst for Sierra Wireless is its growing recurring revenue. In addition to making the hardware modules, Sierra Wireless now also provides a cloud platform for vendors to connect with their devices and manage applications. This presents a higher-margin recurring software revenue stream, which is much more attractive than irregular low-margin hardware sales. And this service revenue nearly tripled from $34 million in 2018 to $90 million in 2018.
Mr. Thexton announced during the earnings call that he is restructuring the company and the sales incentives to focus on building this recurring revenue. The previous management team focused on hardware sales, while the new team is shifting toward building out that sticky base of recurring revenue.
Overall, I'm cautiously optimistic on the company's ability to build out this platform and turn a profit. The company's debt-free balance sheet with plenty of cash gives it ample flexibility, and the management team seems focused on the right goals.
It's a risky stock to be sure, but a promising one, and may be able to enhance expected portfolio returns when included as a small position.