​Shrugging Off Netflix. The Bear Could Be Resuming Soon
MoneyShow Follow |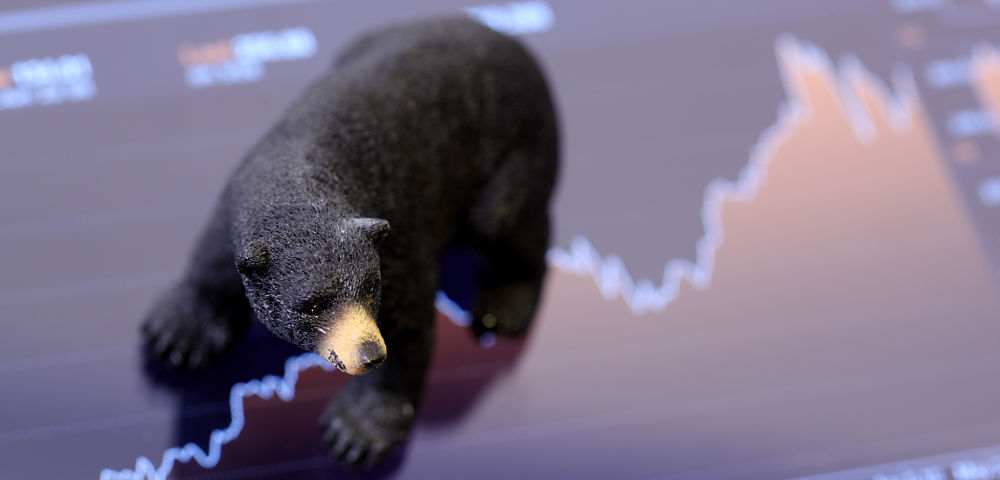 The 610-day window from the February 2016 bottom came and went without an obvious top. Let's be clear it was never a prediction as this is a game of risk management, writes Jeff Greenblatt Wednesday.

The Dow did top at the 610 window from its August 2015 bottom and since that time we've seen nagging divergences compared to technology. It's been a tale of two markets, we don't need to rehash it today.
In terms of sentiment I always go back to the late, great Mark Haines who called the 2009 bottom to within an hour right on the air. How was he able to do that? As markets got close, the swings were wild, up and down hundreds in short order.
There was a major bounce in the Dow (DJI) which hit for hundreds of points which was wiped out quickly. After weeks of brutal action, the stock market finally reached a point where it felt like it was going down and never coming back. That's when Haines made his call.
Shortly thereafter sanity resumed, and the market started going up and we've never looked back.
What does that have to do with us right now? Contrary to what some people think, markets only have major turns when something lines up. Markets will either respect an important Fibonacci timing date or will line up in a square out or vibration most are not aware of.
Certain specific conditions according to the time element of technical analysis must manifest to get a turn. We are in one of those periods this week. My job has never been to make predictions, but simply tell you when the cycle point could mature.
When Netflix (NFLX) had the poor earnings report the other night right in the window, it looked like a turn could be at hand. However, we know the next morning much of the market recovered.
This is important because we are starting to get a certain feeling about the market like what Mark Haines experienced back in 2009. The only difference here is this is likely of lesser degree. The 2009 bottom was a generational bottom.
The only thing we appear to be contending for right now is a market high. But the principle is the same. A market in a time window starts to finally roll over after weeks and months of false highs, then we get another one and it recovers. Does it feel like the stock market is going up and staying up forever? I could show you the CBOE S&P Volatility Index (VIX) but you already know it's been near historic lows for months on end.
That's why it feels like we are at a major inflection point. When markets feel like they are going up forever that's when they usually turn.
But they don't have to turn, do they? Some of us learned that lesson in the late 90s and then again in 2006. For now, it also feels like the intraday action is still too strong to rollover. I've seen several instances Wednesday morning where the YM could've dropped because the readings were there yet the reaction was either small or it just kept going. That will happen in a bullish environment.
But putting all that aside, NFLX gave bears the hip check while bulls overcame a poor housing start number Wednesday morning. CNBC said housing starts plunged 12% to a nine-month low to a seasonally adjusted annual rate of 1.173 million units last month when 1.32 million was expected.
Concerning the housing market, the bond market recently put in a high where in Fibonacci terms the C leg up ins 61% of the range in terms of price and has drifted off that high. This is a common relationship in bear market rallies.
Wednesday was the first day it looked like the bear could be resuming. If that turns out to be the case, it won't be long before we wake up to a day where the Dow is down 400 on what the media will call interest rate fears.
But for right now, this time window is getting long in the tooth and if doesn't start rolling over very soon.
Soon could mean tomorrow, it's starting to look like another leg up.
Subscribe to Lucas Wave International newsletter here
This article was originally published by MoneyShow.com: Founded in 1981, MoneyShow is a privately held financial media company headquartered in Sarasota, Florida. As a global network of investing and trading education, MoneyShow presents an extensive agenda of live and online events that attract over 75,000 investors, traders and financial advisors around the world.
DISCLOSURE: The views and opinions expressed in this article are those of the authors, and do not represent the views of equities.com. Readers should not consider statements made by the author as formal recommendations and should consult their financial advisor before making any investment decisions. To read our full disclosure, please go to: http://www.equities.com/disclaimer
Companies