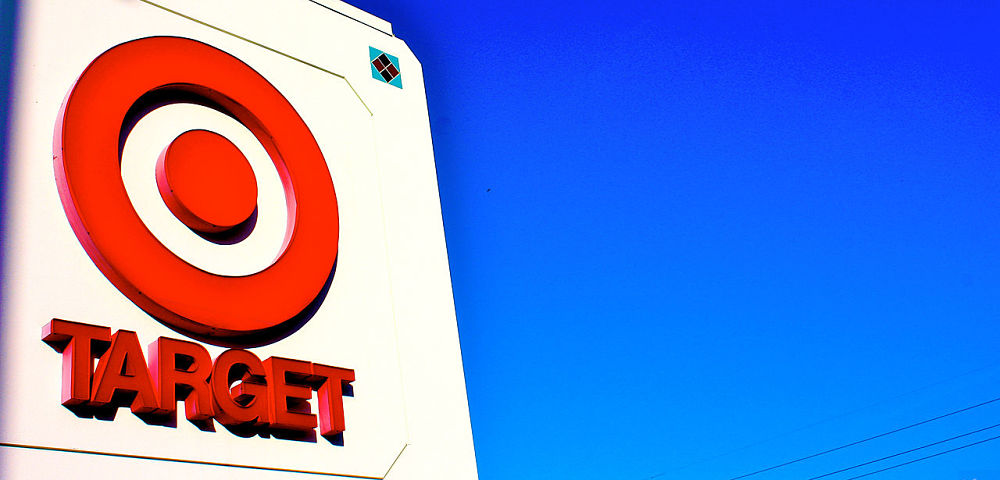 Image via Marcus Quigmire/Wikimedia
Target (TGT) and American Eagle Outfitters (AEO) both fell after reporting their latest quarterly earnings. Value investing expert Chris Quigley, contributing editor to The Prudent Speculator, remains bullish on both retailing names.
Target saw its shares fall more than 6% last week as investors digested the general merchandise discount store chain's latest quarterly financial release that included a softer outlook than some were expecting. For the previous quarter, TGT reported adjusted earnings per share of $1.37, in line with consensus analyst estimates.
Revenue for the three months came in at $22.77 billion, versus forecasts that were calling for $22.52 billion. We liked that the company realized 3.6% same store sales growth. While online sales growth dipped to 29% in the quarter, Target enjoyed digital sales growth of 34% during the full year.
For Q1, Target said it expects a low-single digit increase in comparable sales, and adjusted EPS of $1.25 to $1.45. For full-year 2018, Target expects a low-single digit increase in comparable sales and both GAAP EPS from continuing operations and adjusted EPS of $5.15 to $5.45.
The retailer returned $591 million to shareholders in the quarter via share repurchases and dividends, and that figure reached $2.4 billion for full-year 2017. Target still has $3.7 billion remaining on its currently authorized share repurchase program.
While we expect there to be no shortage of competitive headwinds in the coming year, we think that Target's strong balance sheet and large investments in its multichannel sales network should help solidify its foundation for the future. TGT shares trade for 13.4 times forward earnings and offer a dividend yield of 3.5%. Our target price now stands at $85.
Shares of American Eagle Outfitters fell more than 9% March 8 after reporting Q4 results following the close on March 7 that were largely in line with expectations.
While some were not impressed with the apparel retailer's results nor its outlook, we thought AEO turned in a solid quarter and are constructive on the actions that have been taking to improve operations and the overall direction the firm is heading. Needless to say, we were pleased to see shares bounce back almost 5% March 9.
The company said that as a result of its solid free cash flow generation, strong cash position and the benefits gained from recent tax law changes, it raised its quarterly dividend 10%, to $0.1375 per share, pushing the yield to 2.8%.
While the retail environment continues to rapidly change and fashion trends are always very fickle, we continue to like that the AEO balance sheet carries no long-term debt (though there are lease obligations) and that its investment in its online sales presence is paying off.
We continue to believe that the company is doing the right things to drive traffic and remain popular and relevant with younger consumers, always a tough demographic. AEO currently trades for less than 14 times forward earnings estimates and we have inched up our target price to $23.

Chris Quigley is contributing editor at The Prudent Speculator.

Subscribe to The Prudent Speculator here…

About MoneyShow.com: Founded in 1981, MoneyShow is a privately held financial media company headquartered in Sarasota, Florida. As a global network of investing and trading education, MoneyShow presents an extensive agenda of live and online events that attract over 75,000 investors, traders and financial advisors around the world.