Thrombocytopenia is the most common blood-related abnormality in patients with chronic liver disease (CLD), occurring in 64%–84% of patients with cirrhosis or fibrosis, according to a broadly cited 2016 study by Drs. Mitchell, Feldman and Diakow at NYU Medical School and Dr. Sigal at Albert Einstein College of Medicine. Patients with thrombocytopenia produce a lower amount of platelets than that which is required to form blood clots normally. Thrombocytopenia is not only an indicator of advanced disease, but is also associated with a poorer patient prognosis, frequently preventing patients from receiving critical therapeutic or diagnostic procedures, resulting in delayed or cancelled curative treatment.
According to a study of resource utilization and costs associated with thrombocytopenia in CLD by Dr. Fred Poordad, Chief Medical Officer at the Texas Liver Institute and Professor of Medicine at the University of Texas Health Science Center in San Antonio, which encompassed 56,445 patients with CLD, those patients with thrombocytopenia (compared to CLD patients without thrombocytopenia):
Had > 2.5x the annual number of liver disease-related ambulatory visits
Were 13x more likely to have a liver-related inpatient stay
Were nearly 4x more likely to have a liver-related emergency room visit
Had 3.5x greater mean annual overall medical care costs
Had 7x greater annual liver disease-related medical care costs

Shionogi SGIOY announced today that it received FDA approval for Mulpleta (lusutrombopag), its oral thrombopoietin (the hormone that regulates platelet production) receptor agonist for the treatment of thrombocytopenia in adults with CLD who are scheduled to undergo a procedure. Mulpleta was approved under the FDA's Priority Review program, which shortens the process by four months vs the standard review protocol. Mulpleta was approved in Japan three years ago for the improvement of thrombocytopenia associated with CLD in patients undergoing an elective invasive procedure, and Shionogi anticipates approval by The European Medicines Agency the first half of 2019.
We are very pleased the FDA has approved Mulpleta as a new, safe and effective treatment. This new therapy offers physicians and patients another choice beyond platelet transfusions as adult patients with CLD often undergo procedures that could put them at increased risk for bleeding.
– Takayuki Yoshioka, President and CEO, Shionogi.
The FDA approval was based on consistent safety and efficacy data from two Phase 3 clinical trials. In the first trial, 38 of 49 (78%) of patients receiving Mulpleta required no platelet transfusion prior to the primary invasive procedure, compared with 6 of 48 (13%) on placebo. In the second trial, 70 of 108 (65%) patients who received Mulpleta required no platelet transfusion prior to the primary invasive procedure or rescue therapy for bleeding from randomization through 7 days after the procedure, compared with 31 of 107 (29%) on placebo.
Therapeutic options in this area are critically needed, as adult patients with chronic liver disease often require multiple procedures for various medical reasons. I look forward to being able to offer this new oral treatment to patients, instead of relying solely on platelet transfusion.
– Dr. Nezam Afdhal, Senior Physician in Hepatology at Beth Israel Deaconess Medical Center and Professor of Medicine at Harvard Medical School.
While Shionogi may not be a household name among US-based investors, the company is among the largest pharmaceutical companies in Japan. There is an ADR that trades on the Pink Open Market of OTC Markets, but the real liquidity is found in Japan, where the stock (code 4507) trades on the 1st Section of the Tokyo Stock Exchange and is a component of the bellweather Nikkei 225 Index.
We once again salute the FDA for prioritizing the review of critically needed therapeutic medications. According to Shionogi, Mulpleta will be available in the US beginning September 2018.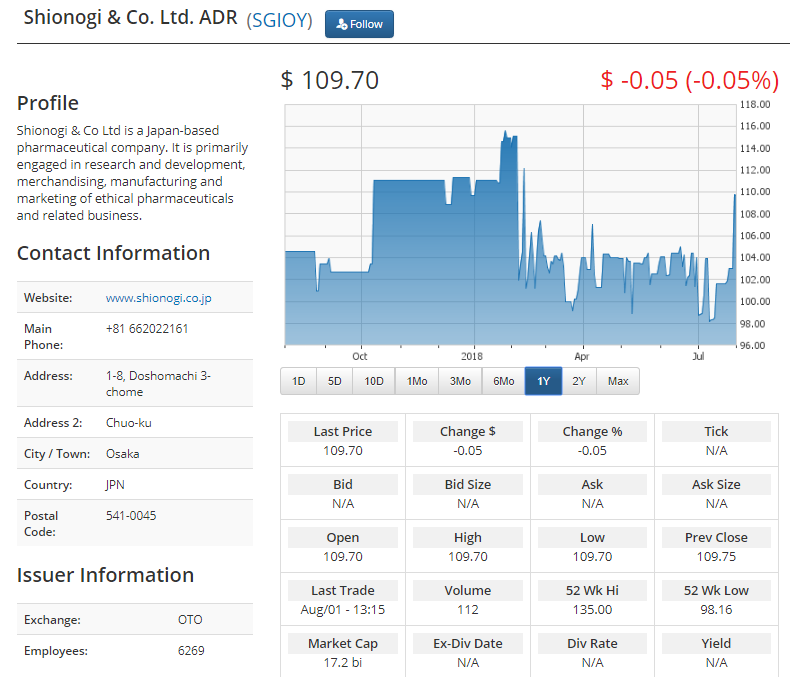 Please email us at [email protected] to see our Case Studies and Testimonials.
Please click here for information on our new trading platform.
Please click here to see our weekly newsletter.