18.6 million people were involved in direct selling in the US in 2017, generating $34.9 billion in retail sales, according to the Direct Selling Association's "2018 Growth & Outlook Report: U.S. Direct Selling in 2017." Wellness products are the largest segment in direct selling, accounting for nearly 34% of all sales, followed by services at 22%. While the industry is led by well known names such as Amway and Avon, it remains highly fragmented with about 20,000 establishments in the US, according to Dun & Bradstreet, with the top 50 companies doing about 40% of total sales. New companies are arising constantly to meet the demand of entrepreneurial individuals seeking supplemental income or increased flexibility, while leveraging technology to develop new channels of communication and sales.
In between the madness of Black Friday and Cyber Monday shopping, this past Saturday was Small Business Saturday. The National Retail Federation estimates that 67 million Americans made purchases on Saturday, and 78% of those surveyed, planned to do so in support of entrepreneurs and small businesses.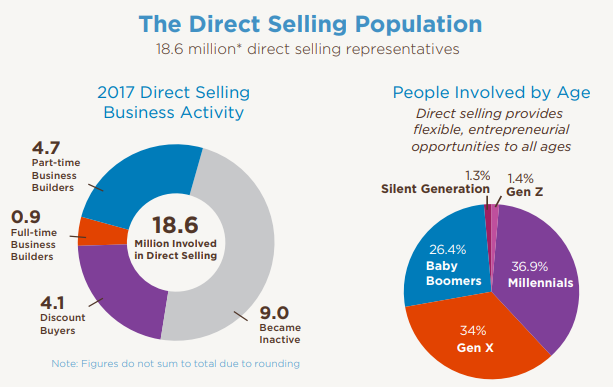 Source: Direct Selling Association
Sharing Services
We've been following a company called Sharing Services SHRV, a recent entrant to the industry that has experienced rapid growth in less than a year of full operations as a direct seller. In May 2017, the company transitioned from operating its legacy taxi sharing application into a travel services and management company using a direct selling model. Since then, Sharing Services has expanded via multiple acquisitions to create a diversified holding company that owns, operates or controls between 20% and 100% of a variety of companies that directly sell to consumers through independent representatives. Products and services include health and wellness, energy, technology, insurance, training, media and travel benefits.
Rapid growth from diversified direct selling model
While most direct selling companies focus on one product, Sharing Services' business model is designed to add management, buying power, merchant processing, manufacturing and administrative services to multiple direct selling companies in order to achieve efficiency and growth that would not be achievable by these companies operating as stand alone businesses. Sharing Services achieved its first revenue under this new business model in its 2018 fiscal Q3, ended January 2018, and the rapid revenue growth to nearly $13 million in 2019 fiscal Q1, ended July 2018, has already resulted in a modest quarterly operating profit. Though results have not yet been released for the company's fiscal Q2 ended October 2018, Sharing Services did announce record monthly sales for August 2018 of $5.8 million. At that pace, the company's Q2 would exceed Q1 by a significant margin.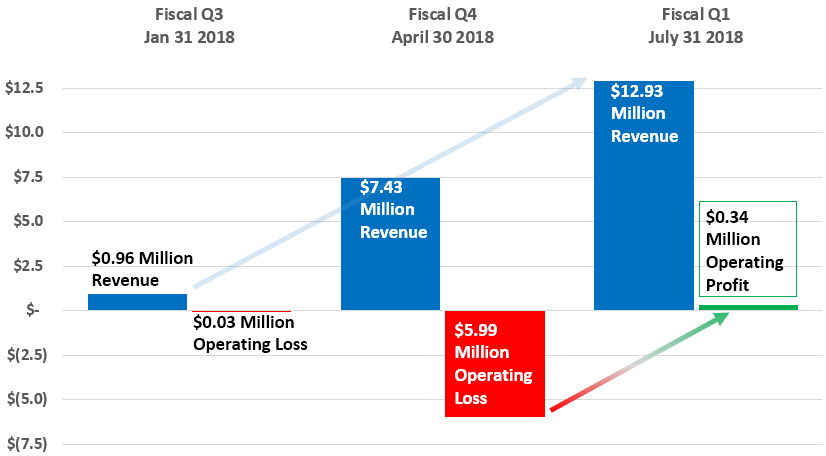 Source: Data from Sharing Services Form 10-K and 10-Q filings. Chart by Equities.com.
In December 2017, Sharing Services launched a wholly-owned subsidiary called Elepreneurs, a portmanteau of "Elevated" and "Entrepreneur." This sales and marketing company has over 10,000 independent representatives and markets all of the company's different products and services. Among the leading product lines of Elepreneurs are health and wellness products called Elevate, containing the company's proprietary formulations of dopamine, oxytocin, serotonin and endorphins—naturally occurring neurotransmitters that are linked to happiness. The Elevate product line is developed and owned by another of Sharing Services' wholly-owned subsidiaries called Elevacity Global.
We are very pleased with our increased sales as we continue to grow the company. I have to give the majority of the credit to our amazing Elepreneurs and their hard work. We continue to add great talent to an extremely talented executive management team to support this incredible growth and look forward to closing out 2018 with record sales.

– John "JT" Thatch, CEO, Sharing Services.
Expansion into Canada
Yesterday, the Sharing Services announced that Elevacity Global will launch its health and wellness line in the provinces of Ontario and British Columbia, Canada, in December 2018. The company is currently awaiting approvals for enrollment opportunities in all other Canadian provinces.
We have placed a concentrated effort to complete the regulatory process in Canada over the past several months and are excited to start processing orders and quickly fulfill consumer demand in those provinces. We appreciate everyone's patience while we continue to take the proper steps necessary from a legal and compliance standpoint for the other provinces.

– John "JT" Thatch, CEO, Sharing Services.
Issues to consider
Sharing Services is traded on the OTCQB Venture Market, the OTC Market's middle tier. Market capitalization stands at about $20 million, but the thinly traded stock is subject to sharp price swings. SHRV flirted with $0.60 in March 2018, and is currently changing hands at $0.30. Average daily volume for the past three months has been less than 13,000 shares.
Clearly, this is a speculative investment for investors who can tolerate volatility with a long term view, but we are encouraged by the revenue growth in what is clearly a highly fragmented market. With the top 50 US direct sellers accounting for 40% of the market, that leaves a very large chunk of $35 billion up for grabs. There is a clear opportunity for a company like Sharing Services to capture a meaningful portion of this market, and investors should keep close watch to see if management can manage growth effectively, particularly as the company embarks on its new path in reaching international consumers.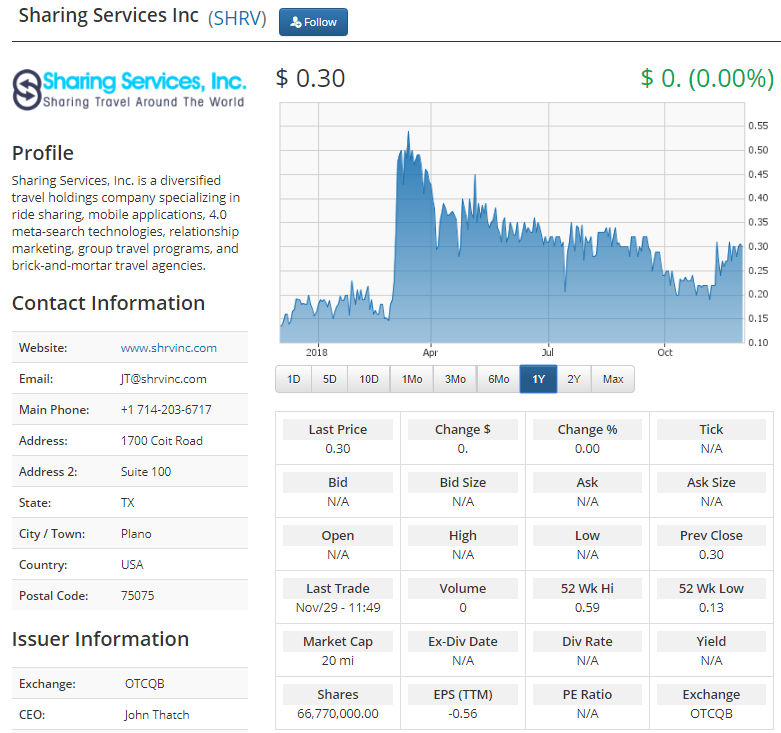 Please email us at [email protected] to see our Case Studies and Testimonials.
Please click here for information on our new trading platform.
Please click here to receive our free daily newsletter.