Skin cancers are by far the most common types of cancer, with about 5.4 million new cases of basal cell and squamous cell carcinomas (non-melanoma) diagnosed each year in the US, according to the American Cancer Society. The diagnosis and treatment of non-melanoma skin cancers in the US increased by 77% percent between 1994 and 2014, according to the Skin Cancer Foundation, though this number is likely to be a low estimate as these non-melanoma cases are not required to be reported to cancer registries.
Basal cell carcinomas account for about 80% of all skin cancers, and squamous cell carcinomas make up about 18.5%. About 90% of these cases are associated with exposure to the sun's ultraviolet radiation, and nearly 8% of cases are associated with exposure to indoor UV tanning beds. The annual cost of treating skin cancers in the US is about $8.1 billion, with about $4.8 billion attributed to non-melanoma cases. Traditional treatment for basal cell and squamous cell carcinomas has involved invasive cutting through healthy tissue, painful healing, lengthy recovery and unsightly scarring.
Nearly 18 million people worldwide, the vast majority of whom are people of color, are affected by keloids, abnormal scars characterized by excessive scar tissue formation. Keloids are chronic, non-malignant tumors that form at the site of skin trauma. The standard surgical removal of keloids is followed by recurrence of the tumors 90% of the time.
Source: Sensus Healthcare.

Boca Raton, Florida, based Sensus Healthcare SRTS announced today that it received FDA approval for its next-generation SRT-100+ image-guided low energy photon x-ray superficial radiation therapy system, offering a non-invasive alternative to surgery for non-melanoma skin cancers and keloids. The system delivers a precise dose of low energy radiation that only goes skin deep, effectively destroying basal cell carcinomas, squamous cell carcinomas and the non-malignant tumor cells that cause keloids. The process does not involve cutting, bleeding or stitching, and there is no anesthesia, risk of infection or scarring or need for plastic surgery.
We have integrated both clinical and patient feedback to bring to life exciting new elements with the SRT-100+—from live lesion and patient cameras for monitoring during treatment to best-in-class system enhancements for better patient setup and comfort. The sophisticated operation of the SRT-100+ also offers significant benefits to doctors specifically, as it will be integrated with practices' information technology and management / electronic medical records (EMR), as well as provide vital data backup and logging. This represents the technology of the future when it comes to treating NMSC and keloids safely and effectively.
– Kal Fishman, Chief Technology Officer, Sensus Healthcare.
Next-generation superficial radiation therapy
The SRT-100+ offers all of the same features of the previous generation instrument with these enhancements:
An expanded energy range for customized, more precise treatment
Remote diagnostics, including operation tracking
New X-ray tube with extended functionality and performance
Advanced console and enhanced system mobility to optimize clinical practice
The SRT-100+ is truly the next step forward for Sensus' transformative products that have treated more than 400,000 skin cancer and keloids patients all around the world.
– Joe Sardano, CEO, Sensus Healthcare.
"Innovator of the Year"
In July 2018, CEO Joe Sardano was named non-physician, nonsurgical "Innovator of the Year" at the 2018 Aesthetic Awards, hosted by The Aesthetic Channel, a media resource for cosmetic doctors. Sensus Healthcare was also named a runner-up for "Company Nonsurgical Innovator of the Year."
Q2 results conference call today
The company will hold a conference call today, Thursday, August 2, 2018, at 4:30 pm ET to discuss the financial results for the second quarter and provide a business update and a discussion on recent and upcoming milestones.
Dial-in numbers:
855-940-9473 (US toll free)
855-669-9657 (Canada toll free)
412-317-5220 (International)
Public since 2016
Sensus went public in June 2016 with little fanfare, raising $12.65 million in gross proceeds via Northland Capital Markets and Neidiger, Tucker, Bruner at a post-IPO market cap of about $68 million. (The unit offering was priced at $5.50 per unit, with $5.25 attributable to each share of common stock and $0.25 attributable to each three-year warrant, exerciseable at $6.75.) The company generated $22.2 million in revenue during the 12 months ended March 31, 2018, and we await Q2 numbers today.
While the company obviously doesn't have the high profile of developmental biotherapeutics companies, there is also the comfortable absence of binary event risks. We like what we've seen so far from Sensus, a company that posted 66% gross margins in Q1 and whose financial performance should improve with the introduction of its next-generation superficial radiation therapy system. At current levels, the stock carries a market capitalization of less than $100 million and may be viewed as a value play worth watching in the medical device sector.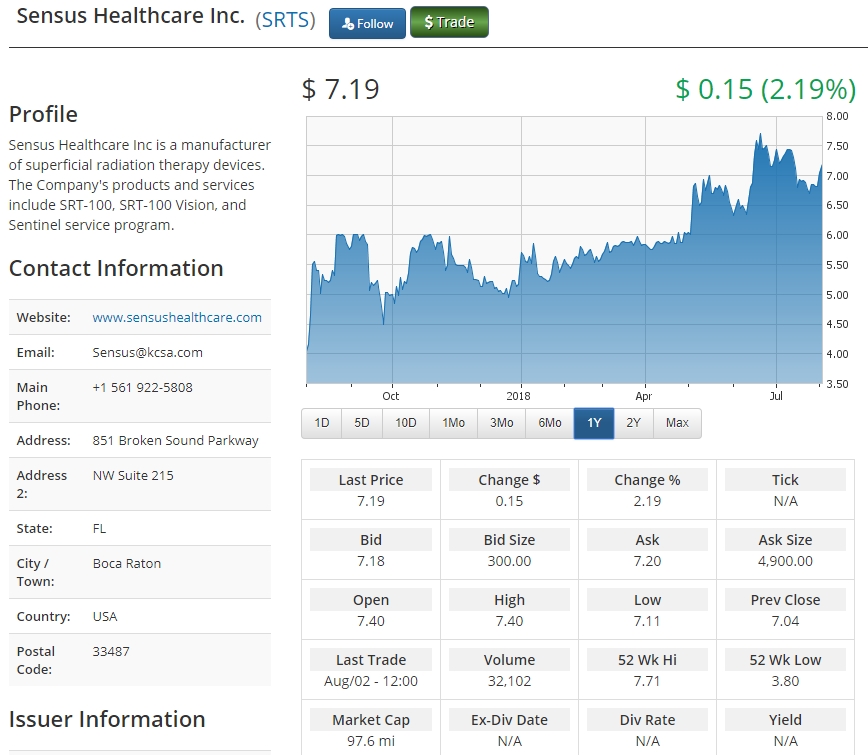 Please email us at [email protected] to see our Case Studies and Testimonials.
Please click here for information on our new trading platform.
Please click here to see our weekly newsletter.