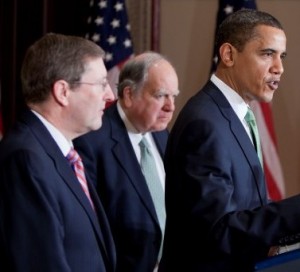 Right now, it's all about raising the debt limit. If Congress opts for default, all Hell breaks loose, and that's why odds favor it won't happen.
The bipartisan "Gang of Six" senators has developed the foundation for meaningful solutions for the nation's escalating national debt going forward.
Expect Congress to raise the debt ceiling long enough to accommodate its finalization which will take months, but it does take default off the table.
Brooksie's Daily Stock Market blog: An edge before the market opens.
Thursday, July 21, 2011 9:22 am EDT
DJIA: 12,571.91
S&P500: 1325.84
Nasdaq Comp.: 2814.23
Russell 2000: 832.37
The stock market has been relatively upbeat in recent days, even in face of the dire warnings in the press about the consequences of default.
The Street is telling us NOT TO WORRY. The public opinion polls are telling us not to worry, that Americans are against default, ergo anyone who opts to enable it.
There is only one thing I feel a little uncomfortable with here. The Street better be right, because stock prices are not discounting default in the least, giving it a "zero" possibility – i.e., no room for error.
Don't be surprised if at some point it looks like default CAN'T be avoided between now and August 2.
I'd feel more comfortable if the market was down sharply as fear mounts.
Other negatives/uncertainties:
What happened to the slump in the economy everyone was worrying about ?
Well, economic reports have been more upbeat than expected, which suggests fears of a slump may be unfounded.
But, what about European sovereign debt problems ?
While that picture changes directions every day, odds favor a solution of sorts.
Bottom line: These negatives can vanish quickly and lead to a huge surge in stock prices.
Recent Headlines :
"Is the Fix In" ? (June 16 – DJIA: 11,897)
"Quadruple Witching Friday –Buying Open Risky" (June 17 DJIA 11,961)
"Ugly ! Nevertheless, the Outlook Can Change Quickly" (June 20 – DJIA 12,004)
"No Time For Napping" – (June 21 DJIA: 12,080)
"No Hope in Sight ? Don't Bet on IT ! Prepare for Opportunity" - (June 22, DJIA: 12,190)
"Countdown to Opportunity – Start Preparing !" - (June 23 DJIA 12,109)
" BIG Money Nibbling – Stocks Beginning to Look Attractive – Negatives can Vanish" (June 24 DJIA:
12.050)
"Institutions Showing Interest – Not Reaching Yet" (June 27 DJIA: 11,934)
"Will Q2 Earnings Reports and Congressional Action on Debt Ceiling" (June 28 DJIA 12,043)
" Don't Buy News on Greek Vote – Spike to Be Short-Lived" (June 29 DJIA: 12,188)
"Again: Debt Ceiling Approval and Q2 Earnings Catalysts" (June 30 DJIA: 12,261)
"Enjoy the Fourth ! Prepare for Fireworks in Weeks Following" (July 1 DJIA: 12,414)
"Did Someone Blink ?" (July 5 DJIA 12,582)
"A Pause is Needed Here to Digest Recent Gains, Q2 Earnings Ready to Take Center Stage" (July 6
DJIA 12,569
"Whoa !" (July 8, DJIA: 12,719.49)
"July Could Be a Pivotal Month" (July 11, 2011, DJIA: 12,657
"Watch This One Closely – Very Closely" (July 12, 2011 – DJIA: 12,505)
"Default is Un-American" ( July 14, 2011 – DJIA: 12,491.11 )
"Breakthrough This Weekend ? – a Risky Bet ( July 15 – DJIA:12,479)
"Has the Stock Market Discounted Default ? (July 18, 2011- DJIA: 12,479 )
"Alert – Decision on Debt Ceiling May Come Before August 2" (July 19 – DJIA:12,385)
"3:35pm BULLETIN – Breakthrough on Debt Ceiling Imminent" (July 19, DJIA 12,586)
"Showdown ! American Public Says 'NO' to Default" (July 20 – DJIA: 12,587)
George Brooks
sensiblesleuth@gmail.com
…………………………………………………………………………………………………………
The writer of Brooksie's Daily Stock Market blog, George Brooks, is not registered as an investment advisor. Ideas expressed herein are the opinions of the writer, are for informational purposes, and are not to serve as the sole basis for any investment decision. Readers are expected to assume full responsibility for conducting their own research pursuant to investment decisions in keeping with their tolerance for risk
DISCLOSURE: The views and opinions expressed in this article are those of the authors, and do not represent the views of equities.com. Readers should not consider statements made by the author as formal recommendations and should consult their financial advisor before making any investment decisions. To read our full disclosure, please go to: http://www.equities.com/disclaimer