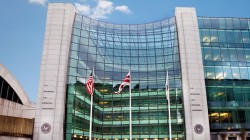 One offshore crowdfunding site has been censured and fined by the SEC for allegedly not verifying accredited investor status in regard to three U.S. investors. Cayman Islandsbased Eureeca Capital SPC's website had no mechanism to screen offering information from unaccredited investors, according to a settlement with the Commission. And while the website did contain language stating that U.S. citizens could not use its services, the site allowed individuals to identify themselves as U.S. citizens in a registration process, and the company actually obtained copies of U.S. passports from the three investors.
The settlement states that two of the U.S. investors were allowed to self-identify as accredited, while the subject did not arise with the third. The main consequence for Eureeca is a $25,000 civil fine. (The three investors invested a total of $20,000.) Conceivably, the consequences could have been worse, such as a criminal prosecution carried out in conjunction with the Department of Justice.
Given the mix of regulatory issues – both citizenship and accreditation – and the small amount of capital involved, the situation does not provide a clear indication of how far regulators will go in dealing with future accreditation problems. But one thing is clear: the SEC is watching portals closely, whether they are in the U.S. or offshore.
Editor's Note: Changing Accredited Investor Definitions is an excerpt from Dealflow.com's whitepaper,
ONLINE DEAL MARKETING OUTLOOK FOR Q1 2015 Investors and Issuers Chafe as Regulators Dally; States Offer New Alternatives; General Solicitation under Surveillance
. For more information, visit
Dealflow.com
.
DISCLOSURE: The views and opinions expressed in this article are those of the authors, and do not represent the views of equities.com. Readers should not consider statements made by the author as formal recommendations and should consult their financial advisor before making any investment decisions. To read our full disclosure, please go to: http://www.equities.com/disclaimer