We discussed the merits of Cascadian Therapeutics (Nasdaq: CASC) and its therapeutic program targeting late stage breast cancer in this space in July 2017 when CASC was trading below $4.25. The price action in CASC over the past couple of weeks was pointing to a deal in the works, and the company announced today that it had agreed to be acquired by Seattle Genetics (Nasdaq: SGEN) for $10.00 per share in cash, or approximately $614 million.
Cascadian's most advanced program is in tucatinib, an oral tyrosine kinase inhibitor that is highly selective for HER2, the Human Epidermal growth factor Receptor 2 protein. In about one of every five breast cancer patients, the cancer cells have a gene mutation that makes an excess of the HER2 protein, according to the Mayo Clinic. HER2-positive breast cancers tend to be more aggressive than other types of breast cancer and are less likely to be sensitive to hormone therapy.
HER2 is overexpressed in multiple cancers, including breast, colorectal, ovarian and gastric, and tucatinib is currently being evaluated in a randomized global pivotal trial for patients with HER2-positive metastatic breast cancer, including patients with or without brain metastases. Tucatinib has been evaluated as a single agent and in combination with both chemotherapy and other HER2-directed agents including Herceptin (trastuzumab) and Kadcyla (trastuzumab emtansine).
Cascadian Therapeutics' pipeline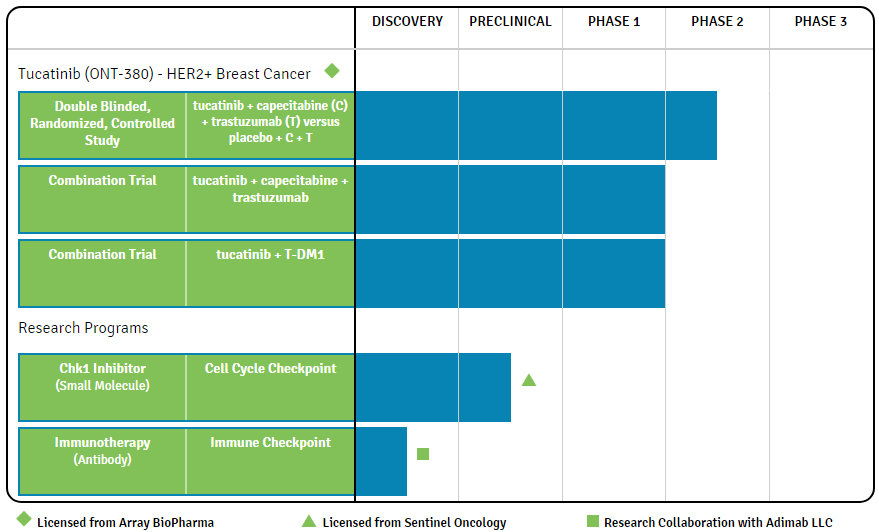 Source: Cascadian Therapeutics
Other companies pursuing tyrosine kinase inhibitors
Tucatinib works by inhibiting tyrosine kinase, an important mediator of the cell signaling cascade, determining key roles in diverse biological processes like growth, differentiation, metabolism and apoptosis in response to external and internal stimuli. If you missed the boat on Cascadian, there are numerous other companies pursuing tyrosine kinase inhibitors in their respective pipelines, including:
Please email us at [email protected] to see our Case Studies and Testimonials.
Please click here if you would like information on our new trading platform.
Please click here if you would like to see our weekly newsletter.