Peripheral T-cell lymphoma (PTCL) is a relatively uncommon but aggressive type of non-Hodgkin lymphoma that develops in mature white blood cells called T-cells and natural killer (NK) cells. The affected cells often spread quickly throughout the body and become hard to treat. The standard of care has been multiagent chemotherapy, but "that treatment has not significantly changed in decades and is too often unsuccessful in leading to long-term remissions, underscoring the need for new treatments," according to Steven Horwitz, MD, Department of Medicine, Lymphoma Service, Memorial Sloan Kettering Cancer Center.
Seattle Genetics SGEN announced today that it has received a new expanded approval from the FDA for Adcetris (brentuximab vedotin) in combination with "CHP" chemotherapy (cyclophosphamide, doxorubicin and prednisone) for adults with previously untreated systemic anaplastic large cell lymphoma (sALCL) or other CD30-expressing peripheral T-cell lymphomas (PTCL), including angioimmunoblastic T-cell lymphoma and PTCL not otherwise specified. Adcetris is a monoclonal antibody that binds to the CD30 protein found on some cancer cells. This is the first FDA approval for treatment of newly diagnosed PTCL, and the sixth FDA-approved indication for Adcetris. Seattle Genetics has generated net sales of $428 million from Adcetris in the trailing 12 months ended Sept. 30, 2018.
The approval was based on the results of Seattle Genetics' Phase 3 "ECHELON-2" clinical trial that compared Adcetris + CHP favorably vs CHOP [CHP + vincristine (Oncovin)]. The Adcetris + CHP combination demonstrated a 29% reduction in the risk of progression, death, or receipt of subsequent anticancer chemotherapy to treat residual or progressive disease.
The ECHELON-2 clinical trial demonstrated ADCETRIS plus CHP was superior to the current standard of care, CHOP [CHP + Oncovin (vincristine)], for both progression-free survival and all other key secondary endpoints, including, most importantly, overall survival. With this approval, clinicians have the opportunity to transform the way newly diagnosed CD30-expressing PTCL patients are treated.

– Steven Horwitz, MD, Department of Medicine, Lymphoma Service, Memorial Sloan Kettering Cancer Center.
The FDA had previously granted Breakthrough Therapy designation and Priority Review to this supplemental application for Adcetris and, most importantly, reviewed it under its Real-Time Oncology Review Pilot Program, which led to approval less than two weeks after submission of the complete application.
The Real-Time Oncology Review (RTOR) program allows the FDA to access key data prior to the official submission of the application allowing the review team to begin their review earlier and communicate with the sponsor prior to the application's actual submission. When the sponsor submits the completed application, the review team will already be familiar with the data and be able to conduct a more efficient, timely and thorough review. RTOR allowed the FDA to approve this indication within two weeks of the completed application's submission.

– Richard Pazdur, MD, director of the FDA's Oncology Center of Excellence and acting director of the Office of Hematology and Oncology Products.
The data from the Phase 3 ECHELON-2 study will be presented at the American Society of Hematology (ASH) 2018 Annual Meeting, on Monday, December 3, 2018, at 6:15 pm PT at the San Diego Convention Center.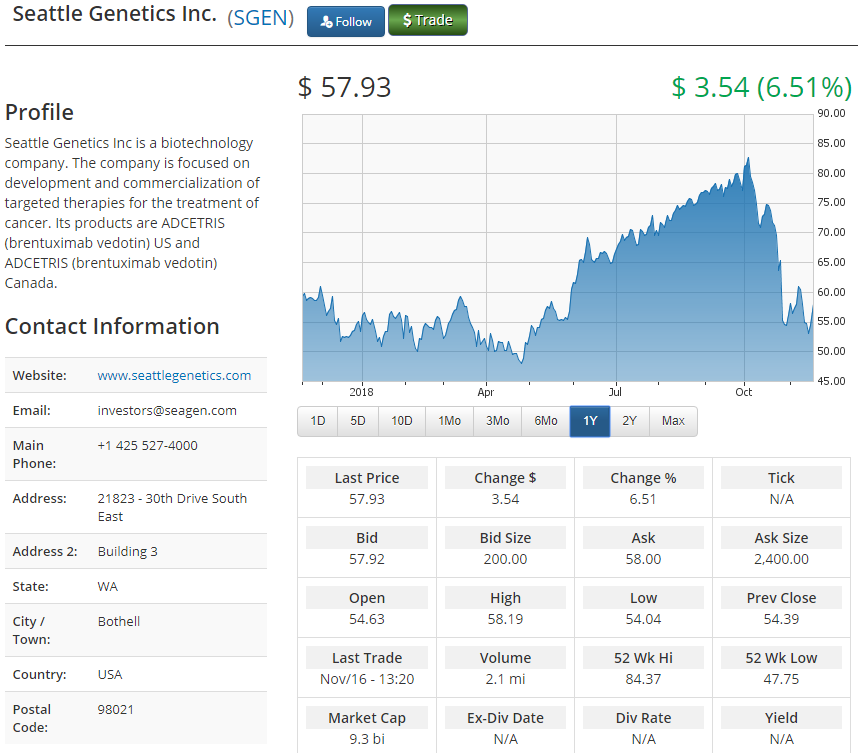 Please email us at [email protected] to see our Case Studies and Testimonials.
Please click here for information on our new trading platform.
Please click here to receive our free daily newsletter.