In conjunction with its 2017 year-end update, Sangamo Therapeutics (Nasdaq: SGMO) today announced a collaboration with Kite, a Gilead Sciences (Nasdaq: GILD) company, to use Sangamo's zinc finger nuclease (ZFN) technology platform for the development of next-generation ex vivo cell therapies in oncology.
Under the terms of the agreement, Sangamo will receive an upfront payment of $150 million and is eligible to receive up to $3.01 billion in potential payments, aggregated across 10 or more products utilizing Sangamo's technology, based on the achievement of certain research, development, regulatory and successful commercialization milestones. Sangamo would also receive tiered royalties on sales of potential future products resulting from the collaboration. Kite will be responsible for all development, manufacturing and commercialization of products under the collaboration, and will be responsible for agreed upon expenses incurred by Sangamo.
Sangamo's proprietary technology is based on naturally occurring zinc finger DNA-binding proteins (ZFPs) which recognize and bind to specific sequences of DNA. A nuclease (enzyme capable of cutting DNA) can be bound to a ZFP to make a zinc finger nuclease (ZFN). When a pair of ZFNs binds to DNA target sites, in the correct orientation and spacing, that DNA sequence is cut between them. This break in the DNA triggers a natural process of DNA repair in the cell, which can be harnessed to achieve one of several outcomes that may be therapeutically useful.
Kite will use Sangamo's ZFN technology to modify genes to develop next-generation cell therapies for autologous and allogeneic use in treating different cancers. Allogeneic cell therapies from healthy donor cells or from renewable stem cells would provide a potential treatment option that can be accessed directly within the oncology infusion center, thus reducing the time to infusion for patients.
We highlighted Sangamo's ZFN technology in this space in November 2017, and we continue to be impressed with the company's strategic approach of balancing external collaborations with its internal developmental expertise in gene therapy, genome editing, cell therapy and gene regulation.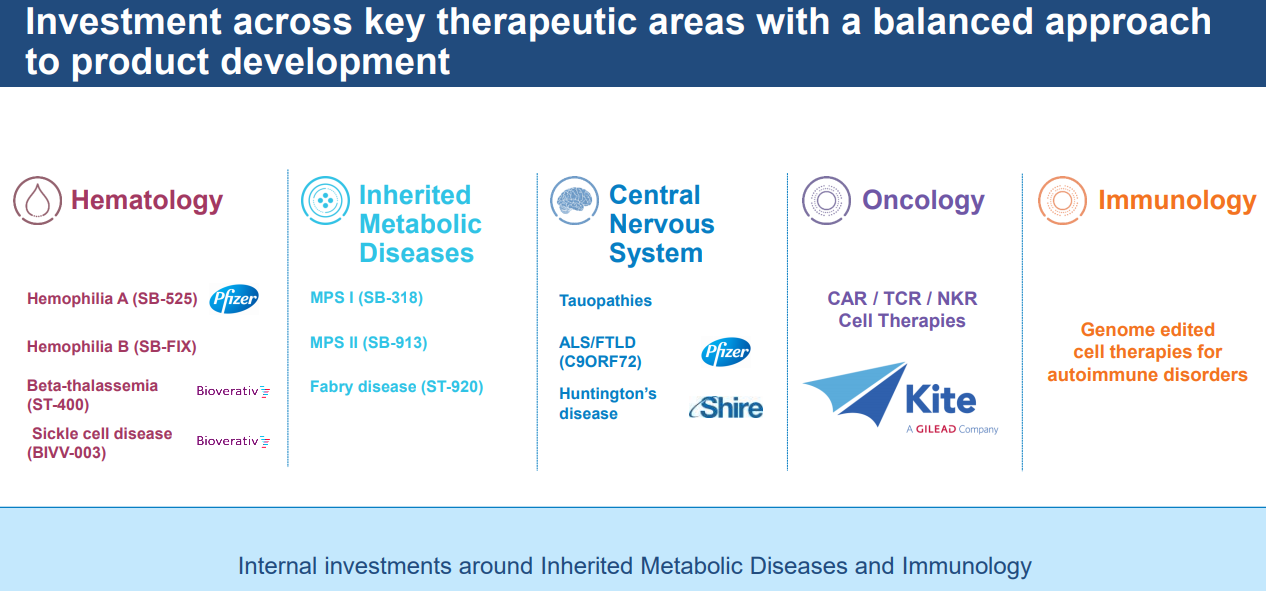 Source: Sangamo Therapeutics presentation, Feb. 22, 2018
This collaboration between Kite and Sangamo brings together two leading platforms to develop best-in-class cell therapies in oncology. We are excited by Kite's commitment to driving innovation in this field and look forward to working together to realize the full promise of cell therapy in treating cancer.
– Sandy Macrae, President and Chief Executive Officer, Sangamo Therapeutics
The emergence of gene editing as a tool to edit immune cells holds promise in the development of therapies with potentially improved safety, efficacy and efficiency. We believe Sangamo's zinc finger nucleases provide the optimal gene editing platform, and we look forward to working with Sangamo to accelerate our efforts to develop next-generation autologous cell therapies, as well as allogeneic treatments that can be accessed more conveniently in the hospital setting for people living with cancer.
– John F. Milligan, PhD, President and Chief Executive Officer, Gilead Sciences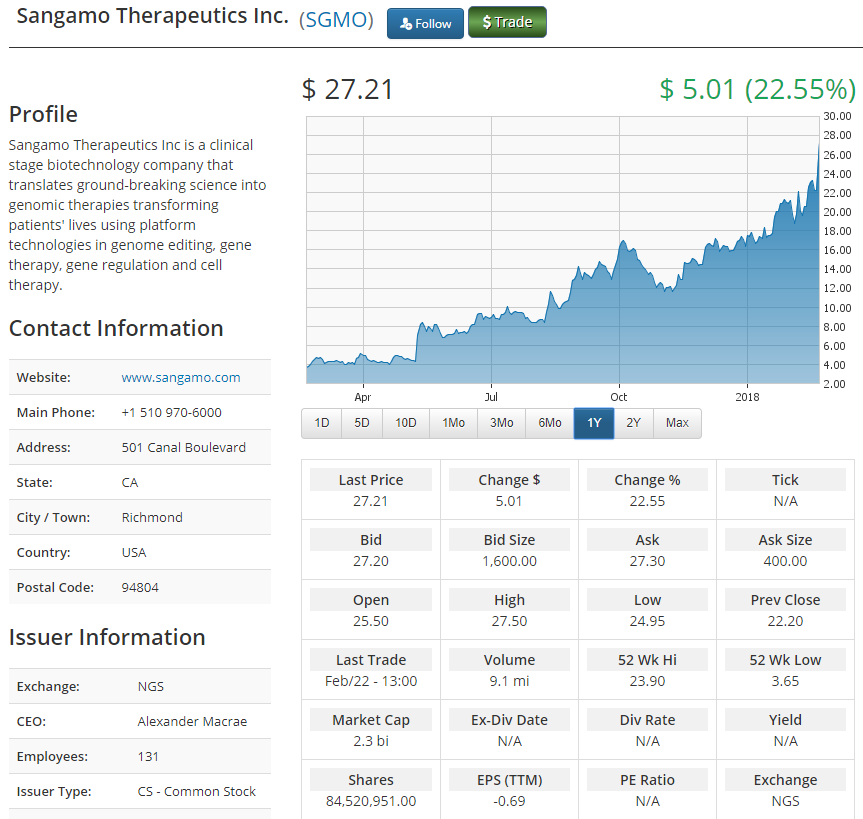 Please email us at [email protected] to see our Case Studies and Testimonials.
Please click here for information on our new trading platform.