S&P 500: Short-term Update
Simon Maierhofer Follow |

Almost two weeks ago we warned of a mini crash or panic selling with S&P 500 down side targets at 2,675 and 2,587. After falling as low as 2,604 the S&P bounce strongly. Is the bottom in, and how far can this bounce go? Here is a short-term forecast.

This is a short-term S&P 500 update. A longer-term S&P 500 update is available here.

The October 21 Profit Radar Report warned that: "The chart constellation suggests the potential for a mini crash are elevated. The ideal (down side) target for wave c is 2,675 or 2,587. Waves c are called crash waves, so a couple of strong down days are quite possible."

Starting on October 24, we expected the ending diagonal pattern (converging purple lines) to play out. Below are the S&P ending diagonal charts published in the October 24, 28 and 29 Profit Radar Reports.

Barron's rates iSPYETF as "trader with a good track record" and Investor's Business Daily says: "When Simon says, the market listens." Find out why Barron's and IBD endorse Simon Maierhofer's Profit Radar Report.

The October 28 Profit Radar Report stated that: "The S&P continues to respect the diagonal boundaries, so we respect the diagonal pattern. On Friday trade briefly dropped below the lower boundary (small blue circle), as it usually does at the end of the pattern. Another drop into the 2,600 range (big blue oval) is still possible, and would actually be preferred for a potential short-term buy signal. A sustained move above diagonal resistance (2,705 on Monday morning) would be an initial indication that a low could be in."


If you enjoy quality, hand-crafted research, >> Sign up for the FREE iSPYETF Newsletter
The S&P 500 should now be in its way towards the up side target discussed in the longer-term S&P 500 update last week. Although unexpected, a drop below last week's low could unleash another crash.
Continued updates are available via the Profit Radar Report.
Simon Maierhofer is the founder of iSPYETF and the publisher of the Profit Radar Report. Barron's rated iSPYETF as a "trader with a good track record" (click here for Barron's profile of the Profit Radar Report). The Profit Radar Report presents complex market analysis (S&P 500, Dow Jones, gold, silver, euro and bonds) in an easy format. Technical analysis, sentiment indicators, seasonal patterns and common sense are all wrapped up into two or more easy-to-read weekly updates. All Profit Radar Report recommendations resulted in a 59.51% net gain in 2013, 17.59% in 2014, 24.52% in 2015, 52.26% in 2016, and 23.39% in 2017.
Follow Simon on Twitter @ iSPYETF or sign up for the FREE iSPYETF Newsletter to get actionable ETF trade ideas delivered for free.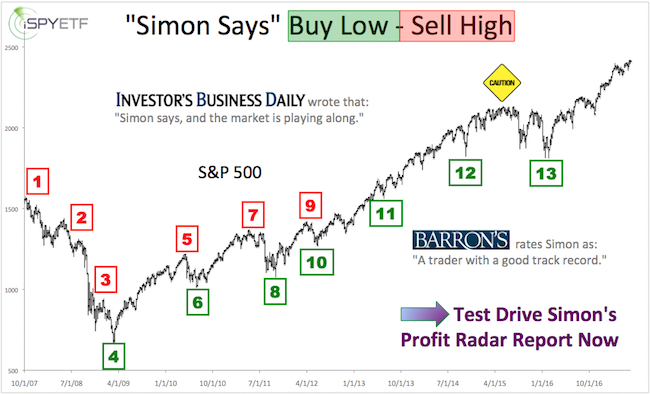 If you enjoy quality, hand-crafted research, >> Sign up for the FREE iSPYETF Newsletter
Read more at https://www.ispyetf.com/view_article.php?slug=S&...
DISCLOSURE: The views and opinions expressed in this article are those of the authors, and do not represent the views of equities.com. Readers should not consider statements made by the author as formal recommendations and should consult their financial advisor before making any investment decisions. To read our full disclosure, please go to: http://www.equities.com/disclaimer