Our preferred outlook called for a S&P 500 rally towards 2,900, followed by the next leg lower. The S&P, however, only rallied to the minimum target (2,812) and reversed rather violently. Does this mean the next leg lower is under way?
This is a short-term S&P 500 outlook. A longer-term S&P 500 outlook is available here.
Below is a close-up look at the long-term forward projection in the October 21 Profit Radar Report and here. The original projection (in yellow) is drawn on a daily chart (instead of weekly) to show more short-term detail.
Barron's rates iSPYETF as "trader with a good track record" and Investor's Business Daily says: "When Simon says, the market listens." Find out why Barron's and IBD endorse Simon Maierhofer's Profit Radar Report.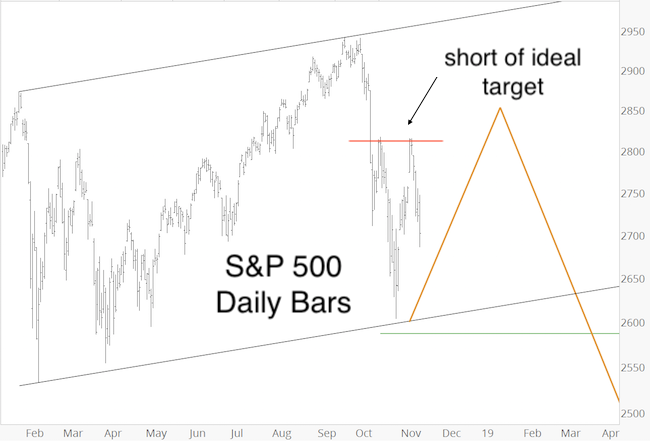 As expected, the S&P rallied from 2,600. Although this rally met the minimum requirement (61.8% Fibonacci retracement at 2,812), it fell short of the ideal target at 2,830 – 2,850 (or higher).
When price fails the reach the ideal target (in this case 2,830 – 2,850+) at the first attempt, it often reserves the right to do so on a second attempt. On the other hand, the decline from the November 7 low has the 'right look' for the projected decline.
If you enjoy quality, hand-crafted research, >> Sign up for the FREE iSPYETF e-Newsletter
Up or Down?

The second chart shows some additional support/resistance levels. At yesterday's low, the S&P closed the open chart gap at 2,685, which also coincided with the 61.8% Fibonacci retracement level.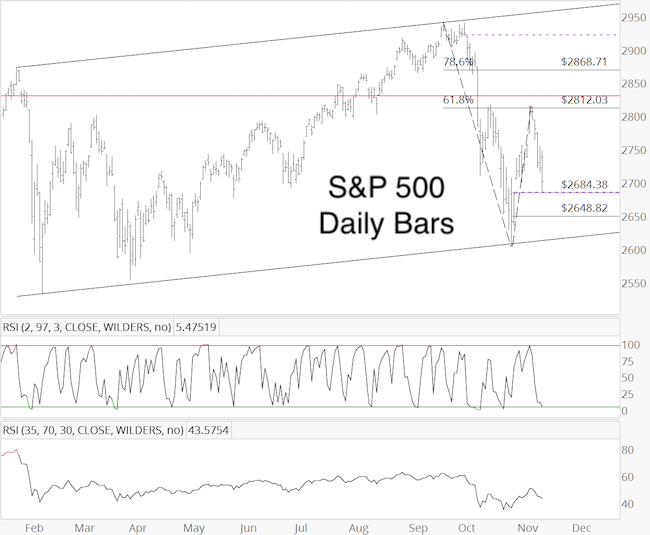 It's tough to pick a key level inside a multi-week trading range, and the S&P could trace out a variety of complex unpredictable patterns. For now though, we may be able to keep things simple by using the 2,685 level.
As long as the S&P stays above 2,685 (or quickly recovers after another brief wave 5 dip below), it may still move higher to reach the ideal up side target (2,830 – 2,850+). A move above yesterday's high (2,747) is needed to further increase the odds of continued gains.
Continued updates are available via the Profit Radar Report.
Simon Maierhofer is the founder of iSPYETF and the publisher of the Profit Radar Report. Barron's rated iSPYETF as a "trader with a good track record" (click here for Barron's evaluation of the Profit Radar Report). The Profit Radar Report presents complex market analysis (S&P 500, Dow Jones, gold, silver, euro and bonds) in an easy format. Technical analysis, sentiment indicators, seasonal patterns and common sense are all wrapped up into two or more easy-to-read weekly updates. All Profit Radar Report recommendations resulted in a 59.51% net gain in 2013, 17.59% in 2014, 24.52% in 2015, 52.26% in 2016, and 23.39% in 2017.
Follow Simon on Twitter @ iSPYETF or sign up for the FREE iSPYETF e-Newsletter to get actionable ETF trade ideas delivered for free.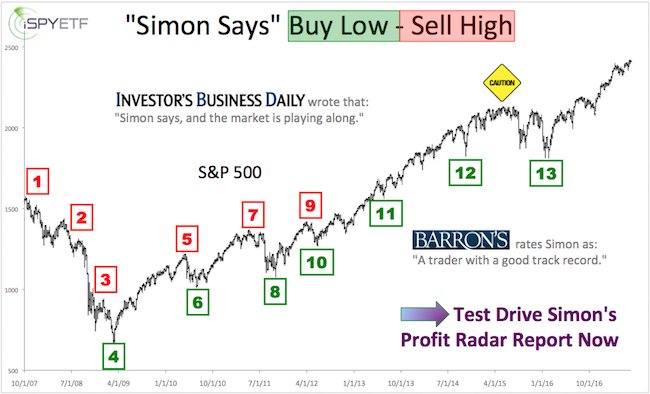 If you enjoy quality, hand-crafted research, >> Sign up for the FREE iSPYETF e-Newsletter
Read more at https://www.ispyetf.com/