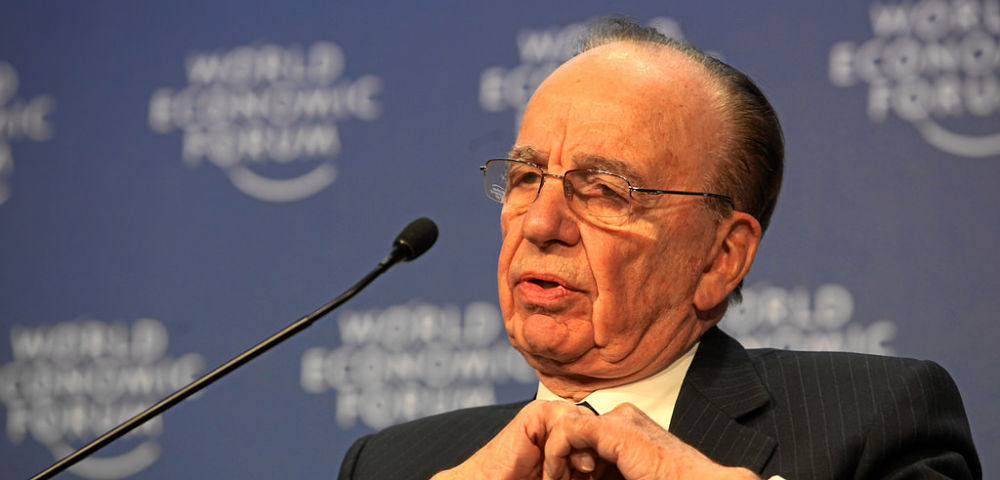 Image via WEF/Flickr CC
Rupert Murdoch's three-decade reign in control of Sky TV is set to end after his company 21st Century Fox FOXA announced it would sell all of its shares in the British broadcaster to the US media firm Comcast CMCSA.
The two companies had been locked in a bidding war for the satellite TV and broadband business, which culminated when Comcast tabled a knockout bid valuing the company at £30bn in a high-stakes auction on Saturday night.
Despite this there were suggestions that Fox could still choose to retain its minority stake in Sky, possibly to frustrate Comcast's efforts. But on Wednesday the company announced it would instead cash in its shares and take around £12bn from Comcast for its 39% stake in the company.
Comcast's victory also means that almost two years of government scrutiny of whether Murdoch should be allowed to take control of Sky were ultimately for nothing – although the lengthy process did give Comcast enough time to move in and gazump the Fox bid.
"When we launched Sky in 1989 it was four channels produced from a prefab structure in an industrial park on the fringes of west London," said 21st Century Fox in a statement announcing its decision to sell their shares. "We bet – and almost lost – the farm on launching a business that many didn't think was such a good idea. Today, Sky is Europe's leading entertainment company and a world-class example of a customer-driven enterprise.
"This achievement would not have been possible without decades of entrepreneurial risk-taking and the commitment of thousands of colleagues, creators and dreamers. For nearly 30 years we have invested to create a dynamic and exciting business that has produced excellent returns for shareholders and has become one of the most admired companies in Europe."
Although Murdoch is still currently in control of Fox he has already agreed to sell most of its TV and film assets to Disney. In reality it was Disney, rather than Murdoch, which has been guiding the bidding process for Sky in recent months – and it is Disney that will receive the substantial proceeds from the sale of Sky shares.
The money could be a boost to Disney, which is planning to launch its own streaming service to rival Netflix.
Murdoch's departure from Sky marks the end of an era for the British media industry, although the 87-year-old media mogul will retain substantial influence thanks to his newspaper holdings and recent push into the British radio industry. Sky News will now be owned by Comcast, which already controls US news and media businesses including NBC and Universal Studios.
Although there has been no formal announcement on his future, the current Sky chairman, James Murdoch, is likely to leave the company when the deal is finalised. Almost half of the current Sky staff also take part in the company's share investment scheme, meaning they are looking forward to a financial windfall.
"Nearly 30 years ago Rupert Murdoch took a risk to launch Sky and in the process changed the way we watch television forever," said Jeremy Darroch, the Sky chief executive who is on track to earn about £50m as a result of the sale.
"His vision and belief has enabled us to grow into Europe's leading direct-to-consumer media business and I would like to personally thank him, James, and 21st Century Fox for their consistent support as shareholders, board members and friends."