Rolling Up the Sleeves
Chris Lahiji Follow |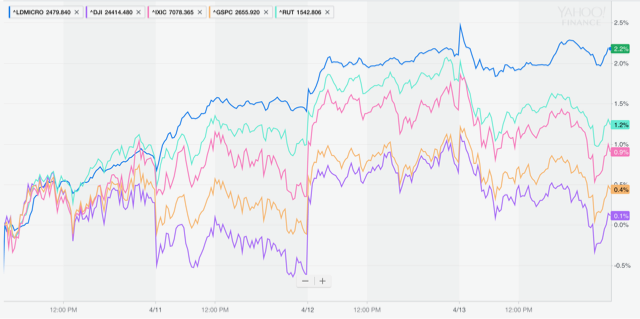 The LD Micro Index picked up over 2% last week, while the rest of the indices lagged significantly.
No question that things are being shaken up in the world of finance and technology, and now cryptocurrency. Just like any new/hot business segment, you have a lot of competition and most of these guys won't be around five years from now.
One name that we had the pleasure of spending an hour with was the management of Hexindai ( HX) . The Company went public back in November and is trading near the same share price it originally came out at (roughly $12 per share). China has a very large part of the country that does not have access to traditional financial services, and these guys have a platform that matches individual borrowers with lenders. In less than five years time, they have been able to carve out a profitable niche.
HX has over $6 per share in cash, has already generated $1.03 in EPS in the first nine months of the FY2018 year, and is expecting to accelerate numbers even further. Sidoti covers the company if anyone is interested in learning more.
DISCLOSURE: The views and opinions expressed in this article are those of the authors, and do not represent the views of equities.com. Readers should not consider statements made by the author as formal recommendations and should consult their financial advisor before making any investment decisions. To read our full disclosure, please go to: http://www.equities.com/disclaimer
Companies