Huntington's disease is a fatal genetic disorder that leads to the progressive degeneration of the brain's neurons. According to the Huntington's Disease Society of America (HDSA), the disease is known as the quintessential family disease because every child of a parent with Huntington's has a 50-50 chance of carrying the faulty gene. There are about 30,000 people in the US with Huntington's, and over 200,000 people at risk of inheriting the disease. It causes severe degradation in mobility, cognition and psychiatric well being, with a very broad spectrum of signs and symptoms. The HDSA says that many Huntington's sufferers describe the symptoms as having ALS, Parkinson's and Alzheimer's—simultaneously.
Most people with Huntington's disease develop signs and symptoms in their 30s or 40s, and have a survival prognosis of 15 to 20 years after symptoms first manifest. This adult-onset Huntington's is the most common form of the disorder, though there is also a juvenile Huntington's disease that is associated with faster disease progression. Huntington's disease is caused by mutation in the huntingtin gene, which results in the production of a toxic protein. This mutant huntingtin (mHTT) protein gradually destroys neurons in the brain.
Source: Neuroscientifically Challenged

Roche RHHBY announced today that the European Medicines Agency (EMA) has granted PRIME (PRIority MEdicines) designation for the company's candidate for the treatment of Huntington's disease, RG6042. In Phase 1/2 data released in March 2018 at the 13th annual CHDI Foundation Huntington's Disease conference, patients treated for three months with RG6042 at the two highest doses showed up to a 60% reduction (mean of 40%) in the mHTT protein observed in the cerebral spinal fluid, with levels continuing to decline in about 70% of treated patients as of the last measurement in the study.
The EMA's PRIME designation is analogous to the FDA's Breakthrough Therapy designation, with the EMA providing enhanced support for the development of medicines that target an unmet medical need. Under PRIME, RG6042 will be eligible for accelerated assessment by the EMA, which means 150 evaluation days instead of the standard 210 days.
We are very pleased that the European Medicines Agency has granted PRIME designation for RG6042, as there is an urgent medical need to find treatment options for families affected by Huntington's disease. Preliminary data on RG6042 were the first to show that levels of toxic mutant huntingtin protein can be lowered in adults with Huntington's disease, and we are working closely with the EMA and other health authorities to initiate a global phase III study as soon as possible.
– Sandra Horning, MD, Chief Medical Officer and Head of Global Product Development, Roche
Roche has been collaborating with Ionis Pharmaceuticals IONS on Huntington's disease since 2013, and, in December 2017, Roche exercised its option to license IONS-HTTRx—now known as RG6042—from Ionis. The companies have been investigating the viability of antisense oligonucleotide (ASO) therapy to target mHTT. ASOs are compounds that can alter RNA and reduce, restore, or modify protein expression. By targeting protein production at the source, scientists have theorized that they can be more effective in treating disease than by targeting downstream pathways.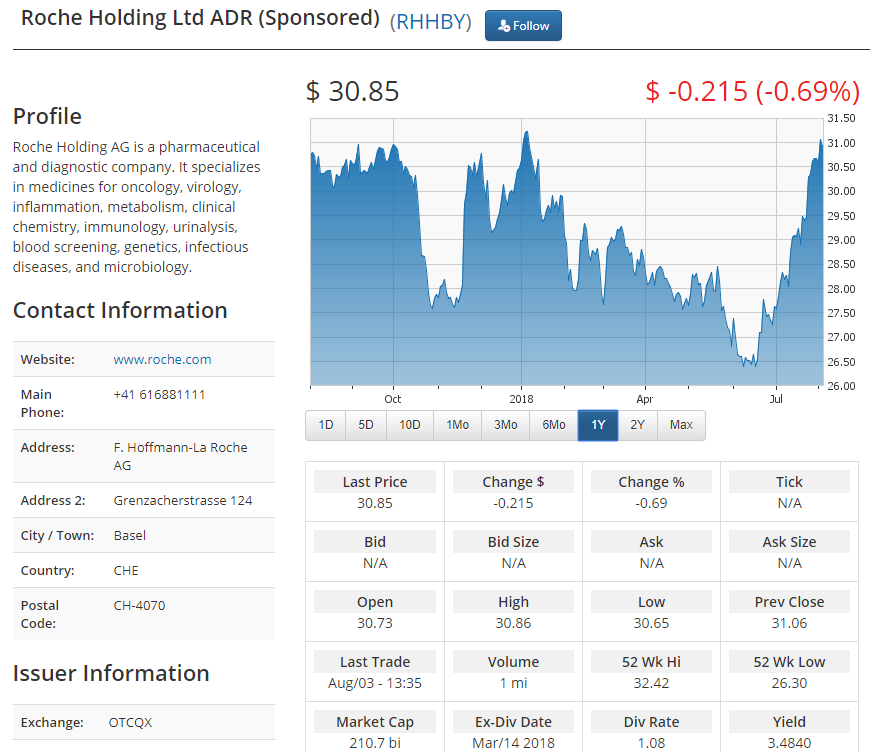 Please email us at [email protected] to see our Case Studies and Testimonials.
Please click here for information on our new trading platform.
Please click here to see our weekly newsletter.