The US has experienced significant declines in lung cancer incidence, according to the American Cancer Society, dropping 45% from 1990 to 2015 among men and 19% from 2002 to 2015 among women. The decline is mostly due to steady reductions in smoking and advances in early detection and treatment. Lung cancer remains the deadliest form of cancer worldwide, however, with 1.69 million deaths attributable annually, according to the World Health Organization. Further, the corresponding burdens on global medical systems are massive, with infrastructures often not nearly not as advanced as in the US.
A study released in 2017 by the China Academy of Medical Sciences concluded that there has been a sharp rise in lung cancer incidences in China in the past 10-15 years, with long-term exposure to air pollution cited as a key cause. According to Reuters, lung cancer has risen rapidly in China among groups not normally susceptible to the disease, including women and non-smokers, suggesting that smoking was not responsible for the increase. Reuters said there are nearly 4.3 million new cancer patients in China annually, including 730,000 cases of lung cancer, accounting for 36% percent of the world's total. Cancer is responsible for around a quarter of Chinese deaths, and has become a massive burden on the country's medical system.
Roche RHHBY announced this morning that it had received approval from the China National Drug Administration for Alecensa (alectinib) as a treatment for anaplastic lymphoma kinase (ALK) positive, advanced non-small cell lung cancer. The drug, which was approved in Europe in November 2017 and in the US in December 2017, received a priority review by Chinese regulators, where such approvals "historically have come years after those elsewhere," according to Reuters. In this instance, Chinese regulators decided to accept clinical trial data achieved outside of China in order to accelerate approvals. Reuters noted that "high costs and a lack of access to new treatments have forced desperate patients to turn to the gray market when they get sick."
Source: Roche
85% of lung cancer cases fall into category called non-small cell lung cancer. ALK-positive non small cell lung cancer is often found in younger people who have little or no smoking history, and it is almost always found in people with a specific type of cancer called adenocarcinoma. Roche's Alecensa, a tyrosine kinase inhibitor that targets ALK fusion proteins and prevents signalling within cancer cells to inhibit their growth and survival, is now approved in over 57 countries as a first-line treatment for ALK-positive, metastatic non small cell lung cancer.
Today's approval marks a new era for ALK-positive lung cancer patients in China, who now have a treatment option that offers a meaningful, sustained benefit compared with the previous standard of care. It also represents a significant regulatory shift, with the approval received under unprecedented timelines. We are proud to be at the forefront of healthcare innovation in China by helping to bring Alecensa to patients as quickly as possible.
– Sandra Horning, MD, Chief Medical Officer and Head of Global Product Development, Roche
The approval in China was based on Roche's Phase III study assessing Alecensa versus crizotinib (Pfizer's tyrosine kinase inhibitor, marketed as Xalkori) in the first-line treatment of ALK-positive metastatic non-small cell lung cancer, pharmacokinetics results in Asian patients from a separate Phase III also investigating Alecensa compared to crizotinib in the first-line setting, and two phase II studies assessing Alecensa in patients who have progressed on or are intolerant to crizotinib.
The data showed that progression-free survival (PFS) was more than tripled in people who received Alecensa compared to those who received crizotinib—34.8 months vs 10.9 months—and that Alecensa as a first-line treatment significantly reduced the risk of disease worsening or death compared to crizotinib in Asian patients with ALK-positive non-small cell lung cancer.
Lung cancer is a major area of focus and investment for Roche, which has four approved medicines to treat certain kinds of lung cancer and more than ten medicines being developed to target the most common genetic drivers of lung cancer or to boost the immune system to combat the disease. According to Reuters, China is becoming an increasingly important market segment for Roche, and the approval of Alecensa will be welcomed by the country as it moves to accelerate much needed drug approvals. In the first half of 2018, Roche's pharmaceuticals revenue in China increased 9% to more than US$1 billion, or about 5% of total drug sales. Roche is also building manufacturing facilities in China.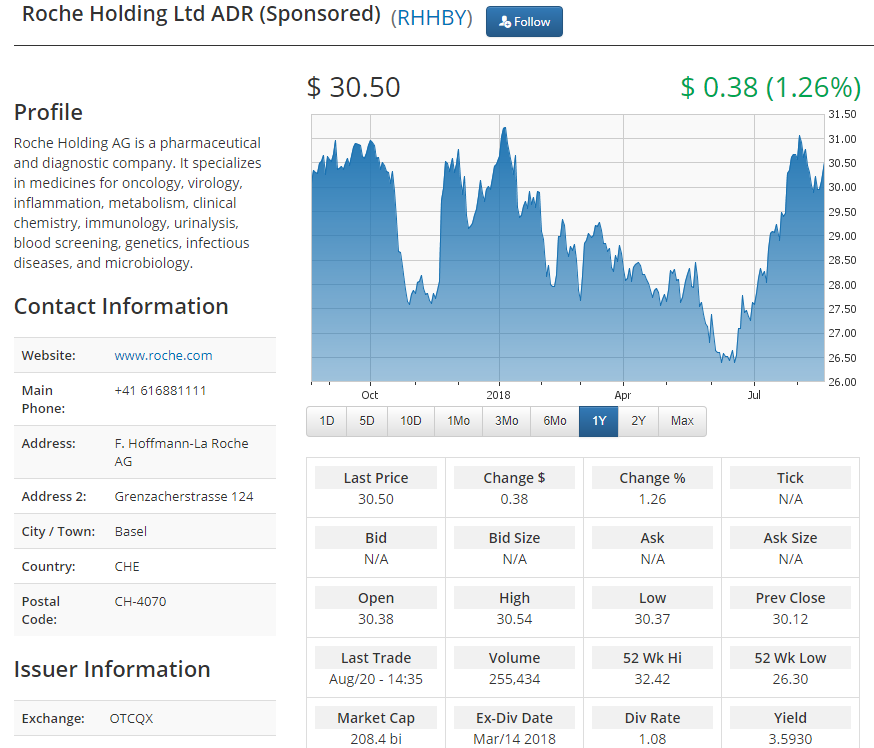 Please email us at [email protected] to see our Case Studies and Testimonials.
Please click here for information on our new trading platform.
Please click here to receive our daily newsletter.