Robo Boogie
Chris Lahiji Follow |

The Russell 2000 led the race this week, notching up over 1%, All indices were in the green, with the DJIA just barely above break-even.


Impact. Highlighting Anomalies Amongst the Biggest Gainers & Volume Leaders. (SMIT & RWLK)
by Christian Galatti (Phase 4 Research)

The Reason that Schmitt Industries Had a 998x Rise in Volume ( (SMIT))
- Inventories Could Support Growth.
SMIT had a huge volume spike for the week. Positive earnings made the promises of a profitable second half come true. The anomaly is that SMIT did the exact same thing in December. An enormous volume spike, and a stock that went above $3, only to ebb back over the next seven months...almost being pegged to a deal they did at $2.50 (link to raise.)
"We are working diligently to achieve profitability on a consistent basis in the second half of Fiscal 2018," Hudson concluded. (December 13th, 2017. Link.)
But, the raise allowed Schmitt to build inventory. Inventory that was intended for growth that showed up this quarter, and could lay the foundation for the rest of the year. Possibly making this time different. Cash going from $2.9M after the deal to $2M built an additional $1.5M in inventory, going from $4.2M to $5.7M (MRQ.) The reason for the volume spike.
"With the successful completion of the Rights Offering in December 2017, the Company was able to invest in inventory which has allowed us the flexibility to ramp up manufacturing to satisfy increasing demands. We are encouraged that Balancer sales are once again in excess of the $2 million mark for the fifth consecutive quarter and that Xact monitoring revenues are at an all time high for the quarter and fiscal year. The Company's operating and strategic initiatives are ongoing and include the evaluation of strategies for each of the product lines,"
The VA Policy Change Increases the Market for ReWalk ( (RWLK))
- A Bridge to Product Delivery.
ReWalk had hit the low of the year before a one day 73% spike put it back to where it was in March. A company that's part of the Robot theme has a future that was too far off for investors. Their soft exoskeleton to aid with paralysis isn't supposed to be out until 2019, and must still pass regulatory review.
Anticipated delivery of a commercial ReStore soft suit is targeted for the first half of 2019. ReWalk plans to commercialize use of the ReStore system in Europe and the United States subject to receiving CE and FDA clearance, respectively, to market the device. The Company plans to apply for CE and FDA clearances once clinical and laboratory testing are completed.
There are a lot of paralyzed veterans. So the announcement that the VA changed its policy to help deploy exoskeletons gave RWLK a big new market if their products are approve, for ReWalk is already in there:
As a result of the revised policy, there are now 142 ReWalk certified private and VA SCI/D training centers across the US potentially available to train Veterans to use ReWalk. Furthermore, the network of VA SCI/D spoke sites may now be eligible to conduct training and provide additional opportunity. (link)
The company had developed the backing to not be delisted in May. With positive initial clinical data, and a larger TAM to sell into RWLK was able to reverse its course with one of the largest gainers of the week.
As previously disclosed, on May 15, 2018, the Company completed the first tranche of a private placement of ordinary shares in the aggregate of $20 million to Timwell Corporation Limited ("Timwell"), issuing 4 million ordinary shares to Timwell. The Company's capitalization following this transaction, together with recent trading prices of the Company's ordinary shares, enabled the Company to regain compliance with Rule 5550(b). With the Compliance Notice, Nasdaq informed the Company that it determined that from May 15, 2018 to June 5, 2018 the Company's MVLS was $35 million or greater and the Company has, therefore, regained compliance with Rule 5550(b). (Link.)

---
IN THE NEWS:
ACQUISITION: Peregrine Diamonds Ltd. ($PGD.TO, +47%) to be Acquired by De Beers Canada Inc. for $0.24 per Share in Cash - $107 Million Acquisition Represents 50% Premium to Peregrine Diamonds Ltd.'s Share Price
Natural Health Trends ($NHTC, +5%) Issues Response to Allegation - "It has been brought to our attention that a Chinese website cited an anonymous source alleging that we are under investigation by a provincial police department in China. We are unaware of such an investigation."
Coda Octopus ($CODA) was up 35% last week, after announcing R&D agreement with the Navy
ClearSign ($CLIR) Announces Definitive Agreement with Investment Group for $11.7 Million Equity Investment
Digital Ally ($DGLY) Obtains Complete Victory in Critical Court Ruling Against Axon Enterprise - triggers firm court deadlines and a quick path toward trial
Innovus Pharmaceuticals ($INNV, #2 gainer for the week) Reports Preliminary Q2 2018 Sales Revenue of $6.6 million to $6.8 million
RealNetworks ($RNWK) Provides SAFR Facial Recognition Solution for Free to Every K-12 School in the United States and Canada
Tilray joins Nasdaq in first US cannabis IPO via CNBC
Related: SCHOOLS CAN NOW GET FACIAL RECOGNITION TECH FOR FREE. SHOULD THEY? via Wired
Pediapharm ($PDP.V) Announces Annual Audited Financial Results - 61% Annual Revenue Growth and 11th Consecutive Year-over-year Quarterly Growth
Russian warship carrying £100BILLION worth of GOLD found off South Korea
AMMO, Inc. ($POWW) Expands Distribution to Bass Pro Shops and Cabela's Stores
Sigma Designs ($SIGM) Announces Plan for Initial Distribution of $6.00 per Share to Shareholders in Connection with Its Voluntary Plan of Liquidation and Dissolution
DarkPulse, Inc. ($KLMK) Completes Reverse Merger Transaction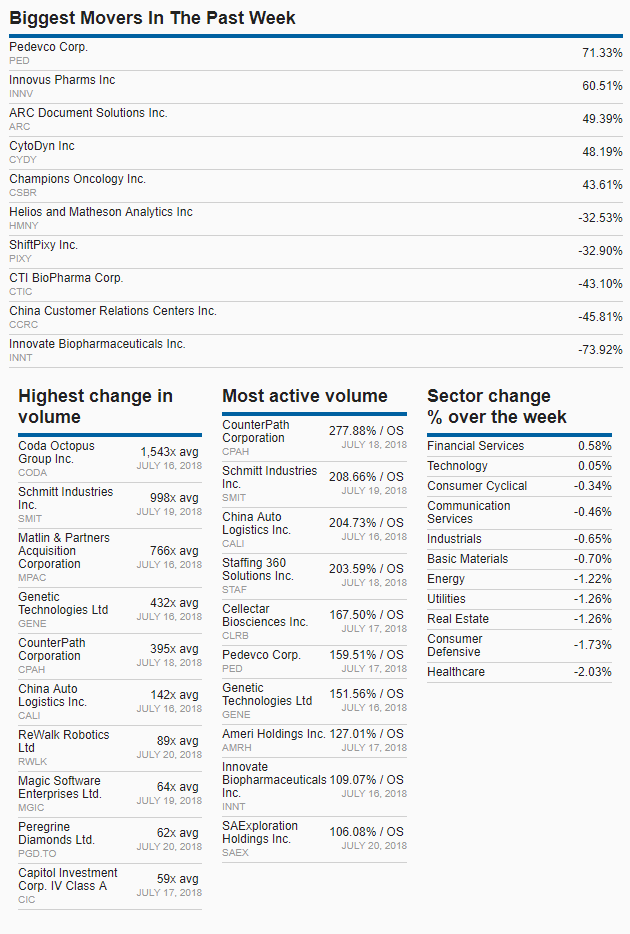 DISCLOSURE: The views and opinions expressed in this article are those of the authors, and do not necessarily represent the views of equities.com. Readers should not consider statements made by the author as formal recommendations and should consult their financial advisor before making any investment decisions. To read our full disclosure, please go to: http://www.equities.com/disclaimer.
| Symbol | Last Price | Change | % Change |
| --- | --- | --- | --- |
| AAPL | | | |
| AMZN | | | |
| HD | | | |
| JPM | | | |
| IBM | | | |
| BA | | | |
| WMT | | | |
| DIS | | | |
| GOOG | | | |
| XOM | | | |
| BRK.A | | | |
| FB | | | |
| JNJ | | | |
| WFC | | | |
| T | | | |
| NFLX | | | |
| TSLA | | | |
| V | | | |
| UNH | | | |
| PG | | | |