~ RTB101 shown to decrease incidence of infection with severe symptoms by 52.1% vs placebo ~
We first highlighted resTORbio TORC in this space in January 2018, when the company was preparing to go public. resTORbio had made rapid progress to get to the IPO stage, starting life in early 2017 as a PureTech Health PTCHF subsidiary that became the home for two clinical-stage programs licensed from Novartis NVS. resTORbio is developing inhibitors of "target of rapamycin complex 1" (TORC1) and other biological pathways that regulate aging. The company aims to develop medicines with the potential to extend healthy lifespan. In a 2016 article published in Nature, David Sabatini, MD, PhD, and Lynne Chantranupong of the Whitehead Institute call the TORC1 pathway "the master growth controller that integrates diverse environmental inputs to coordinate many metabolic processes."
Inhibition of the TORC1 pathway has been observed to extend lifespan and healthspan in aging preclinical species and to enhance immune, cardiac and neurologic functions. resTORbio announced positive results today from its Phase 2b clinical trial of its primary candidate, RTB101, in 652 patients at increased risk of morbidity and mortality from respiratory tract infections (RTIs), the 4th most common cause for hospitalizations, and the 7th leading cause of death, in people aged 65 and over. Additionally, the majority of asthma exacerbations are caused by RTIs, and the majority of RTIs are caused by viruses for which there are no currently approved therapies.
A once daily 10 mg dose of RTB101 was shown to:
Decrease incidence of laboratory-confirmed RTIs with severe symptoms by 52.1% vs. placebo
Decrease incidence of all laboratory-confirmed RTIs by 30.6% vs. placebo
Decrease incidence of total infections of any kind by 23.6% vs. placebo
Decrease incidence of urinary tract infections (UTIs) by 74.6% (10 mg twice daily) and 34.4% (10 mg once daily) vs placebo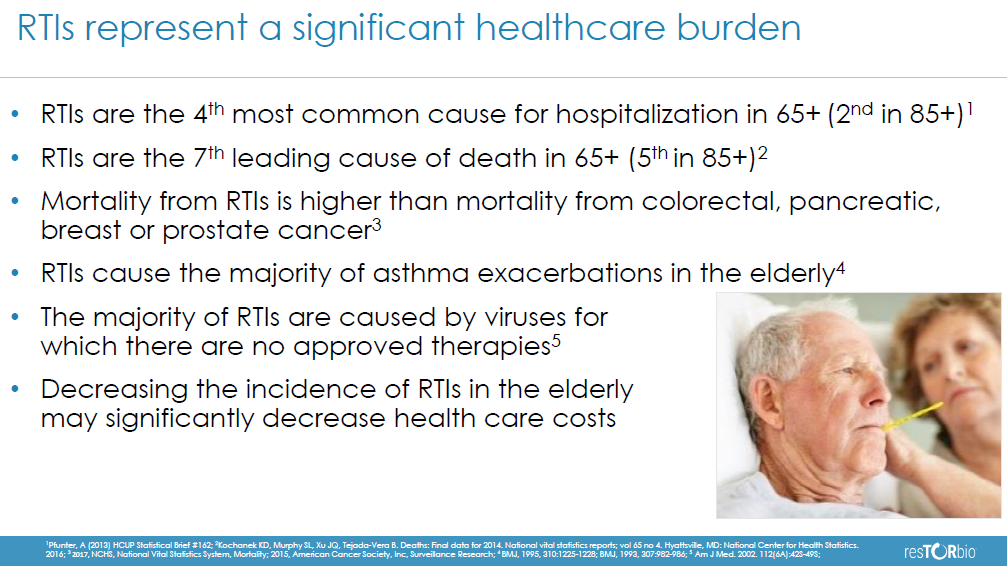 Source: resTORbio Corporate Presentation, Oct 16 2018
RTB101 10 mg once daily was observed to decrease not only the incidence of RTIs, but also the severity of RTI symptoms. We look forward to advancing this dose in a planned Phase 3 program for reducing the incidence of RTIs in high-risk elderly patients. These data also demonstrate that RTB101 may decrease the incidence of other infections in the elderly, including UTIs. It remains to be determined if the most efficacious RTB101 dose for preventing RTIs and UTIs differs because UTIs occur in a different organ system and are caused by different pathogens than RTIs. We continue to develop our clinical strategy for UTIs, including dose selection.

-Joan Mannick, M.D., Co-Founder and Chief Medical Officer of resTORbio.
resTORbio raised gross proceeds of $98 million in its IPO (6,516,667 shares at $15) for a post-money market capitalization of $421 million. The stock has had a volatile first nine months on Nasdaq, peaking at $21.10 shortly after the IPO and bottoming at $7.55 in April. Shares are currently changing hands at $12.60 in mid-afternoon trading today. Given the Phase 2b data, which are promising not only in RTIs but in other significant infections, we wouldn't be surprised to see long investors continue to drive the stock back to its previous highs.

* other infections include those that the elderly are at increased risk of contracting, such as urinary tract infections
** For heart failure with preserved ejection fraction, autophagy-related diseases and certain other infections, the Company may be required to file an investigational new drug application, or IND, prior to initiating Phase 2 clinical trials.
The Company expects to have the ability to initiate these Phase 2 clinical trials without the need to conduct prior Phase 1 trials.
Source: resTORbio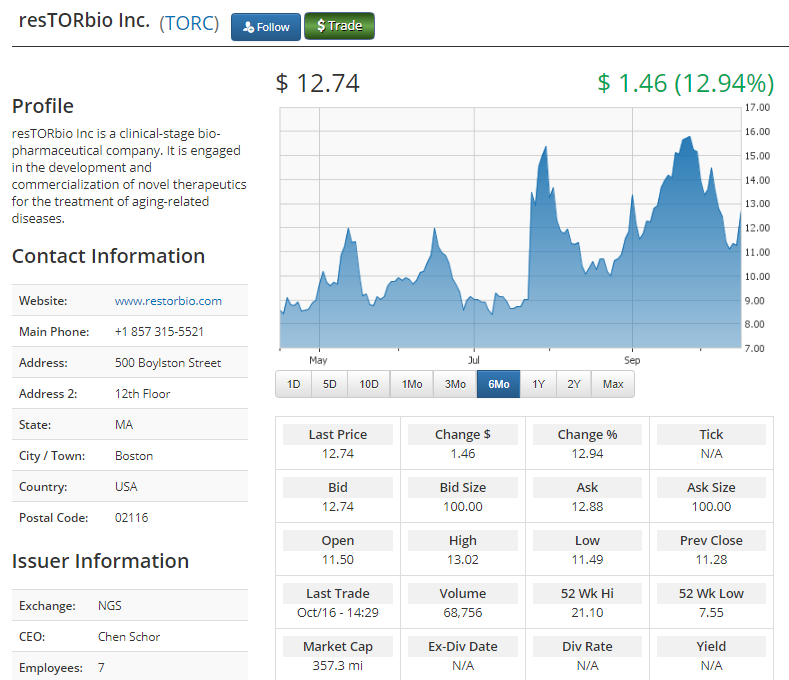 Please email us at [email protected] to see our Case Studies and Testimonials.
Please click here for information on our new trading platform.
Please click here to receive our free daily newsletter.