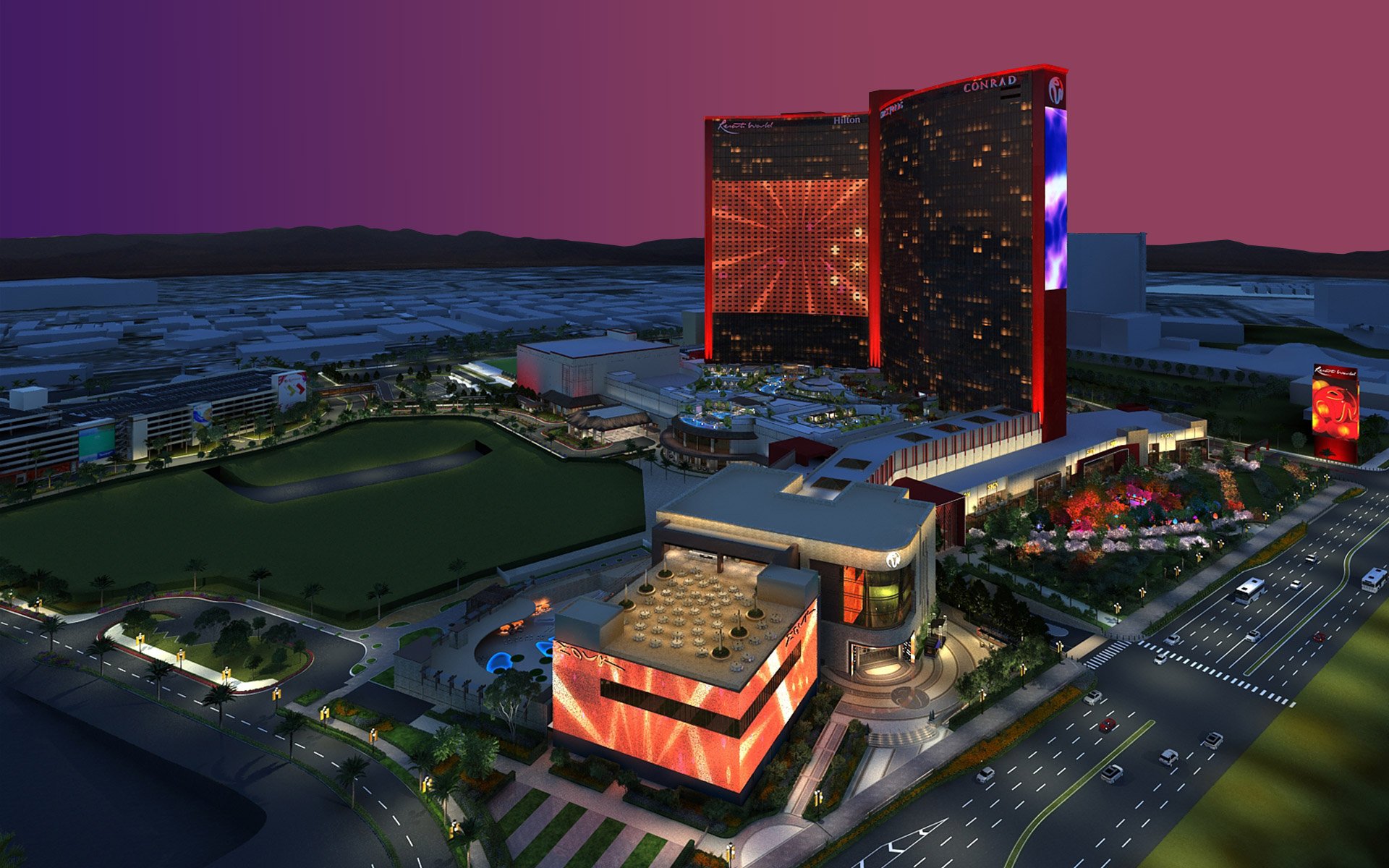 Image source: Resorts World Las Vegas
Resorts World Las Vegas, one of the biggest casino projects in Nevada's history, has set a date to open after years of planning and building.
On Monday, Resorts World Las Vegas announced that it will open its $4.3 billion, 88-acre luxury resort-casino on June 24, 2021, and will be taking reservations for the 3,500 guest rooms and suites at its three integrated Hilton-branded hotels.
The casino is the first ground-up development on the Las Vegas strip in over a decade and built on the site of the former Stardust Resort and Casino, according to The Associated Press.
When it opened in 1958, the Stardust was the largest hotel in the world, with 1,500 rooms. After it closed in 2006, the 32-story tower was demolished the following year. Malaysia-based Genting Group, a global resort and casino operator, acquired the site from the property's owner, Boyd Gaming, in 2013 for $350 million.
Resorts World Las Vegas features 3,500 rooms and suites through a partnership with Hilton, including the largest Conrad Hotels & Resorts property in the world, one of the first LXR Hotels & Resorts locations in the U.S. and a marquee Hilton Hotels & Resorts hotel.
It also includes a 117,000-square-foot casino, more than 40 food and beverage establishments, 70,000 square feet of retail space, 250,000 square feet of meeting and banquet space, a 5.5-acre pool and a 27,000-square-foot spa complex with seven swimming pools.
Its 5,000-person capacity theater venue will be run in partnership with AEG Presents and operated by Concerts West. The Las Vegas Review-Journal has reported possible headliners including Katy Perry, Celine Dion, Carrie Underwood and Luke Bryan.
"After years of planning and constructing this monumental property with some of the most innovative partners in the industry, Resorts World Las Vegas will redefine the hospitality standard in Las Vegas with unmatched dining and entertainment, more variety of hotel accommodations than anywhere else on the Strip, and the city's most progressive technology," Scott Sibella, president of Resorts World Las Vegas, said in a statement Monday.
"We are filled with gratitude and excitement as we approach our opening this June and hope to play a role in Las Vegas's rebound after what has been an incredibly challenging year for the destination and greater hospitality industry."
_____
Source: Equities News