Urinary incontinence affects hundreds of millions of people worldwide. It is a notoriously underreported and undiagnosed condition, as those who suffer from it are often too embarrassed or otherwise reluctant to discuss the issue with healthcare professionals, family and friends. According to a study, "The epidemiology of urinary incontinence: a case still open," by Maurizio Serati, MD, and Fabio Ghezzi, MD, of the Department of Obstetrics and Gynecology, University of Insubria in Italy, obtaining quality data to analyze is also difficult as "available studies on the epidemiology of female UI have used different definitions." Estimates on prevalence in the studies we examined ranged from 12% to 53% of all women, who far outnumber men as sufferers of incontinence.
In a 2014 article in The BMJ (British Medical Journal), "Urinary Incontinence in Women," Lauren N. Wood, MD, and Jennifer T. Anger, MD, of the Department of Surgery, Division of
Urology, at Cedars-Sinai Medical Center, wrote on the quality-of-life and economic burdens of incontinence, which can lead to depression, falls and nursing home admission. "The total annual cost of
urinary incontinence in the United States is estimated to
be as high as $32 billion."
Boston-based Renovia markets the leva Pelvic Digital Health System, an FDA-approved pelvic floor muscle trainer with visualization technology that targets the muscles predominately responsible for maintaining continence. The company announced yesterday that it had closed on $42.3 million in financing, including $32.3 million in Series B equity and $10 million in venture debt. The financing was led by Perceptive Advisors and Ascension Ventures, with participation from Longwood Fund, Inova Strategic Investments, Cormorant Asset Management, OSF Ventures and Western Technology Investment.
The leva system consists of motion sensor technology that shows a representation of a the vaginal profile at rest and with movement during pelvic floor muscle training. Real-time interactive visualization through a mobile app provides patients with programmed coaching sessions to optimize their training, which can be done privately in less than five minutes, twice a day. Patients can track, review and share actionable data with their healthcare professionals.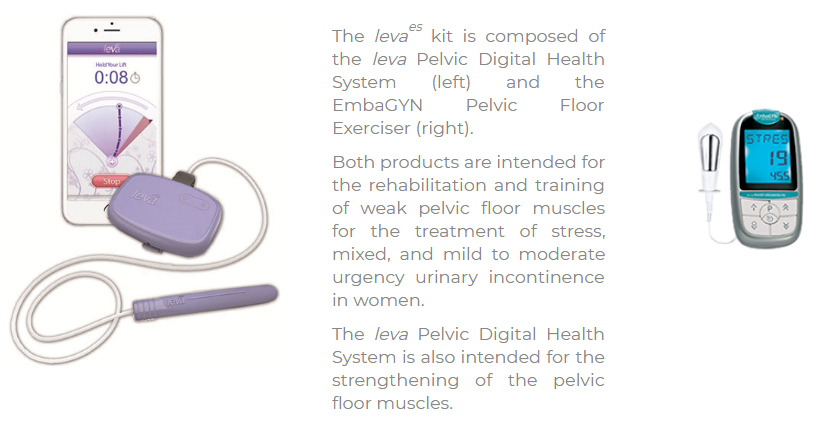 Source: Renovia
We are thrilled to have the support of this group of leading healthcare investors who share our vision to better diagnose, treat and improve the lives of millions of women affected by pelvic floor disorders. This mix of existing and new financial investors, and the participation of three leading integrated health networks with whom we can partner, is so well-aligned with Renovia's clinical and commercial vision Combining our innovative and proprietary sensor technologies and form factors with a digital health platform will give our customers valuable data to inform new treatment options, drive greater knowledge and understanding of pelvic floor disorders, and ultimately lower long-term healthcare costs.
– Marc Beer, Co-Founder, Chairman and CEO, Renovia.
Renovia is developing its next generation leva device and an extended wearable device. Additionally, the company is developing in-office and wearable diagnostic technology for pelvic floor strengthening and incontinence. Frank Vinluan writes in Xconomy that Renovia is "planning a study to compare its system to Kegel exercises alone as a treatment for stress urinary incontinence, the loss of urine when a movement—coughing, sneezing, or physical activity—places stress on the bladder" that is expected to enroll 225 patients beginning in October 2018.
Please email us at [email protected] to see our Case Studies and Testimonials.
Please click here for information on our new trading platform.
Please click here to see our daily newsletter.