Regeneron REGN and bluebird bio BLUE, two companies that have embraced a collaborative approach to drug discovery and development, announced a collaboration of their own today, focused on immune cell therapies for cancer. As part of the five-year deal, Regeneron agreed to acquire 420,000 shares of bluebird bio common stock at $238.10 per share, a $100 million investment at a 59% premium to Friday's closing price. This approximately $37 million premium will be credited against Regeneron's initial 50% funding obligation for basic collaboration research, after which the companies will fund ongoing research equally for the duration of the agreement term.
The companies have agreed specifically to leverage Regeneron's VelociSuite platform technologies for the discovery and characterization of fully human antibodies as well as T cell receptors directed against tumor-specific proteins and peptides, along with bluebird bio's gene transfer and cell therapy expertise. Six initial targets have been selected (and additional targets may be chosen during the collaboration term), and the costs of research and development will be shared equally up to the point of submitting an investigational new drug (IND) application to the FDA. When an IND is submitted for a potential therapy, Regeneron will have the right to opt-in to a co-development/co-commercialization arrangement for certain collaboration targets, with 50/50 cost and profit sharing. If Regeneron does not opt-in, it will be eligible for milestone payments and royalties from bluebird bio on any resulting products.
Source: Regeneron Pharmaceuticals
Both companies have had successful collaborations in drug discovery and development. Regeneron, which has successfully driven six products through the FDA gauntlet ($6.2 billion in trailing 12-month revenue through Q2, 2018), derives significant revenue from its collaborations with Sanofi and Bayer. The company also has agreements in place with Teva, Intellia, Adicet, Icahn School of Medicine at Mount Sinai and Columbia University. Meanwhile, bluebird bio, with gene therapy programs in Phase 3, has derived all of its collaboration revenue thus far from its deal with Celgene surrounding chimeric antigen receptor T cell (CAR-T) therapies to target and destroy cancer cells.
We believe that the tremendous synergies between Regeneron's proven technologies and bluebird's toolbox of advanced cell and gene therapy technologies create a promising opportunity to help people with cancer by developing innovative new treatments. This collaboration adds yet another dimension to our rapidly advancing portfolio of immuno-oncology candidates and combination approaches.
– George D. Yancopoulos, MD, PhD, President and Chief Scientific Officer, Regeneron.
With Regeneron's proven targeting technologies, in combination with our deep expertise in cell biology and vector technology, as well as clinical experience with leading CAR T cell drug products, we hope to rapidly advance novel cellular therapies with the potential to transform the lives of people with cancer.
– Philip Gregory, DPhil, Chief Scientific Officer, bluebird bio.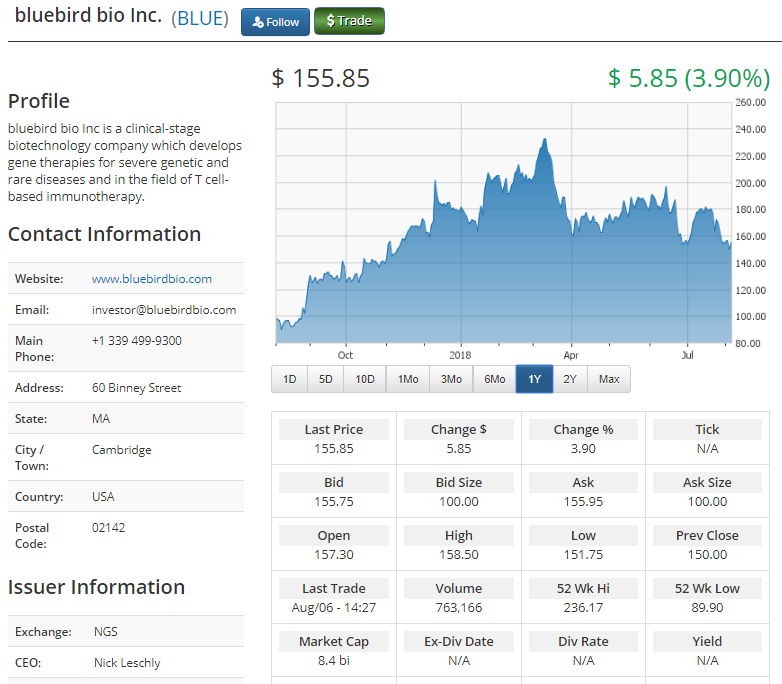 Please email us at [email protected] to see our Case Studies and Testimonials.
Please click here for information on our new trading platform.
Please click here to see our weekly newsletter.