Recession Obsession
David Nelson, CFA CMT Follow |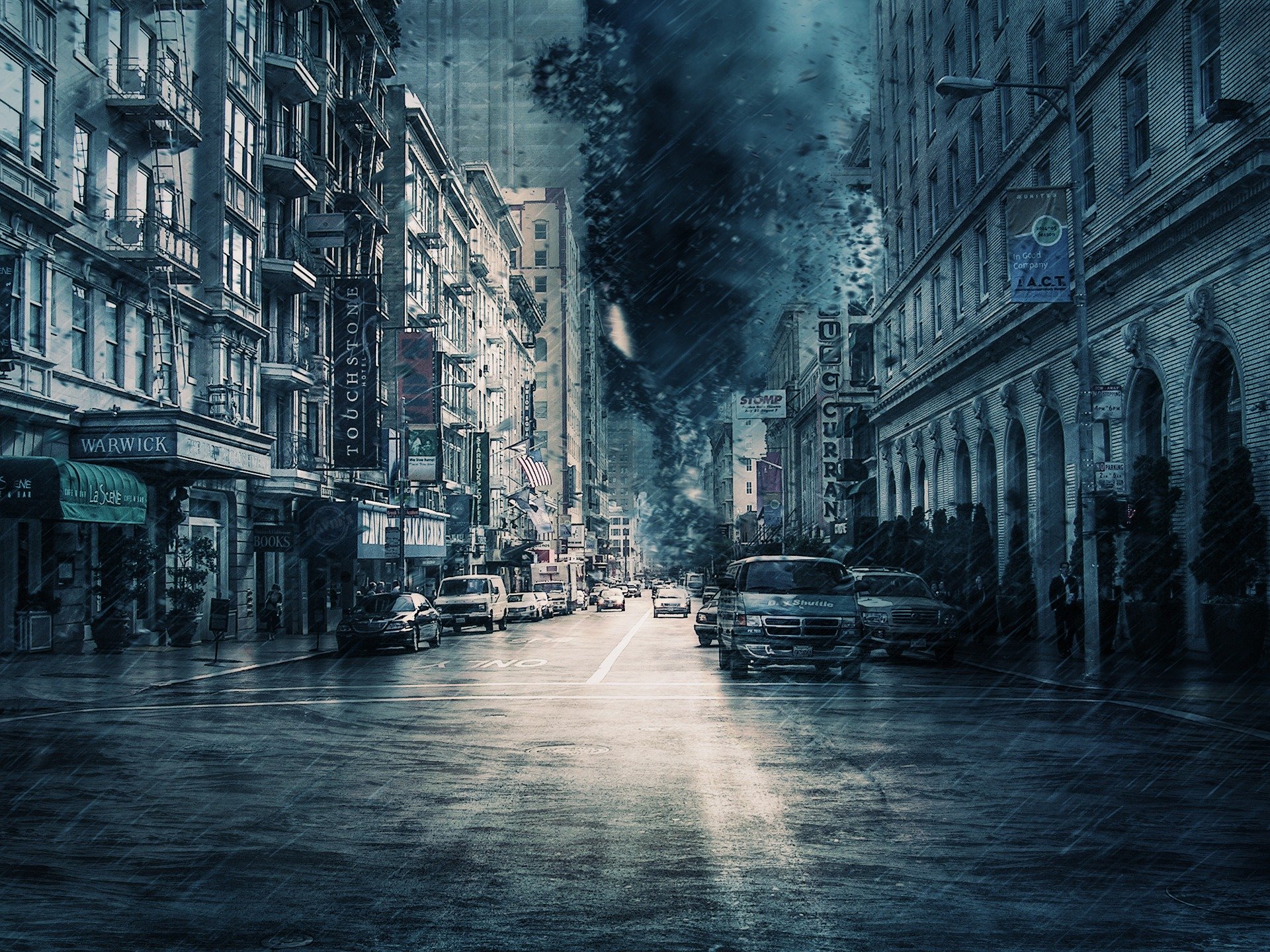 Pixabay, Pete Linforth
3 Stocks to Recession Proof Your Portfolio - Motley Fool
Gazing into the Recession Crystal Ball - Reuters
Goldman says private equity clients see a recession - Business Insider
The Next Recession May Come by Stealth - Forbes

The headlines above were just what you'd expect last December when stocks were cratering on the heels of 3 rate hikes and a cool $50 Billion a month being cut from the Fed balance sheet. Throughout much of 2019 recession predictions came weekly as talking heads pointed to an inverted yield curve, flat year on year earnings and PMI data that had slipped under 50. The on again off again trade talks along with a polarized Washington added to the concern. Talk of recession shifted from possible to probable and finally a group think certainty.

Unfortunately, the headlines above aren't from last year or even early 2019. All came hours after a monster employment report on Friday showing 266k jobs added in November, the lowest unemployment rate in 50 years as well as 3% wage growth. The glass is half empty generation of investors and journalists continues to be obsessed with recession turning even good news into bad convinced that every new high is a blow off top or even worse the books are cooked. Maybe it's the fact that the current expansion is 129 months and counting but more than likely it's the still lingering psychological damage from a Financial Crisis more than a decade ago that brought the world to its knees nearly collapsing the banking system in the process.

To be fair bears still have a lot of bullet points in their pitch book that resonate even today. The Federal Reserve was once again forced to come to the rescue cutting rates 3 times in 2019 and to date much of the negative economic data above is still with us. While the consumer balance sheet is strong, corporate debt has ballooned as many companies still use their balance sheet to buy back shares to prop up earnings.

Of course, it's not just the United States facing these challenges. Central Bank policy around the world has followed the quantitative path pioneered by Ben Bernanke both out of necessity and the lack of any responsible fiscal policy to address some of the real causes behind stagnation. With 40% of S&P 500 revenue offshore the world's problems' get added to our own.

Stock Fund Flows by Year - Wall Street Journal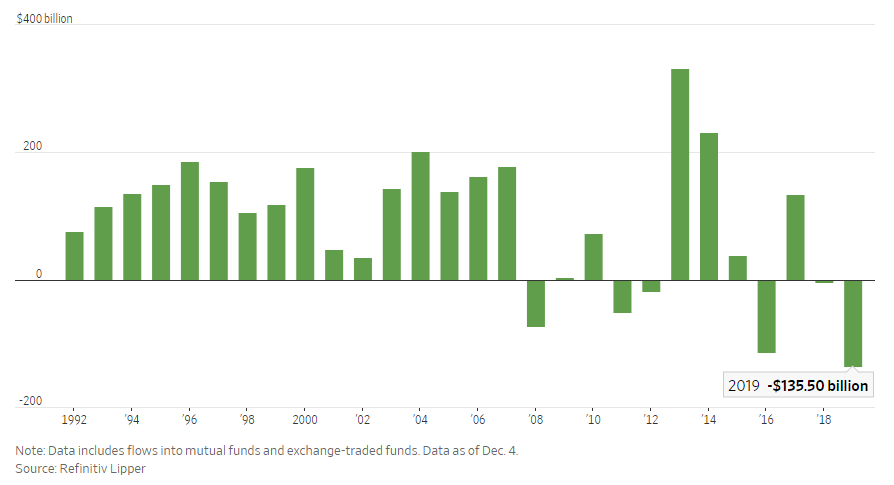 Despite a market that continues to live close to all-time highs Sunday's Wall Street Journal points out investors are fleeing stock funds at the fastest pace in decades. Year to date more than $135 Billion has been pulled from U.S. mutual and exchange traded stock funds. Favoring money markets and fixed income investors seem content earning close to nothing hiding in the perceived safety of bonds. With 10-year treasury yields only fractionally above the dividend yield of the S&P 500 it begs the question which asset class is in a bubble?

I agree with the Journal's analysis that ultimately money being withdrawn from stocks just might be good news for investors that push back against the headlines.

Green Shoots?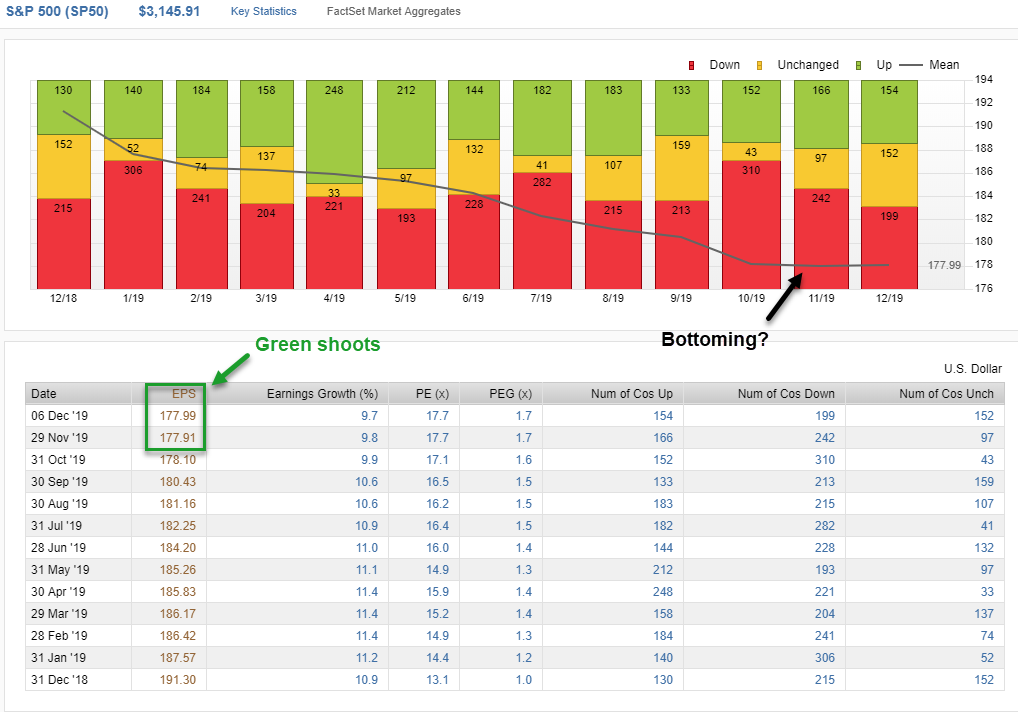 Readers have followed my obsessive focus on estimate revisions for the better part of the last year. Earnings estimates for the S&P 500 have been coming down monthly since September 2018. This morning I was greeted with a pleasant surprise as I went through my daily routine. Last week was the first week in memory where estimates for the S&P 500 were higher than the week before. Even a casual observer can see the downward revisions of 2020 calendar year estimates has slowed and last week reversed course. We'll see what the picture looks like when we close the books on December but for now, dare I say, green shoots?

We've all heard the term "the market climbs a wall of worry" and, to be certain, investors have their fair share of concerns. Famed investor Sir John Templeton studied at Yale and Oxford (the latter as a Rhodes Scholar) before taking a job on Wall Street. He was a legend on so many levels but maybe his most famous quote takes on some added meaning for today's investor. "Bull markets are born on pessimism, grown on skepticism, mature on optimism, and die on euphoria."

Euphoria is not the first word that comes to mind when I turn on the daily news.
_____
Equities Contributor: David Nelson, CFA CMT
Source: Equities News
DISCLOSURE: The views and opinions expressed in this article are those of the authors, and do not represent the views of equities.com. Readers should not consider statements made by the author as formal recommendations and should consult their financial advisor before making any investment decisions. To read our full disclosure, please go to: http://www.equities.com/disclaimer.