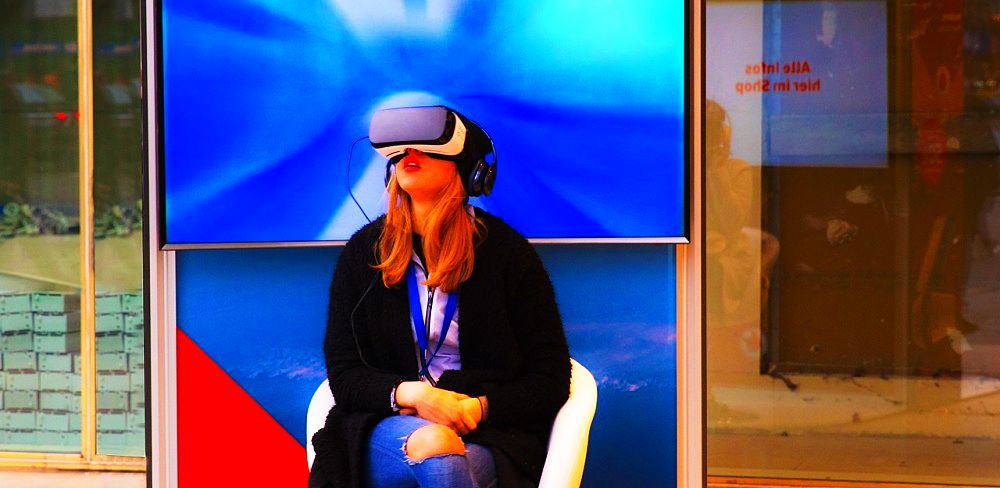 A recent study Grand View Research posited that virtual reality ("VR") will soon be in great demand. Just look at recent campaigns by National Geographic – who used virtual reality to appeal to millennials with a tour of Bears Ears National Park – or concert experiences that are now being interactively broadcast to those at home through virtual reality. Furthermore, Stanford has even used a VR experience to enforce prosocial behaviors regarding homelessness and early results have shown the media format to increase respondent's empathy. All of this encompasses the reason why the VR and Augmented Reality ("AR") are estimated to climb to $48.5 billion by 2025.
However, the current outlook on VR is not totally rosy, but, rather fragmented. The latency of many virtual environments is not clean, but the implementation of 5G will significantly boost this problem. Yet, one of the main issues in VR and AR is the lack of narrative development and the penchant for gimmicks.
Even for Magic Leap, the secretive, overtly hyped augmented reality startup with backing from Facebook and AT&T, is out trying to drum up content for its first augmented reality headset, the Magic Leap One. The company has the hardware, but few developers to build creative content. One company in this space that understands the value of powerful content is Recall Studios Inc. BTOP.
"Content is king and in the delivery of content it is the experience of the consumer that is the most important," CEO John Textor told shareholders in an impassioned message. "It is not enough to be a gateway. So, we are not going to be a gadget maker and sell our technology, we won't be a handmaiden along the path of for other's content. We are a globally known and globally respected creator of the most realistic and compelling digital humans the world has ever seen. Global relevance is only valuable through a business of global scalability, so we will build these digital humans and we will be paid for it."
Bridging AI and Virtual Reality
Over the summer, Recall Studios set themselves up to not only be a unique creator of VR and AR content, but also a vertically-integrated company in all facets of the space. First, in July the company began the process of merging the combined technologies of Pulse Evolution Corporation and Evolution AI under one roof. The deal included Evolution AI's majority stake in Pulse Evolution Corp. successfully inking the latter's revolutionary and hyper-realistic digital human-holographic technology.
This kind of technology has been featured in some of the most iconic live performances. Cirque du Soleil's joint venture with the Jackson Estate brought Michael Jackson back to the Las Vegas stage one more time with show-stopping holograms as he materialized out of pixie dust for viewers of the very successful, "The One." In addition, Coachella also returned Tupac Shakur back to the stage to rap alongside Snoop Dogg for attendees at the popular California summer concert staple.
The latter of these two iconic events was helmed by CEO Textor's previous company, Digital Domain. Textor consummated the materialization of Tupac at Coachella and also helped create the notable virtual transformation of Brad Pitt in The Curious Case of Benjamin Button (which actually won an Academy Award for best makeup thought he character was entirely digital), the anti-aging of Jeff Bridges in Tron:Legacy along with other visual effects marvels in Transformers: Flags of Our Fathers, Real Steel and Pirates of the Caribbean at World's End. The leadership of Textor over the game-changing technology at Pulse and Evolution alike will be something to see.
In fact, Recall Studios has already flashed the ability of its VR and AR technology for clients. The company built an immersive CG experience for Lexis Nexis to demonstrate the journey from old data to the universe of our modern data experience. They did a similar VR adventure for BMW employees as part of an internal presentation, but, most importantly, they worked on an immersive experience titled Kanju, based on the book The Bright Continent by Dayo Olopade, which premiered at the TriBeca Film Festival and highlighted the ingenuity of the people of Africa.
Recall Studios also launched the popular 360 Degrees of Hell on Samsung VR starring Amanda Wyss from A Nightmare on Elm Street fame and has already set a world record for the largest simultaneous VR experience at The Nantucket Project.
These projects are just the beginning for Recall Studios and their paradigm-shifting digital human technology. Under the leadership of "Virtual Reality guru" Textor, this company is one to watch in an emerging space that could have impacts in industries as diverse as automotive sales to healthcare.