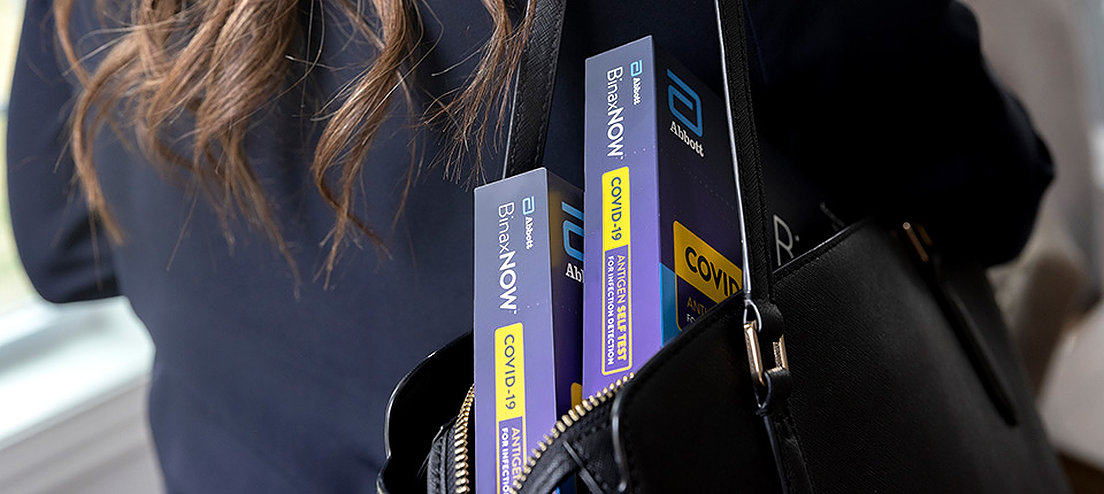 Image source: Abbott Laboratories
Over-the-counter rapid COVID-19 tests will soon hit the shelves at three national pharmacy chains, expanding access to home testing as the US ramps up its vaccine rollout.
Abbott Laboratories (NYSE: ABT) announced Monday that it began shipping its BinaxNOW COVID-19 Antigen Self Test to CVS Pharmacy, Walgreens and Walmart stores across the country. The test will also be available through the chains' websites.
The two-test kit can be purchased without a prescription for $23.99, Abbott said.
Abbott said BinaxNOW will be sent out to other major food, drug and retail chains in coming weeks. The company plans to manufacture millions of tests each month.
The test can be used on children as young as 2 when samples are collected by an adult and for all people 15 or older. Users can take the test even if they do not show symptoms and get results within 15 minutes, according to Abbott.
In March, Abbott received emergency use authorization for BinaxNOW for use in serial screening from the US Food and Drug Administration. Serial tests, according to the FDA, are meant to be used frequently or multiple times over a few days.
Robert Ford, Abbott's president and chief executive officer, said, "Over the past year, Abbott has developed high-quality rapid testing and invested in U.S. facilities to scale up manufacturing so we could bring affordable testing to Americans on a mass scale."
"We're pleased to be working with the country's leading retailers to provide broad access to this affordable test so that it gets out into the communities that need it most," Ford added.
In addition to BinaxNOW, CVS said Monday it would begin selling two other COVID-19 tests at select stores: the Ellume COVID-19 Home Test and the Pixel by Labcorp PCR Test Home Collection Kit.
All three tests do not require a prescription and can be used by individuals with or without symptoms.
Ellume's test sells for $38.99 and delivers results in 15 minutes through a free smartphone app. It was the first rapid, fully at-home test to receive FDA emergency use authorization back in December.
CVS is the first drug retailer to offer Ellume's test, which will be available in select locations in Rhode Island and Massachusetts this week and on CVS.com. By the end of May, the test will be on sale at most CVS pharmacies nationwide, the company said.
The Pixel by Labcorp Home Collection Kit is available on CVS.com and in select stores and sells for $119.99. The PCR — or polymerase chain reaction — test is the same type used by physicians, and results typically are available within one to two days.
"Access to testing continues to be an important part of the nation's pandemic response. Making OTC COVID-19 tests available to our customers helps remove barriers by providing convenient options for testing," said George Coleman, CVS Pharmacy's senior vice president and chief merchant.
The FDA has previously authorized a handful of tests that consumers can purchase over-the-counter and use at home, but unlike the newer tests from Abbott, Ellume and Labcorp, they are not designated as serial tests and are not yet widely accessible.
_____
Source: Equities News