By Ashley Viens for Visual Capitalist
Since the 2008 financial crisis, global private wealth has been steadily growing.
In fact, overall private wealth worldwide reached $204 trillion in 2018, which is a 26% increase over the past decade.
This week's chart, which uses numbers from the Global Wealth Migration Review 2019, examines the top 10 richest countries and the growth of private wealth from 2008 to 2018.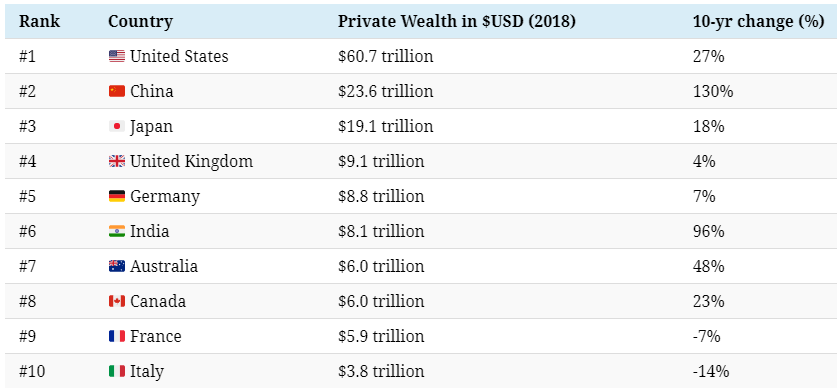 Combined, the 10 countries above represent 74% of total private wealth worldwide.
These trends are staying consistent with the numbers seen in 2017. Asian countries such as China and India showed the highest uptick in wealth gains, holding their #2 and #3 spots on the list, while European countries such as France and Italy actually saw a decrease.
Trends in the Wealth Landscape
Over the last 10 years, China has experienced the largest increase in wealth at 130%. This growth also means that China now boasts more high-net-worth individuals (HNWIs) than any other country except the United States.
While India doubled its total private wealth over the 10-year period, wealth per adult remains at just 22% of the global average.
The U.S. continues to lead in wealth numbers, holding 30% ($60.7 trillion) of the world's total private wealth. Unsurprisingly, the U.S. remains home to the most millionaires in the world.
The World's Millionaires: Top 3 Countries
United States: 17,350,000
China: 3,480,000
Japan: 2,809,000
World total: 42,155,000
Source: Credit Suisse
Australia now tops the above list in terms of highest wealth per adult, and it is second in the world only to Switzerland in the context of major nations.
Despite the recent turmoil and uncertainty stemming from Brexit, the United Kingdom still saw overall growth in the past decade, moving from #5 to #4 rank on the list of countries with the highest private wealth.
Projections from New World Wealth estimate that total global wealth will reach $291 trillion by 2028, driven by strong growth in Asia.
Rising Wealth Inequality
Unfortunately, this growth is also linked to the growing problem of wealth inequality gap across the globe, and the gap seems to get bigger every year.
The average global wealth per adult is approximately $27,000 – but of the total adult population, 64% have a net worth of less than $10,000. The bottom half of adults in the world now own less than 1% of all household wealth.
By contrast, 85% of all household wealth is owned by the richest 10%, and the top 1% own almost half (47%) of the world's household wealth.