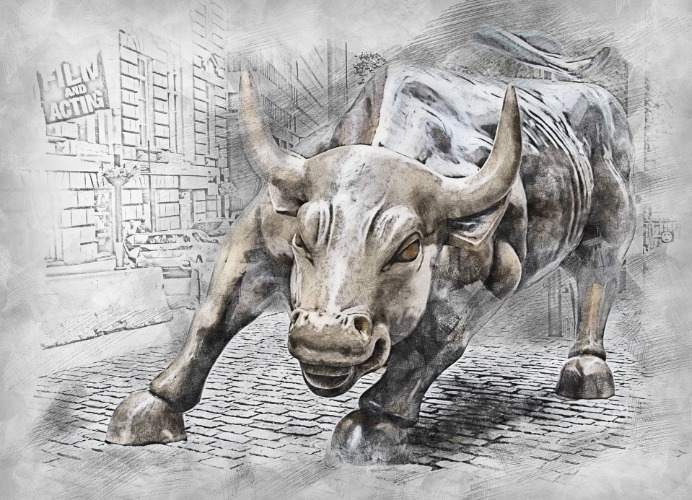 The market ended higher last week after the bulls continued to send stocks higher. The market shrugged off a spate of weaker-than-expected economic data last week because that means easy money will likely stay for the foreseeable future. In the short-term the market is over bought and due to pullback. The fact that it refuses to decline in a meaningful fashion is a net positive for the market and shows us that the bulls remain in clear control. The next big level of resistance to watch is 2018's high and the next level of support is the 50 day moving average and then December 2018's low. Until any damage shows up, the market deserves the bullish benefit of the doubt.
Tuesday-Wednesday's Action:
U.S. stocks were closed on Monday in observance of President's Day. The market ended slightly higher on Tuesday after President Trump said the March Trade deadline was "flexible." In other news, shares of Wal-Mart gapped up after the company reported earnings. Gold and silver stocks also caught a nice bid as they broke out to new multi-month highs. On Wednesday, the market ended higher after the Fed minutes were released. The Fed released the minutes from it's January meeting which is when it did a 180 and reverted back to an "easy" money stance. The Fed is trimming its balance sheet and it is open to ending that process later this year due to "risks" in the global economy. Market participants interpret that to mean more easy money which is bullish for stocks.
Thursday & Friday Action:

Stocks fell on Thursday as investors digested a series of weaker-than-expected economic data. Existing home sales, Durable Goods, Leading Indicators and the Philly Fed Index all came in weaker-than-expected which sent the Dow down 100 points by the close. In other news, shares of Tesla fell over 3% after Consumer Reports said it would not recommend Tesla's Model 3 because it was not reliable. Stocks were rallied on Friday as investors waited for clarity regarding the U.S.-China trade situation.
Market Outlook: Bulls Are Back In Control

The market has turned around after the Fed reversed its stance and moved back into the easy money camp. Near-term resistance 2018's high while near-term support is the 50 DMA line and then 2018's low. As always, keep your losses small and never argue with the tape. Do you know the most under-valued stocks in the market? Our Members Do. Take a FREE TRIAL – CheapBargainStocks.com