San Diego based Rakuten Aspyrian announced that it has raised $150 million in a Series C round led, as in previous rounds, by billionaire Hiroshi Mikitani, CEO of Rakuten RKUNY, which operates the largest e-commerce business in Japan, and chairman of Rakuten Aspyrian. The latest round brings the company's total equity fundraising to about $238 million.
Rakuten Aspyrian is developing precision-targeted cancer therapies based on its proprietary Photoimmunotherapy (PIT) platform, originally invented at the National Cancer Institute and exclusively licensed by Rakuten Aspyrian. PIT treatments involve a laser device that activates an antibody conjugate that then triggers immune cells to attack cancer in a localized area, with minimal damage to surrounding healthy tissue.
Source: National Cancer Institute
In January 2018, the FDA granted Fast Track designation to ASP-1929, Rakuten Aspyrian's lead candidate. Funds from this Series C round will enable the company to advance ASP-1929 into a global Phase 3 trial in recurrent head and neck squamous cell carcinomas and additional pipeline expansion to treat other tumor types. The financing is also earmarked to support manufacturing scale-up for the commercialization of ASP-1929 upon approval and corporate growth including the initial buildup of commercial operations to support the launch of ASP-1929 in the United States, Japan and Europe. In January 2018, the FDA granted Fast Track designation to ASP-1929.
Developing treatments for cancer patients is a mission I began to pursue years ago and is the motivation behind my investment. Rakuten Aspyrian's approach of combining a biologic with laser-activation to target tumors holds the potential to offer an alternative treatment option to help cancer patients fight their disease. Our company has advanced rapidly in developing this technology and is now poised to start Phase 3 studies. My vision is to develop and commercialize a strong pipeline of treatments based on Photoimmunotherapy to create a new platform for cancer treatments.
– Hiroshi Mikitani, CEO of Rakuten and Chairman of Rakuten Aspyrian.
Interim results of the Phase 1/2 trial of ASP-1929 in patients with head and neck squamous cell carcinoma showed a clinically meaningful improvement in the overall response rate, and potential improvements in progression free survival and overall survival when compared to historical data for the standard of care treatments currently available. Top line results of the Phase 1/2 trial are expected later this year.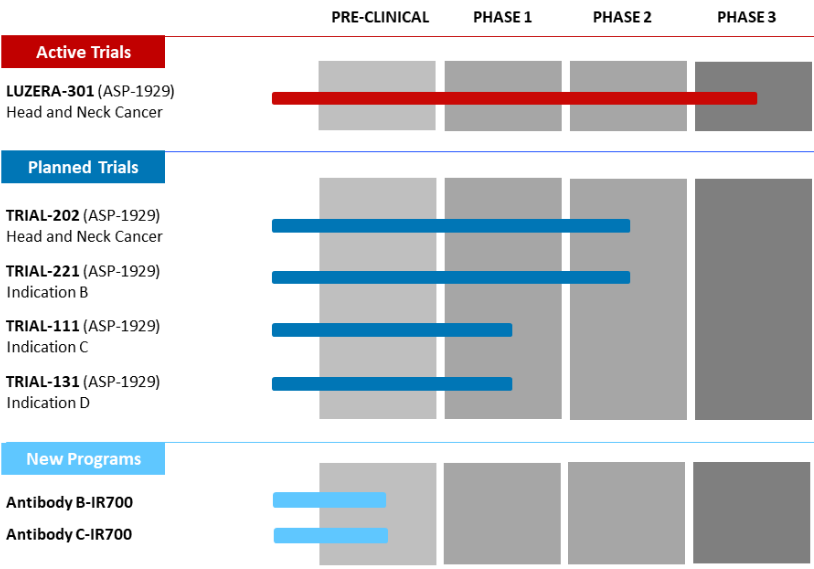 We are honored to be working with Hiroshi Mikitani, a visionary leader who supports our long-term corporate mission of conquering cancer. With this influx of capital, we are well positioned to advance our company to the next phase towards developing a fully integrated R&D and commercial biopharmaceutical corporation advancing first-in-class precision tumor-targeted therapies.
– Miguel Garcia-Guzman, PhD, President and CEO, Rakuten Aspyrian.
John Carroll writes in Endpoints News that Mr. Mikitani became familiar with the development of Photoimmunotherapy at the National Cancer Institute "as he was hunting down a better therapy for his father, who was dying of pancreatic cancer. And while it was too late to save his father, he seized on it as the next big thing in cancer." Mr. Carroll writes further that, in his conversation with Mr. Garcia-Guzman, Rakuten Aspyrian's president said that Mr. Mikitani has a majority interest in the company and that management "has steered clear of the VC set, determined to control their own future and maintain their independence."
Please email us at [email protected] to see our Case Studies and Testimonials.
Please click here for information on our new trading platform.
Please click here to see our daily newsletter.