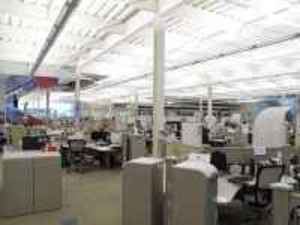 Shares of Rackspace Hosting Inc. (RAX) plummeted more than 15 percent in early September 17 trading, which was a comedown from the prior week's speculative binge and resulting price uptick.
But a quick stock price up-and-down is the least of Rackspace's problems. The company is dealing with two more pressing long-term issues: one, the fact that their chosen business (cloud storage) is already dominated by a much, much larger competitor in Amazon (AMZN) ; and two, that in the wake of major data breach involving nude celebrity photo leaks "the cloud" is not looking quite as lofty as it once was.
These issues have been exposed by the unusual stock activity of the prior weeks. Rackspace kicked the buying spree off with the unusual decision to announce they were in acquisition talks. Unusual to say the least, because an announcement that comes before a deal is able to be solidified will drive up share price and make them that much less attractive to potential buyers. That deal looks now to not come to fruition, at least in the near-term, with Rackspace releasing a press statement on September 16 saying they were "no longer pursuing M&A options."
Self-inflicted drama aside, Rackspace is facing a much larger dilemma in the form of companies like Amazon. So far Rackspace has failed to really differentiate their product to the public, while also lacking the reach or name recognition of the bigger players.
But it isn't just a case of David vs. Goliath that's troubling for Rackspace. The entire cloud storage industry has long engendered concerns over the safety of the information contained therein. In October 2013 Scientific American published a highly critical article of the industry highlighting safety concerns. Specifically, they pointed out that using cloud storage by default made one's sensitive information privy to these companies and dubbed the cloud "the leash."
That article was mainly supposition, but the recent scandal involving the leaks of nude photographs of several high profile celebrities like Jennifer Lawrence, Kate Upton, and Ariana Grande drove home the real security issues with the industry. Al Jazeera noted as much in an op-ed following the scandal, advocating that consumers "should also start thinking about life beyond the cloud and demand alternatives to the current system."
So what's this mean for Rackspace? In short, they need to first manage the damage from the botched M&A announcement. As they appear to be fully commited to cloud storage, they need to make every effort to reverse public sentiment expressed in the wake of the nude photo leak scandal. And then they need to start looking for their own cloud-based solution.
DISCLOSURE: The views and opinions expressed in this article are those of the authors, and do not represent the views of equities.com. Readers should not consider statements made by the author as formal recommendations and should consult their financial advisor before making any investment decisions. To read our full disclosure, please go to: http://www.equities.com/disclaimer