Quantitative Tightening and Gold
As quantitative easing injected liquidity into the markets, it was positive for the asset prices. On that basis, many analysts worry that the quantitative tightening, which drains liquidity from the markets, will be negative for them, especially that it is also unprecedented program. While gold may shine. Is it really true? Well, not. Why? First of all, the unwinding of the Fed's balance sheet was well telegraphed in advance and thus widely expected and already discounted by the markets. Secondly, the U.S. central bank is not going to reduce its balance sheet to the pre-crisis level. Thirdly, the pace of tightening has been very gradual, running quietly on autopilot in the background, as the Fed remembers the taper tantrum and is moving now with extreme caution. Indeed, as the chart below clearly shows, the Fed's balance sheet, as of June 2018, has declined merely 3 percent from October 2017 when the quantitative tightening started.
Chart 1: The Fed's balance sheet (in trillions of $) from 2003 to 2018.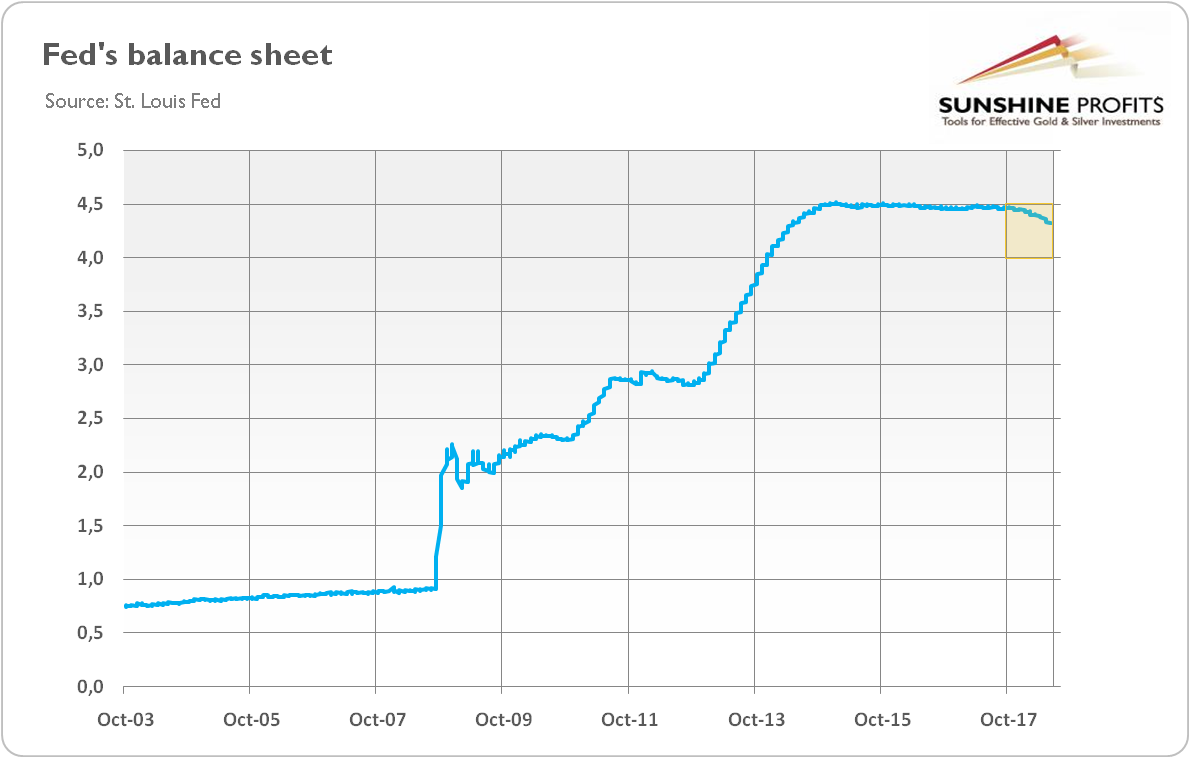 The implication is clear: the effects of the quantitative tightening will not be simply the reverse of the quantitative easing. We expect smaller impact, especially given economic expansion and favorable financial conditions. It means that the quantitative tightening should not be the potential trigger of market turmoil which would send gold prices higher. Actually, if there is any impact on the gold market, it should be rather negative, as the Fed's tightening could lift the real interest rates – and gold usually struggles when yields are increasing.
We encourage you to learn more about the gold market – not only about the link between quantitative tightening and the yellow metal, but also how to successfully use gold as an investment and how to profitably trade it. Great way to start is to sign up for our Gold & Silver Trading Alerts. If you're not ready to subscribe yet and are not on our gold mailing list yet, we urge you to sign up. It's free and if you don't like it, you can easily unsubscribe. Sign me up!