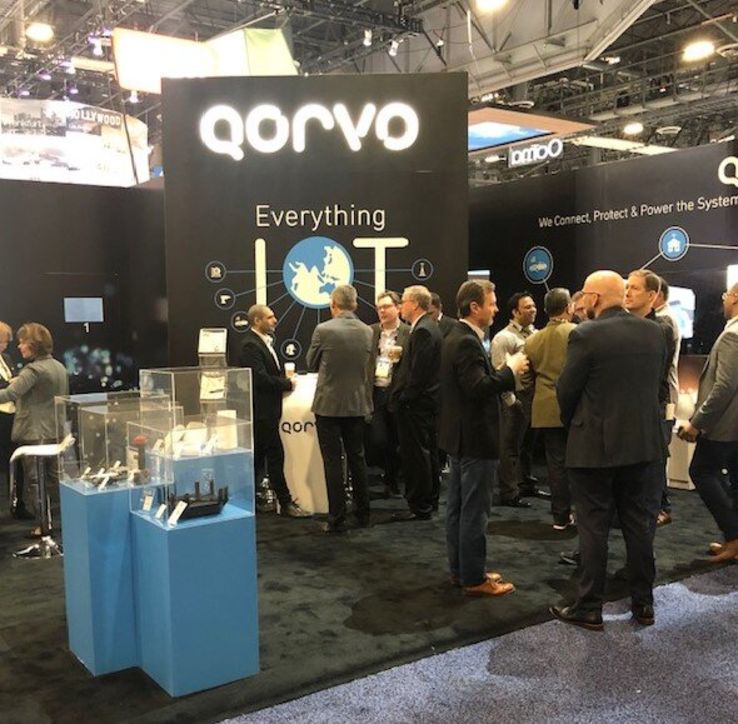 Qorvo, Inc. is a company we're watching in the coming expansion of 5G.
Created from the merger of TriQuint Semiconductor and RF Micro Devices in January 2015, the North Carolina-based company makes high-quality radio frequency solutions for both base station and device suppliers. In addition, the company's mobile 5G portfolio entered high-volume production in February of last year, which enabled smartphone manufacturers to develop 5G handsets and mobile devices well ahead of full deployment.
QRVO's stock price spent much of 2019 trading in a range of $65 to $75 due largely to verifiable concerns about the US-China trade war (at the start of the trade war the company attributed 57% of its revenues from China with 15% coming from Huawei alone) and how it would impact the company's bottom line. On October 31, 2019, however, management announced Q2 results for fiscal 2020, stating that the company was already seeing strong demand for its radio frequency chips.
Here is a long and important excerpt from Bob Bruggeworth, President and CEO, on that earnings call:
Qorvo delivered another outstanding quarter as our technology investments, portfolio management and operational discipline continue to yield strong and consistent results… Qorvo is securing significant content in 5G smartphones with our premium technologies and are highly integrated modules, enabling our customers to enhance system performance, overcome design challenges and bring their smartphones to market faster than ever. Looking at our September quarter by business, our performance in Mobile Products was driven by multiple customers and product segments. Samsung was a standout, as we expanded our participation in their mass market phones. Qorvo's broad portfolio of enabling technology coupled with a robust supply chain and solid product execution is allowing us to solve our customers most challenging problems across all tiers of their portfolio…To that end, we're enjoying significant traction with our four largest customers in China, designing our low, mid-high and ultrahigh band solutions into their upcoming 5G smartphones. Our wins are broad-based and our solutions are mated with all the major chipset providers including SLSI, Qualcomm, MediaTek and HiSilicon.
Following these comments, Qorvo's stock leapt to over $100 on November 4th and has continued to climb with very few dips since that date. On that call, Bruggeworth and his fellow leadership team announced fiscal 2020 Q3 revenue would be between $840 million and $860 million, which far surpassed average analyst estimates for the company.
This guidance also would mark a significant quarter-over-quarter increase in revenues for QRVO as it closed Q2 with $807 million, which already represented a strong quarter for the company, $52 million above the midpoint of guidance. The company did state they expected a seasonal decline in the March quarter, but management still saw double-digit year-over-year growth. CFO Mark Murphy said that "mobile will be up sequentially in the third quarter and return to growth year-over-year" and then "down the fourth quarter seasonally, sequentially, and then up double-digits year-over-year."
Bruggeworth said in the Q&A portion of the call, "We are seeing great growth at Samsung. In my opening comments, I talked about expanding into their mass tier phones as well. And we're driving a lot of business there, and that's going to be up very nicely year-over-year as well," and mentioned later that Qorvo was taking market share from another vendor.
Qorvo taking market share is a demonstration of the success of the company's sub-6-GHz band wireless infrastructure. Furthermore, Qorvo's approach of integrating 4G into 5G chips adds versatility for handset designers, and it also shows a sophisticated approach by the company.
The company's RF portfolio is ideal for multiple markets like mobile service providers, defense, aerospace, automotive and other IoT applications, and the global radio frequency market is expected to grow with a CAGR of 14% from now until 2025, according to Grandview Research.
_____
Equities Contributor: Stephen L. Kanaval
Source: Equities News