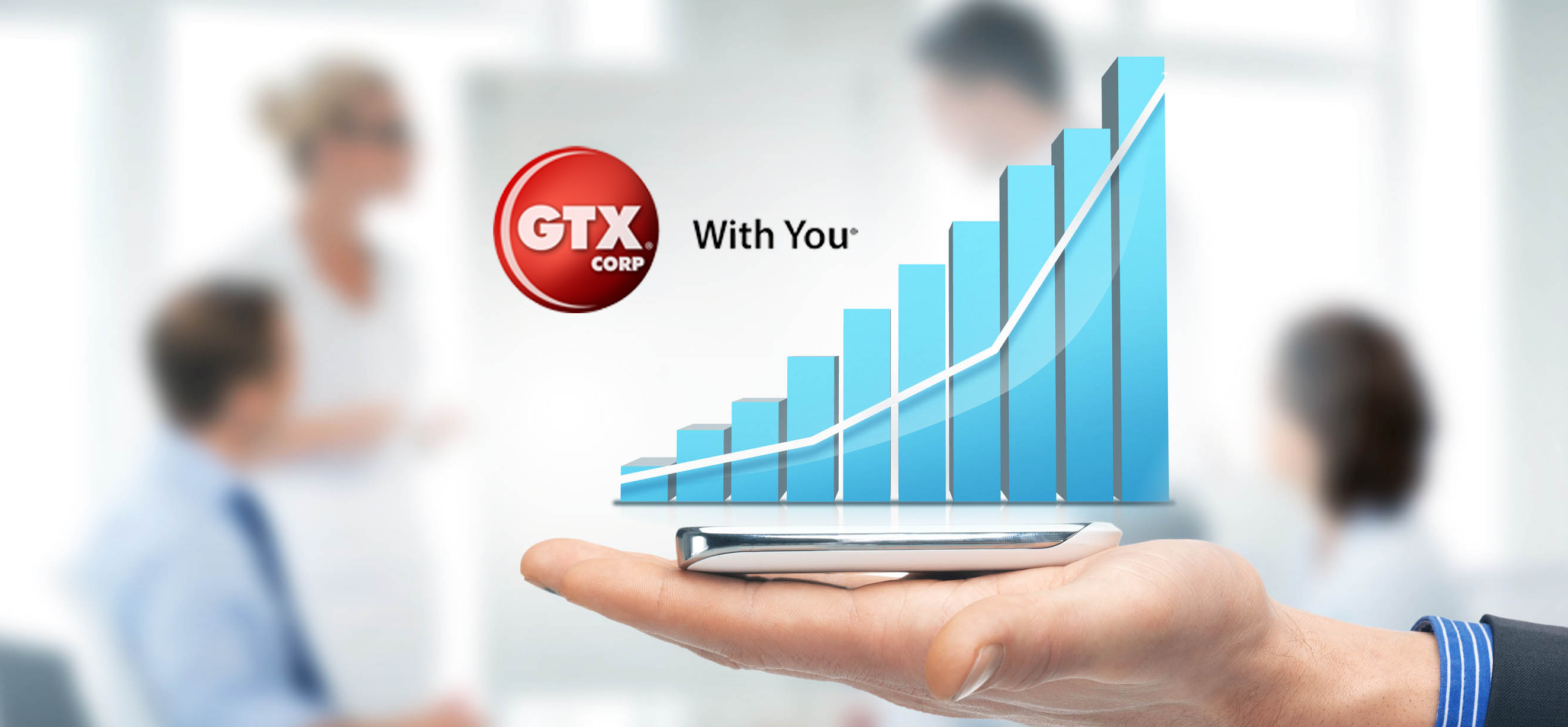 Wearable IoT technology pioneer GTX Corp. (OTC:GTXO) continues to leverage several major tailwinds to solidify its position as a leader in serving a number of key target markets with its innovative GPS-tracking recovery services. The company achieved several significant milestones over the past quarter, including major partnership and military contract announcements.
GTX Corp reported growth in both products and services revenue in its latest financial quarter. Product revenue increased by 7% in the quarter ended Sept. 30, 2017, over the prior year's quarter, while services revenue rose 8% over the prior year's quarter.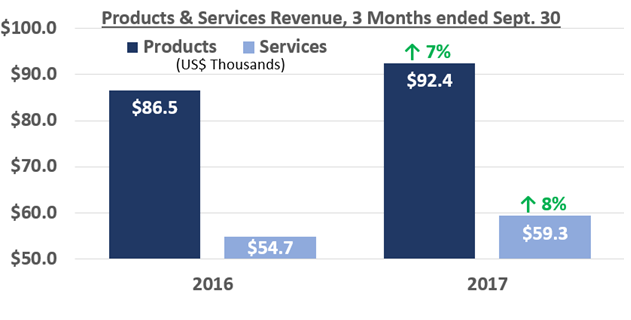 Source: Data from GTX Corp. Form 10-Q for the quarterly period ended September 30, 2017. Chart by Equities.com.
Growth in the nine-month period ending Sept. 30, 2017, continued to trend well, with product revenues up 17% and services revenues showing a 12% increase, over the prior year's period.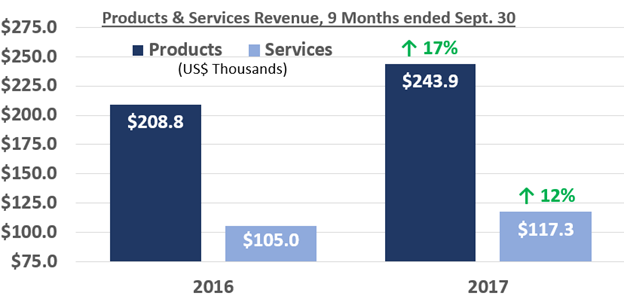 Source: Data from GTX Corp. Form 10-Q for the quarterly period ended September 30, 2017. Chart by Equities.com.
GTX reported numbers on the heels of the US Senate Judiciary Committee's vote last week to move forward with bipartisan legislation to provide tracking devices and resources to those with autism and other developmental disabilities who are at risk of wandering. The bill, known as Kevin and Avonte's Law in memory of two autistic boys who wandered from their caretakers and tragically drowned, is an updated version of companion bills that were passed by the Senate and the House last year.
According to Senator Chuck Grassley (R – Iowa), Chairman of the Judiciary Committee and a lead sponsor of the bill, the revised version has been changed "to support not just people with dementia but also children with developmental disabilities. It allows Justice Department grants to be used for education programs to help prevent wandering by these individuals and for technology to reunite caregivers with missing family members."
Additionally, Senator Grassley said, "The bill will make resources available to equip first responders with the training necessary to better prevent and respond to these cases. These activities will help save lives and conserve police resources." Meanwhile, Congressman Chris Smith (R – New Jersey) introduced a virtually identical companion bill to the House.
GTX Corp CEO Patrick Bertagna commented, "We salute Senator Grassley, Congressman Smith and the other sponsors of this critical legislation. Kevin and Avonte's Law will supply needed resources and tracking solutions that can help save lives, keep children safe and bring peace of mind to families and communities across the country. With a 30% increase in autism in just the past two years, this bill is very important to the autistic community that is so financially impacted from caregiving. Government funding and assistance is very much needed and should greatly benefit the community."

GTX's patented tracking offerings enable caregivers, parents and anyone concerned with safe and secure monitoring to receive real-time, continuous location coordinates rendered on a map through a customized portal.
---
---
GTX's flagship product is the GPS SmartSole, tracking insoles that empower caregivers with wearable wandering assistive technology that is hidden and unobtrusive. SmartSole users don't need to remember to carry a separate device and suffer no stigma from visible "lock-on" bracelets or trackers.
The Take-Along Tracker 3G is a miniaturized GPS tracker measuring just three inches long, weighing less than 2.5 ounces and contained in a waterproof case. The Take-Along has a built in speaker phone so users can call for help, and it tracks anywhere there is cellular service.
Last week GTX released an innovative line of Take-Along Friends toys, huggable plush dolls that come embedded with the Take-Along Tracker 3G to enable parents to delight their kids for the holidays while maintaining discreet GPS-assisted knowledge of their whereabouts.
The Track My Workforce app is an efficient, cost-effective method for employers and business owners to manage and oversee the modern mobile workforce. Employees, drivers, sales reps and any other affiliates can provide real-time updates and location reports automatically, creating a more reliable and accurate reporting system that doesn't rely on users remembering to text or otherwise self-report.
GTX made meaningful strides in Q3 in growing revenue and positioning itself for significant future growth, including agreements with:
"This was a fruitful quarter for us in terms of new business and product development," commented Bertagna. "While revenues grew at a modest pace, we still managed to accomplish a lot in business and product development, while lowering our operation costs, increasing subscribers and subscriber revenues, lowering our cost of goods and growing product and service margins."
In the interest of full disclosure, we call the reader's attention to the fact that Equities.com, Inc. is compensated by the companies profiled in the Spotlight Companies section. The purpose of these profiles is to provide awareness of these companies to investors in the micro, small-cap and growth equity community and should not in any way be considered as a recommendation to buy, sell or hold these securities. Equities.com is not a registered broker dealer, investment advisor, financial analyst, investment banker or other investment professional. We are a publisher of original and third party news and information. All profiles are based on information that is available to the public. The information contained herein should not be considered to be complete and is not guaranteed by Equities.com to be free from misstatement or errors. The views expressed are our own and not intended to be the basis for any investment decision. Readers are reminded to do their own due diligence when researching any companies mentioned on this website. Always bear in mind that investing in early-stage companies is risky and you are encouraged to only invest an amount that you can afford to lose completely without any change in your lifestyle. Equities has been compensated with cash, common shares and/or warrants for market awareness services provided.

DISCLOSURE: The views and opinions expressed in this article are those of the authors, and do not represent the views of equities.com. Readers should not consider statements made by the author as formal recommendations and should consult their financial advisor before making any investment decisions. To read our full disclosure, please go to: http://www.equities.com/disclaimer