Cambridge, Massachusetts, based Agilis Biotherapeutics is developing therapeutics for rare monogenic diseases (caused by the failure of a single gene) affecting the central nervous system (CNS). There are over 4,000 monogenic diseases, according to Agilis, and the company's lead program has produced positive data through Phase II studies in Aromatic L-Amino Acid Decarboxylase (AADC) deficiency, which results from mutations in the dopa decarboxylase (DDC) gene. The DDC gene codes for the production of the AADC enzyme, which, when working properly, creates neurotransmitters called dopamine and serotonin that enable communication within the CNS.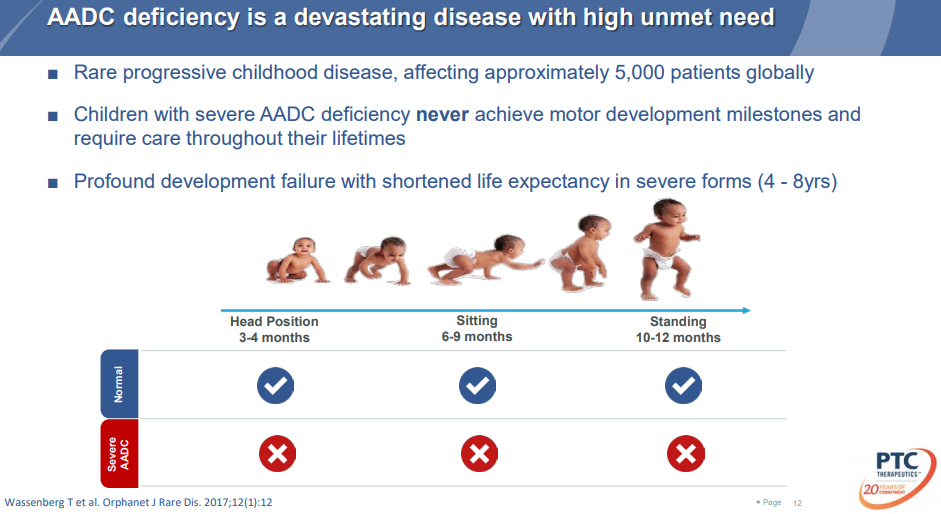 Source: PTC Therapeutics presentation, July 19, 2018
AADC deficiency leads to decreased production of these neurotransmitters, and, in its severe forms, causes the inability to develop any motor control, resulting in breathing, feeding and swallowing problems, frequent hospitalizations and the need for life-long care. Many patients die in the first decade of life due to profound motor dysfunction and secondary complications such as choking, hypoxia and pneumonia.
The results from two clinical studies in patients with severe AADC Deficiency indicate that Agilis' therapeutic candidate, GT-AADC, triggered the production of dopamine. Additionally, data from trials that began in 2010 have demonstrated long-term evidence of durable clinical benefit, with patients achieving substantial gains on motor function and cognitive scales over multiple years following the single gene therapy treatment.
PTC Therapeutics acquisition
PTC Therapeutics PTCT announced yesterday that it is acquiring Agilis and its gene therapy portfolio for $50 million in cash and about $150 million in stock. The deal includes potentially $60 million in payments for developmental milestones, up to $535 million in regulatory milestones and tiered commercial milestones of up to $150 million. The terms also include a royalty provision of 2% to 6% of annual net sales for any treatments of Friedreich ataxia and Angelman syndrome.
Agilis has taken in modest funding in its developmental efforts to date, with an $8 million Series A round in 2014, a $5 million debt financing in 2016 and a $23 million Series B round in 2017 that was led by Sands Capital Ventures.
PTC shareholders have enjoyed a strong but bumpy ride this year, with the stock closing 2017 at $16.68. The company has two drugs on the market for Duchenne muscular dystrophy currently—Translarna (ataluren), approved in the European Union for ambulatory patients aged 5 years and older with Duchenne caused by a nonsense mutation (a mutation in a DNA sequence that results in a shorter, unfinished protein than normal), and Emflaza (deflazacort), approved in the US for patients 5 years of age and older—but has endured repeated setbacks at the FDA in its efforts to get Translarna approved in the US.
Agilis Biotherapeutics pipeline

Source: Agilis Biotherapeutics website
The acquisition of Agilis' gene therapy portfolio should go a long way toward assuaging PTC shareholders and could give the top line a boost as early as 2019, when the company plans to submit a Biologics License Application for its AADC deficiency treatment.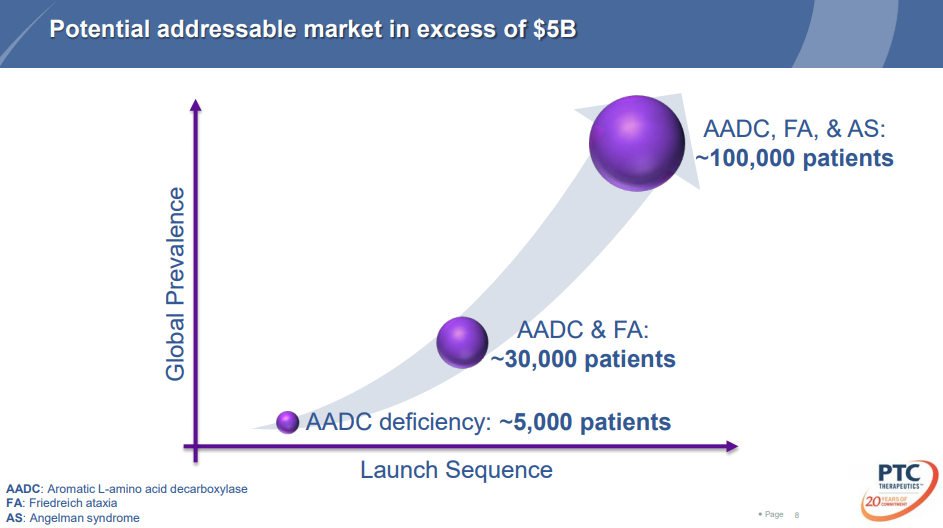 In a conference call to explain the deal, CEO Stuart W. Peltz, PhD, said:
This acquisition places PTC in the leading position in the gene therapy space for rare diseases, including a late-stage CNS gene therapy candidate… The Agilis gene therapy platform for treating orphan monogenic CNS disorders is an ideal fit with our strategy of building out a leading rare disease biotech company.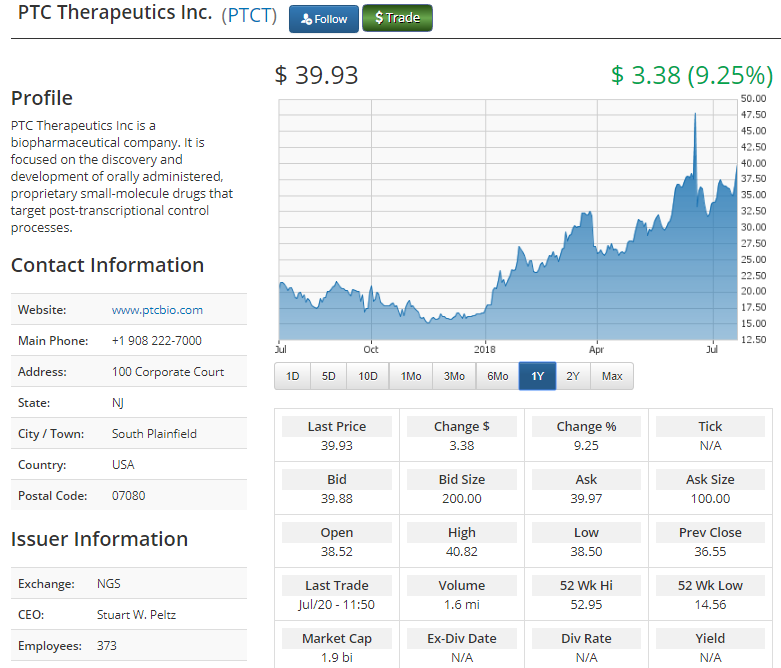 Please email us at [email protected] to see our Case Studies and Testimonials.
Please click here for information on our new trading platform.
Please click here to see our weekly newsletter.