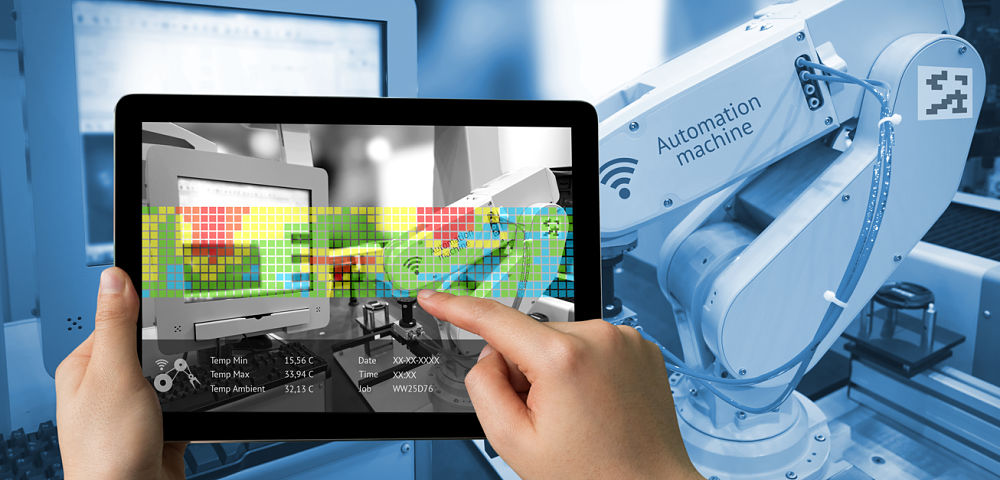 PTC reported Q3 results July 18: Sales rose to $315 million, with 91% coming from recurring revenue streams, an increase of 87% over a year ago. Deferred revenue was $310 million, a 33% increase, YOY. Everything is clicking for PTC, buy into weakness, writes Jon Markman.
Corporate earnings are set to rise more than 20%. Productivity gains in excess of 5% of global GDP are possible. And $650 billion of new industrial spending is likely.
That's all according to "Capital Goods: Data Era Investment and the 'Second Machine Age,'" a new report from Morgan Stanley Research. It examines how advances in information technology are tilting the landscape.
Spoiler alert: Investors need to get ready.
Most of the conclusions are going to seem familiar. Research firms and consultants have been hyping the Internet of Things, robotics and artificial intelligence for a long time. The idea that future factories will be hyper-connected — and filled with smart robots that can learn from, and work alongside, humans — is the promise that never seems to get fulfilled.
Elon Musk, the mastermind behind SpaceX, designed and built rockets capable of landing vertically. It is an amazing accomplishment. But his bright mind is no match for the automobile assembly line. Tesla (TSLA), his electric car company is habitually in "production hell" (his words) because he can't get all of his nifty robots to play nicely together.
A humiliated Musk recently admitted human workers are vastly underrated.
Don't forget the fallen fortunes of legacy technology giants, International Business Machines (IBM) and General Electric (GE). They bet early and big on AI and connected factories. GE's business is in freefall. IBM's Watson is a stone-cold killer on the quiz show circuit. In the corporate world, it has been a dud.
Morgan Stanley analysts believe that will soon change. The Wall Street firm rates Big Blue "Overweight." And it is all about timing. After many false starts, the "Second Machine Age" is finally revving up.
The Second Machine Age is a term coined by Erik Brynjolfsson and Andrew McAfee. In their New York Times bestseller of the same title, the MIT professors argue that this era will differ radically from the first age of machines, the Industrial Revolution.
Smart machines will become substitutes for human workers. There will be rampant displacement.
This process is already underway. In 2017, JD.com, the largest online retailer in China, opened a distribution facility on the outskirts of Shanghai. From the outside, the center appears to be a larger, albeit cleaner, version of the traditional warehouse. Inside, the massive space is brimming with smart robots, scanners and fast-moving conveyor belts.
The warehouse is fully automated. It is capable of processing 200,000 orders per day, every day. It employs only four humans. The 2017 corporate video showcasing the pristine operation is jaw dropping for its clinical precision.
By way of comparison, Amazon.com (AMZN), despite all of the handwringing about automation, employed 566,000 people as of February 2018. The rest of the corporate world is even less productive.
I'll be perfectly honest: It is not a great time to be a worker. The Second Machine Age is not going to be pretty. To compete, companies need more scale.
Smart machines work continuously. They're aware because they are connected. They also do not require healthcare, or bathroom breaks.
For investors, this is a many-year trend that will produce big winners.
One solid way to play the cycle is through shares of PTC Inc. (PTC). The Massachusetts software company focuses on helping enterprise customers become more productive with digitalization.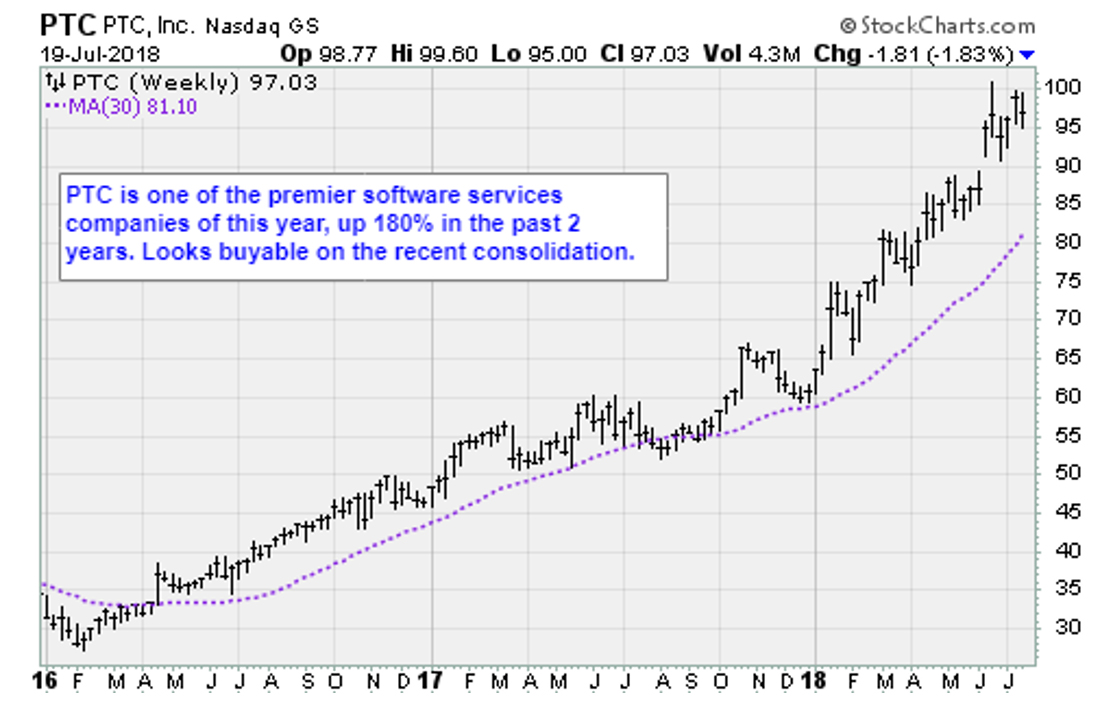 ThingWorx is its best-in-class, Internet of Things platform. In 2016, Vodafone, the giant European wireless company, used the platform to build a complete smart city application. What began as a simple public transportation system to reduce traffic will get smart lighting, parking and environmental monitoring as the company rolls out its 5G wireless.
In January, Microsoft (MSFT) struck a partnership with PTC to bring ThingWorx to its Azure Cloud platform. In June, Rockwell Automation (ROK) entered into a strategic deal with PTC to help clients transform physical operations with digital technology.
PTC reported Q3 results July 18: Sales rose to $315 million, with 91% coming from recurring revenue streams. That is an increase of 87% over a year ago. Deferred revenue was $310 million, a 33% increase, year-over-year.
Everything is clicking for PTC. Managers are striking the right deals, customers are committing to its platform, and all evidence suggests the promised smart factory is finally within sight.

Investors should buy PTC into weakness.

Best wishes,
Jon D. Markman

P.S. I'll be speaking at the San Francisco Money Show in August. It will be a great show, with all sorts of experts sharing their insights. You can find more about that incredible conference by clicking here. I hope to see you there!

Subscribe to Jon Markman's Power Elite newsletter here
Subscribe to Jon Markman's Tech Trend Trader here
Subscribe to Jon Markman's Strategic Advantage here

This article was originally published by MoneyShow.com: Founded in 1981, MoneyShow is a privately held financial media company headquartered in Sarasota, Florida. As a global network of investing and trading education, MoneyShow presents an extensive agenda of live and online events that attract over 75,000 investors, traders and financial advisors around the world.