Prothena Biosciences, a wholly-owned subsidiary of Prothena Corporation (Nasdaq: PRTA) has entered into a global collaboration with Celgene (Nasdaq: CELG) to develop new therapies for a broad range of neurodegenerative diseases. For the multi-year research and development agreement, Celgene will pay Prothena $100 million upfront and make a $50 million equity investment. Future potential exercise payments and regulatory and commercial milestones for each licensed program could result in up to an additional $2.1 billion in payments to Prothena, which will also receive additional royalties on net sales of any resulting marketed products.
The collaboration is focused on three proteins implicated in the pathogenesis of several neurodegenerative diseases, including tau, TDP-43 and an undisclosed target. For each of the three programs, Celgene has an exclusive right to license clinical candidates in the US following the investigational new drug (IND) filing for $80 million per program. If exercised, Celgene would also have a right to expand the license to global rights at the completion of Phase 1 for $55 million per program. Following the exercise of global rights, Celgene will be responsible for funding all further global clinical development and commercialization, and Prothena would be eligible to receive up to $562.5 million in regulatory and commercial milestones per program.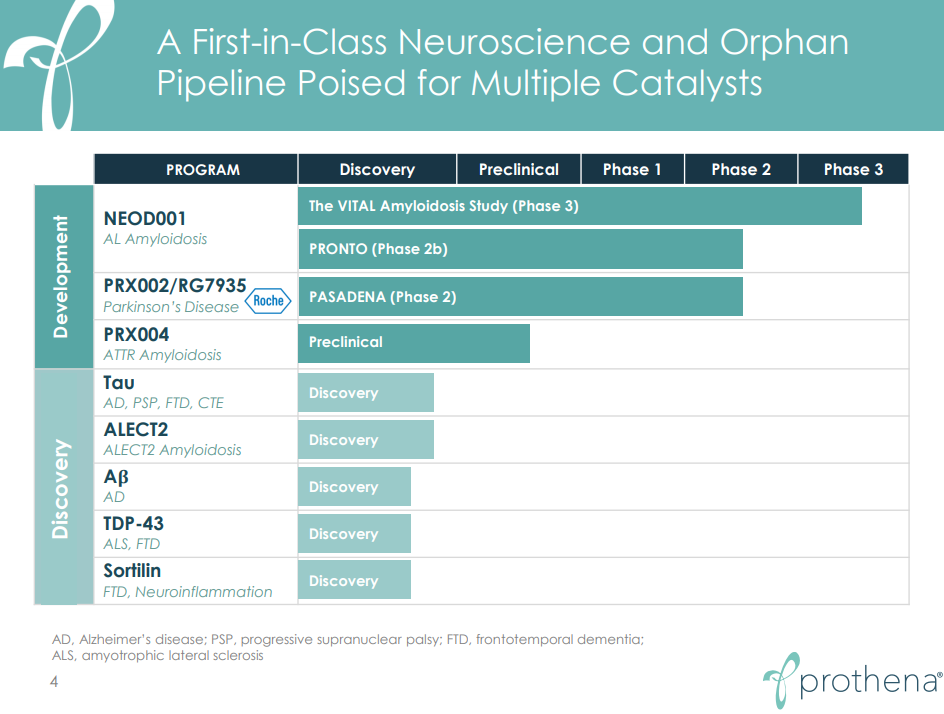 Source: Prothena Corporation
Collaboration Programs
Tau – a protein implicated in diseases including Alzheimer's disease (AD), progressive supranuclear palsy (PSP), frontotemporal dementia (FTD), chronic traumatic encephalopathy (CTE) and other tauopathies. Prothena has identified antibodies targeting novel epitopes on the tau protein with the ability to block misfolded tau from binding to cells and to inhibit cell-to-cell transmission, preventing downstream functional toxic effects.
TDP-43 – a protein implicated in diseases including amytrophic lateral sclerosis (ALS) and the most common subtype of FTD, behavioral variant FTD (bvFTD), a proportion of AD and other TDP-43 proteinopathies. Prothena has generated antibodies that target multiple epitopes on the TDP-43 protein and is using proprietary in vitro screening methodology to select those that may be the most potent and efficacious in inhibiting toxicity and cell-to-cell transmission of misfolded TDP-43 species.
Prothena has a legacy of innovation in neuroscience and a team with a deep understanding of biological approaches that target protein misfolding disorders. Our collaboration leverages each company's core expertise in protein homeostasis and protein clearance to target proteins that are the underlying cause of many neurodegenerative and orphan diseases. The programs we have chosen to collaborate on have the potential to provide foundational assets from which we can build new therapeutic approaches to these currently untreatable neurological disorders.
– Richard Hargreaves, PhD, Corporate Vice President Neuroscience and Imaging, Celgene.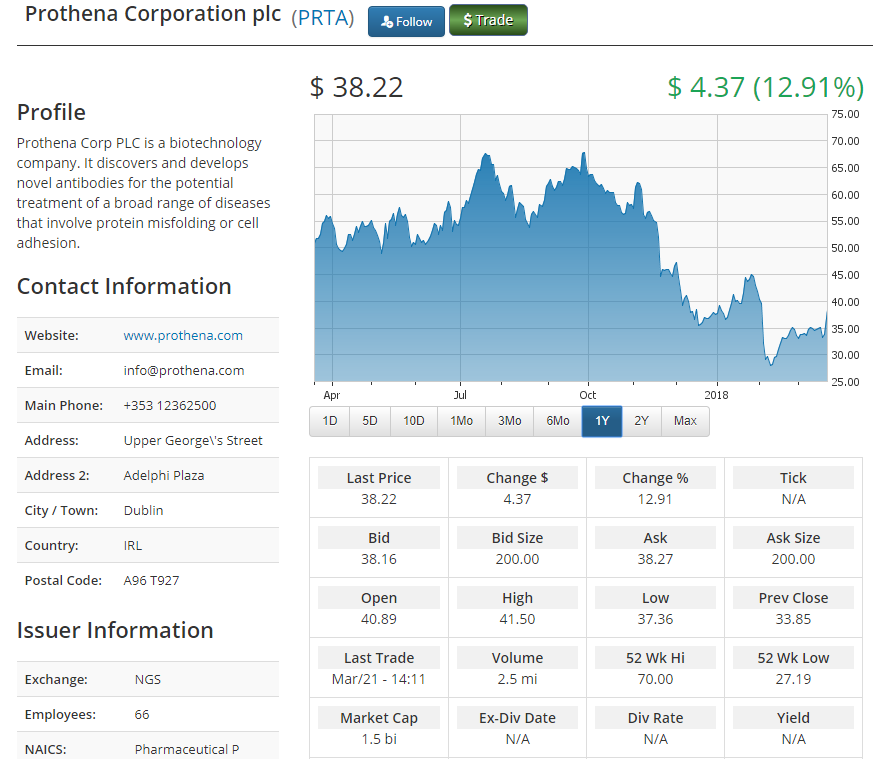 Please email us at [email protected] to see our Case Studies and Testimonials.
Please click here for information on our new trading platform.