Over 30,000 people in the US—and more than 70,000 worldwide—live with cystic fibrosis (CF), a progressive, genetic disease that causes persistent lung infections and limits the ability to breathe. According to the Cystic Fibrosis Foundation, about 1,000 new cases of CF are diagnosed each year, with more than 75% of patients diagnosed by age 2. People with CF have a defective cystic fibrosis transmembrane conductance regulator (CFTR) gene that causes a thick, sticky buildup of mucus in the lungs, pancreas, and other organs. Airways can become clogged, ultimately leading to respiratory failure, and the release of digestive enzymes in the pancreas can become blocked, disabling the body's ability to absorb vital nutrients.
Boston-based Proteostasis Therapeutics PTI is developing small molecule therapeutics to treat CF and other diseases caused by dysfunctional protein processing. Last week the company announced positive preliminary results from its ongoing Phase 1 study of combination therapies for CF. These combination treatments, known as doublets, showed statistically significant dose-dependent improvement in the two key endpoints of percent predicted forced expiratory volume in one second (ppFEV1) and sweat chloride concentration across all cohorts. Notably, the ppFEV1 improvement was significantly greater than the average seen using the current standard of care.
The stock increased dramatically on the news, jumping nearly 450% last Thursday to $10.35 on volume of 94 million shares. PTI's average daily trading volume is about 160,000 shares. The stock has settled back to the $6 to $8 range since then, but the company took advantage of the share appreciation to raise gross proceeds of $74 million, pricing 11 million shares yesterday off a Form S-3 shelf registration originally filed in April 2018. The deal was done through Leerink, Piper Jaffray and Cantor.
Proteostasis is focused on the discovery and development of novel therapeutics to treat diseases caused by an imbalance in the "proteostasis" or protein homeostasis, network, a set of biological pathways that control the creation, folding, transportation, maintenance and degradation of proteins in the body. An imbalance in this network can lead to a decrease in protein quality control contributing to diseases categorized as loss-of-function disorders, such as CF, or gain-of-toxic function disorders, such as Alzheimer's, Huntington's and Parkinson's diseases.
The company's lead candidates in CF are designed to change the defective CFTR gene in different ways, in doublet and triplet combinations:
PTI-428: CFTR amplifier has shown in vitro increases in CFTR protein levels across genotypes
PTI-801: CFTR corrector has shown in vitro efficacy and synergy with known correctors
PTI-808: CFTR potentiator has enhanced the function of mutated F508del CFTR, the most common mutation in CF patients, in vitro and restored it to almost normal levels when combined with PTI-428 and PTI-801.

Source: Proteostasis Therapeutics
The preliminary data announced last week from the PTI-801 and PTI-808 doublet showed a maximum increase in ppFEV1 of 6.3% from baseline to day 7 (8.3% vs placebo) and 5.9% to day 14 (6.6% vs placebo) in the third highest dose cohort. Sweat chloride concentration from baseline was also observed at day 7 and at day 14 of about 13 millimoles per liter (mmol/L) in the third highest dose cohort. The fourth and highest dose cohort is ongoing, with data expected in the first quarter of 2019.
Doublet combinations, the current standard of care for many CF patients, are the benchmark for current treatment in cystic fibrosis. These data are the first results seen using an entirely new CF doublet, compare favorably to standard of care, and demonstrate the potential of next-generation CFTR modulators to further improve outcomes in this disease. I look forward to results from the fourth dosing cohort and to understanding the potential of another novel combination, PTI-801, PTI-808 and PTI-428.

-Carsten Schwarz, MD, Head, Adult Cystic Fibrosis Centre, Lung-Transplantation Program, and Endoscopy Unit, Department of Pediatric Pneumology and Immunology, Charité, Berlin University Medical Center.
Proteostasis confirmed last week that the first dose cohort using the company's proprietary triplet combination of PTI-801, PTI-808 and PTI-428, is on track to deliver preliminary data in Q4 2018, with complete data from the doublet and triplet cohorts expected in Q1 2019.
The current improvement in ppFEV1 for standard of care doublets is on average 3%-4% in the F508del homozygous patient population. At least a 6% improvement in ppFEV1, as observed in this study, exceeds efficacy seen with current dual CFTR modulator therapy and is starting to approach the efficacy of experimental triple combinations in this population. These results begin to confirm the exciting clinical effect of PTI's drug pipeline with more clinical data from both higher doses and proprietary triplet combinations to come.

– Damian Downey, MD Clinical Senior Lecturer in Respiratory Medicine, Queen's University Belfast.
Proteostasis went public in 2016 with a post-IPO market capitalization of $153 million. Even with last week's dramatic rise, investors have an opportunity to participate in a promising early stage CF candidate at a market cap of less than $300 million. We'll be keeping close watch on Proteostasis Therapeutics for more trial data from its doublet and triplet combination candidates.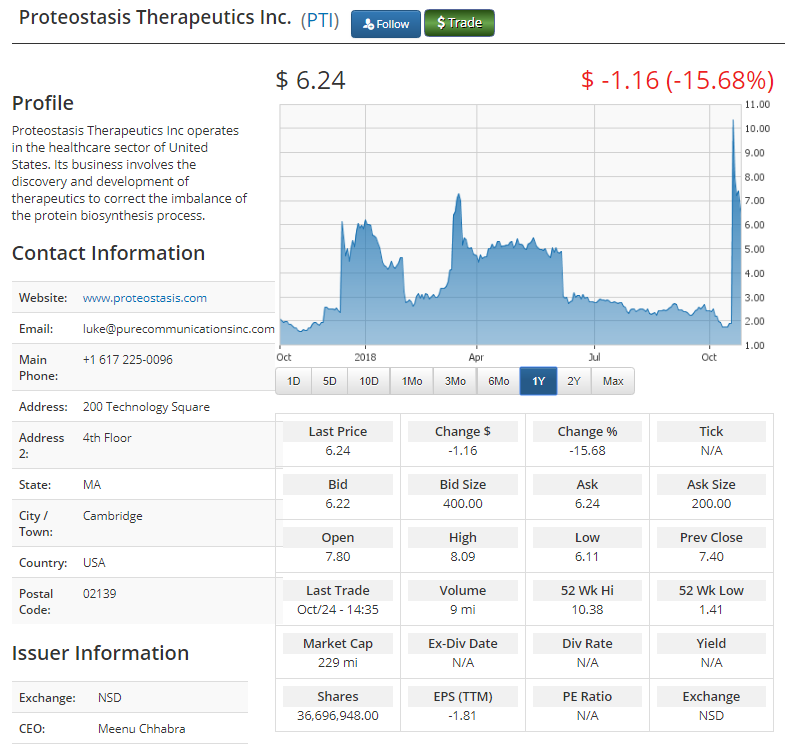 Please email us at [email protected] to see our Case Studies and Testimonials.
Please click here for information on our new trading platform.
Please click here to receive our free daily newsletter.