With market attention turning away from blue chips, investors are looking for growth opportunities in elevated markets. One of this year's market movers has been Progressive Care Inc (RXMD), which recently announced plans to acquire Touchpoint RX pharmacy in a deal expected to close in the second-quarter of 2018.
The acquisition will facilitate the Progressive's growth plans by increasing its delivery radius into Martin County (which includes Jupiter and Stuart). Analysts also expect these plans to help decrease costs of expansion and increase the company's prescription dispensing efficiency. Progressive has outlined plans to initiate the transition processes to begin introducing convenience packaging to the South Florida retail market.
Moving forward in tech and officially accepting Bitcoin for pharmacy sales
Progressive Care has become a leader in personalized healthcare services and technology – and this has enabled the company to expand its contingent of pharma-robotic equipment facilities. Foraying into the race for tech advancement, RXMD developed proprietary tele-pharmacy software to digitally communicate with patients, pharmacists, physicians, and caretakers. RXMD also announced the roll-out of its online prescription application to quicken the process prescription requests.
To further support its e-commerce capabilities, Progressive Care began accepting Bitcoin payments in February (along with its other payment platforms). Progressive's subsidiary PharmCo LLC uses BitPay to process Bitcoin payments – and here it is clear that the company is ready to innovate in all parts of its operations. Progressive has enhanced its retail pharmacy's technology and operations to strengthen its e-commerce platform and enable the pharmacy to reach growing numbers of people using cryptocurrencies for daily purchases.
Educating patients and enhancing lives
Beyond these accomplishments, Progressive Care has demonstrated a strong interest in educating its patients and improve their lives. In the second week of June, the company announced a new program to educate patients and physicians on the treatment alternatives to opioids.
Opioids have worked as a treatment option for a multitude of diseases but they can also be highly addicting. Everyday, more than 115 people in the US die due to opioid overdoses, and roughly 29% of people prescribed opioids abuse them. Opioid abuse has become a nationwide epidemic, and Progressive's campaign is designed to increase awareness about the medical usage of cannabis as a safer alternative to opioids.
These are quality traits for a 21st century company ready to innovate in a new and emerging marketplace. As a leading health services provider, Progressive Care looks to be on the path to move forward with its innovative technologies and established positioning within the industry.
Company fundamentals
Essentially, these are the types of strategies that will be needed to maintain a strong growth outlook in the current market environment. As of March 31, 2018, Progressive Care's total assets grew 49% to $3,846,041. Moreover, its operating cash flow turned positive as it increased from $-8,641 to $309,827 year-over-year, which is an increase of over 3,000%.
This could lead to analyst upgrades for the company in coming months and this is encouraging because most emerging companies typically have difficulties overcoming prevalent debt pressures.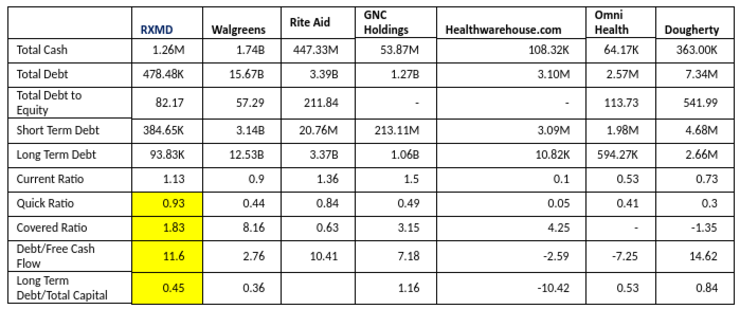 Balance Sheet Graphic: Author
Currently, Progressive Care's debt to free cash flow and long-term debt to total capital readings show a solid ability to pay off debt. RXMD also has low beta of -2.56, which means that the stock is less volatile and more attractive for conservative investors. RXMD also reported earnings-per-share (TTM) of -0.016, which means the company could be ready to turn to profit in the coming quarters.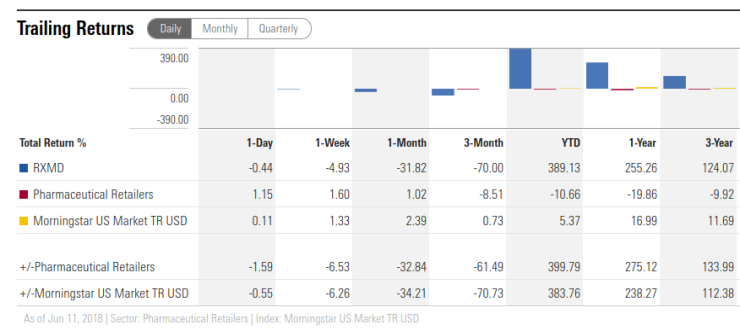 Trailing Returns Source: Morningstar
All of this is designed to build on the progress the company made previously, as the group reported 24% growth in the number of prescriptions dispensed during the first quarter. This has enabled RXMD to deliver better returns relative to the industry (as shown in the graphic above). For the March 2018 quarter, RXMD's net revenue grew 7.36% (to $5,147,345). This was aided by the fact that its wholly-owned subsidiary PharmCo, LLC filled over 22,800 prescriptions in the month of March (generated approximately $1.9 million in net revenues).
Largest single quarterly revenue in Progressive's history
Ultimately, this made headlines in the financial news as Progressive's revenues for the month of March revealed the largest single quarterly revenue performance in company history. In February, RXMD also reported an 8% year-over-year increase in prescriptions filled, after the 34% rise in prescriptions filled during the month of January 2018. This resulted in $1.6 million in net revenues, which is a growth of rate of 7% year-over-year.
Given RXMD's significant progress with license applications in new markets, expansion in Palm Beach, and the ongoing innovations in tele-pharmacy and the acceptance of Bitcoin for payment, strong company fundamentals support the outlook for Progressive Care RXMD in the years ahead.