Pheochromocytoma (pheo) and paraganglioma (para) are rare neuroendocrine tumors that arise from cells in and around the adrenal glands. Pheo and para tumors frequently secrete high levels of hormones that can overwhelm the nervous system and lead to life-threatening high blood pressure, heart failure, and stroke in these patients. When these tumors metastasize, pheo and para may result in unresectable disease with a very poor patient prognosis.
Final diagnosis of pheo and para is delayed by an average of three years after the initial onset of symptoms, according to a widely cited study by Drs. Lefebvre and Foulkes of McGill University, published in Current Oncology in 2014. If pheo and para tumors are not diagnosed or appropriately treated, the disease is almost always fatal, with a survival rate as low as 12%.
New York-based Progenics Pharmaceuticals PGNX announced yesterday that it received FDA approval for Azedra (iobenguane I-131), a radiotherapeutic for the treatment of adult and pediatric patients 12 years and older with iobenguane scan positive, unresectable, locally advanced or metastatic pheo or para who require systemic anticancer therapy. Azedra is the first and only approved therapy for this indication.
The FDA approved Azedra based on Phase 2 clinical trial data, conducted under a Special Protocol Assessment (SPA), underscoring the desperate need for a therapy for this disease. The final results showed that 17 of the 68 evaluable patients (25%) experienced at least a 50% reduction of all antihypertensive medication for at least six months, achieving the primary endpoint specified in the SPA. The study also showed favorable results from a key secondary endpoint, with overall tumor response, as measured by Response Evaluation Criteria In Solid Tumors (RECIST), achieved in 15 (22%) of the patients studied. Of these 15 patients, 53% experienced durable tumor responses lasting at least six months.
While the sample set is obviously smaller than that which would be ideally desired for a new therapeutic approval, we salute the FDA for acting decisively and rapidly in the face of a severe disease in which no true standard of care exists and whose patients have a limited number of treatment options.
Source: Progenics Pharmaceuticals presentation, July 31, 2018.
Azedra is a true breakthrough in treating pheochromocytoma and paraganglioma delivering an effective anticancer therapy to these tumors. With this innovative, rationally designed treatment, we finally have a therapeutic option that helps address patients' needs.
– Dr. Daniel Pryma, Associate Professor of Radiology & Radiation Oncology and Chief, Division of Nuclear Medicine & Clinical Molecular Imaging at the Perelman School of Medicine at the University of Pennsylvania, the Phase 2 clinical trial's lead investigator.
Many patients with these ultra-rare cancers can be treated with surgery or local therapies, but there are no effective systemic treatments for patients who experience tumor-related symptoms such as high blood pressure. Patients will now have an approved therapy that has been shown to decrease the need for blood pressure medication and reduce tumor size in some patients.
– Richard Pazdur, MD, director of the FDA's Oncology Center of Excellence and acting director of the Office of Hematology and Oncology Products in the FDA's Center for Drug Evaluation and Research.
On the conference call this morning to discuss the approval, Bryce Tenbarge, Progenics' SVP of Commercial, outlined the company's marketing plans for Azedra, which will come with a price tag of approximately $147,500 per treatment dose. This is in the ballpark for other orphan drug treatments.
Over the past few quarters, we have built out our internal and field facing teams in preparation of launch… We have conducted extensive market research on pheo and para with physicians, patients and caregivers… Among these physicians, it is universally acknowledged that pheo and para are areas of high unmet need with no standard of care.
Outlook
Azedra will clearly have a significant impact on Progenics' finances. While pheo and para, as rare diseases, will have a relatively small patient population, Progenics will have nothing in the way of competition in this space. Given the breadth of the company's pipeline, particularly with prostate cancer therapeutic candidates, we think Progenics occupies an attractive spot on the risk-reward spectrum.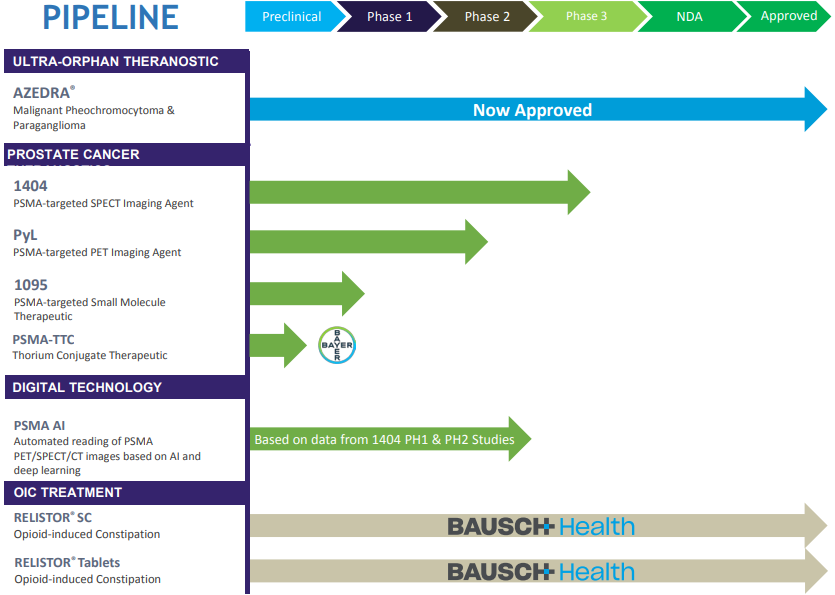 Source: Progenics Pharmaceuticals presentation, July 31, 2018.
Please email us at [email protected] to see our Case Studies and Testimonials.
Please click here for information on our new trading platform.
Please click here to see our weekly newsletter.