~Novel drug discovery platform with programs in immunology, central nervous system disorders and oncology ~
Marking another milestone in its rapid development into a clinical-stage company, Principia Biopharma (proposed Nasdaq: PRNB) is on the doorstep of its initial public offering anticipated this week. The South San Francisco based company, which began operations in 2011, is looking at a $75 million IPO (at the midpoint of the filing range—4,687,500 shares at $15 to $17) via BofA Merrill Lynch, Leerink and Wells Fargo that would value the company at $339 million post-money. In just seven years, Principia has developed three drug candidates across four clinical programs in immunology, central nervous system disorders and oncology, raising over $177 million in the process. According to the company's Retail Roadshow presentation, the IPO is expected to price Thursday, Sept. 13.
The most recent capital raise, a $50 million Series C round in August 2018, was disclosed in Principia's Form S-1. The financing was led by Cormorant Asset Management, HBM Healthcare Investments, RTW Investments and Samsara BioCapital with participation from existing investors New Leaf Venture Partners, OrbiMed, Morgenthaler, SR One Limited, Sofinnova Ventures and Mission Bay Capital.
Tailored Covalency
Principia has leveraged its proprietary drug discovery platform, called Tailored Covalency, to discover new drugs that combine the dosing convenience of an oral small molecule drug with the specificity of an antibody. Standard small molecule drugs have a short residence time—the duration of time that a drug binds to its target—that requires dosing regimens that sustain minimum concentration levels in the blood to maintain beneficial effects on the target. By optimizing for target residence time, Principia has designed its product candidates to remain bound to the target but otherwise clear the body rapidly. The company believes this minimizes both off-target effects and total exposure of the drug while achieving high clinical benefit.

Source: Principia Biopharma
Pipeline
Principia's lead compound, PRN1008, is in development for multiple autoimmune diseases. The company has completed enrollment for a Phase 2 study of PRN1008 in pemphigus, a rare, chronic disorder that cause blisters and sores on the skin or mucous membranes, such as in the mouth or on the genitals. The current standard of care for pemphigus vulgaris (which represents about 80% of the pemphigus population in most countries) typically consists of high dosage corticosteroids, which can have serious and often long-term side effects including infections, type II diabetes, osteoporosis and cardiovascular effects. Principia states it is leading with pemphigus in part because it is a generalizable model for other autoantibody-driven diseases.
PRN1008 is a Bruton's tyrosine kinase (BTK) inhibitor. BTK plays an important role in the development, differentiation and signaling of B cells. B cells, which are a type of white blood cell, are the source for many different types of cancer. Successful inhibition of BTK could lead to effective treatments for many B cell malignancies.
As pemphigus naturally occurs in both humans and dogs, primarily affecting the skin and paws of the dog, Principia conducted an early clinical trial of PRN1008 in dogs. This canine clinical trial demonstrated the effects of PRN1008 as a monotherapy without the need for the usual care of corticosteroids, and these images from the company's Form S-1 show progression over the course of the trial.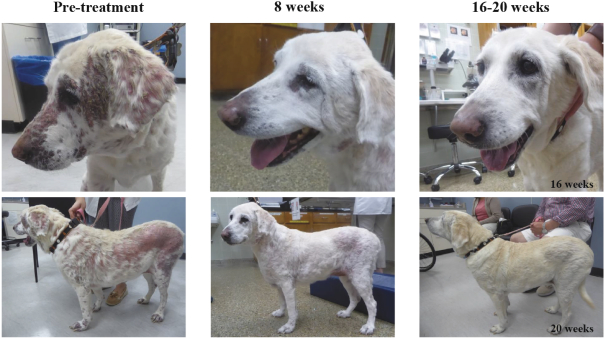 Source: Principia Biopharma
Principia has granted Sanofi SNY an exclusive, worldwide license to develop and commercialize one of Principia's compounds, PRN2246, for multiple sclerosis. In a November 2017 deal, Sanofi paid Principia $40 million upfront and agreed to future milestone payments that could total $765 million in addition to royalties on product sales. Principia has the option to co-fund Phase 3 development, in exchange for either increased royalties on worldwide product sales or a profit and loss sharing arrangement in the US. Principia has been collaborating with AbbVie since June 2017 to develop oral immunoproteasome inhibitors. Immunoproteasomes are complex proteins that play a critical role in the body's immune response.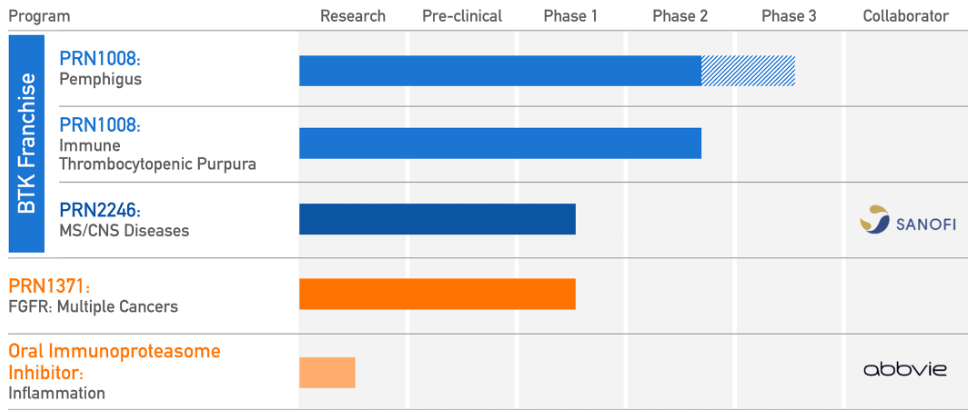 Source: Principia Biopharma
Key members of management all have significant biopharmaceutical experience. Martin Babler, President and CEO of Principia since 2011, was previously VP, Immunology Sales and Marketing, at Genentech, and he began his pharmaceutical industry career at Eli Lilly. David Goldstein, PhD, Chief Scientific Officer since 2016 and Head of Research from 2011-2016, was formerly Senior Director, Medicinal Chemistry and Head of Inflammation Chemistry at Roche. Steve Gourlay, MBBS, PhD, Chief Medical Officer since 2013, was formerly a partner at GBS Venture Partners and was previously Senior Director of Clinical & Experimental Pharmacology and Toxicology at Genentech.
Please email us at [email protected] to see our Case Studies and Testimonials.
Please click here for information on our new trading platform.
Please click here to see our daily newsletter.