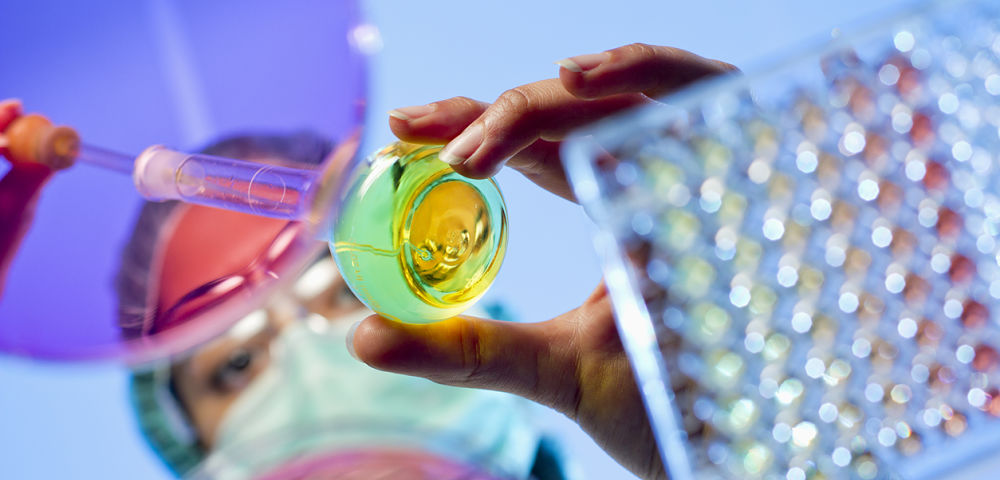 The speed of discovery is usually not related to the zest and dogged pursuit of a single, talented mind, but is more often linked to the pace of collaboration. Science and the life-changing effects of its innovations are a unifying force bringing researchers together from across the world and across disciplines. In fact, in the true spirit of the industry, a recent collaboration between two leading medical instrument companies will allow for increased biopharmaceutical drug breakthroughs and development.
Recently, Pressure BioSciences (PBIO) announced a two-year global co-marketing and distribution agreement with ISS, Inc. First and foremost, this synergistic deal should improve the sales reach for each company, but the real fruit of the partnership is the integration of systems to meet the rising popularity and need for high-pressure optical spectroscopy.
A Deal That Can Open Doors
ISS, a pioneer in optical spectroscopy, provides instrumentation that is used by scientists at the Mayo Clinic, NASA, the VA Administration and the National Institutes for Health, along with numerous other academic institutions and biotech companies across the country. Based on the Agreement with PBIO, ISS will now be able to incorporate Pressure BioSciences' superior automated pressure generators into its spectrometers – retiring an archaic hand-crank mechanism that previously generated pressure – enabling scientists better and faster analysis and understanding of biological molecules and their interactions. This enhanced view of information at the molecular level could be the key that opens the door for future scientific discovery.
Diving a little deeper into this unique alliance, ISS's high-pressure optical cell systems are already used by scientists to view the composition of biological molecules like DNA and RNA for the critical stages of designing new and vitally-needed vaccines and drugs. By applying controlled high pressure – using PBIO's HUB440 and HUB880 ultra-high pressure generators – scientists will have the ability to watch reactions as they are happening. This blending of technology is a win-win for both companies but, most importantly, for the scientific community.
"Our pressure-generating instruments are widely used to control enzymatic activity and manipulate protein conformation in biomarker discovery, quality control of biopharmaceuticals, and biophysical studies of protein drug targets," said Dr. Alexander Lazarev, Vice President of R&D for Pressure BioSciences. "Currently, our customers can only visualize irreversible molecular changes remaining after samples are retrieved from a pressure chamber. However, interfacing the PBI HUB 440/880 pressure generators with the ISS high-pressure optical cell system will allow scientists to visualize and measure pressure effects on molecular interactions and protein conformation as the reactions are taking place in the optical cell – in real time. This novel capability should help scientists better understand how proteins function and interact with other biomolecules, which is critically important in the development of better, more effective diagnostics and pharmaceuticals."
"ISS is a worldwide, leading provider of high-pressure optical cell systems that can be interfaced directly to our spectrometers or utilized as stand-alone units with non-ISS instruments," stated Dr. Ben Barbieri, President of ISS. "The pressure required for the optical cell is currently generated by a manual, crank-operated, non-automatable pressure generator. We believe that replacing this manual crank pressure generator with the computer-controlled HUB 440/880 pressure instruments from PBI could result in the ability to visualize biochemical reactions as they are happening in the pressure cell. The PBI pressure generators will also facilitate automated and significantly faster data collection. Such systems could potentially have a significant and far-reaching impact on drug development and other important areas of biomedical research worldwide."
"We are very pleased to enter into this co-marketing and distribution agreement with ISS," Dr. Nate Lawrence, Vice President of Marketing and Sales for PBI, added in the company press release. "The unique combination of PBI's high-pressure generators and ISS's high-pressure optical cell system is expected to greatly benefit scientists in academic institutions, industry, and government who study biological samples and processes at the molecular level."
In addition, and as relayed in the press release by Dr. Lawrence, the combined instrument system from ISS and Pressure BioSciences was showcased to more than 7,000 scientists at the annual Biophysical Society Meeting in San Francisco, from February 17-20. This unveiling and the partnership behind it are simply another aspect of the new-look Pressure BioSciences portfolio, specifically one that is geared for even better sales growth this year than in 2017.
Recent Moves Are Opening Possibilities for Growth
As indicated above, the agreement with ISS will see both companies swap contact lists and refer business to each other.In addition, Pressure BioSciences has been aggressively creating their own momentum through acquisitions, additional co-marketing agreements and a new field sales team.
Initial evidence of this momentum and growth was the company's purchase of BaroFold along with all existing company patents, equipment and intellectual property related to BaroFold's Pressure-Enabled Protein Manufacturing (Pre-EMT) technology. The deal was a multi-layered addition for the company, as BaroFold's technology offers a strategic complement to Pressure Bio's existing IP.
With the acquisition, the company added a fresh sales channel, as Pressure Bio maintained BaroFold's service contracts (the latter was generating $600,000 in revenue with only a nominal effort toward sales) plus the opportunity to offer manufacturing-scale licenses that CEO Ric Schumacher believes has the potential to eventually generate millions of dollars in annual royalty revenue and the ability to upsell BaroFold's existing client base.
Prior to the acquisition, Pre-EMT technology, a novel protein refolding method that does not require complete denaturation, was successfully licensed out to pharmaceutical and life sciences companies like Lonza and Boehringer Ingelheim. For companies in this field, during the production of biopharmaceutical products, the complex manufacturing processes lead to large-scale molecules, and protein folding is needed to correct errors from bioreactors and aggregation during storage – both of which can lead to side effects in patients. Hence, the FDA mandates the removal of these misfolded proteins, and Pre-EMT technology presents a tried-and-true method to solve the problem.
However, while Barofold owned a leading solution and strong patents in this regard, they were not a well-known name because they did not manufacture instruments that could use their technology platform. Coincidentally, on the other side of the table, Pressure BioSciences was often asked if their technology could handle protein folding, unfolding and disaggregation. They always had to say "no." Thus, the acquisition of BaroFold allows this technology to reach its true potential while Pressure BioSciences further improved their already robust pressure technology portfolio.
Making Improvements to the Core Business
In that vein, the bread and butter of Pressure BioSciences' core business is its patented pressure cycling technology (PCT).The mainstay of the company's PCT platform is the Barocycler 2320EXTREME – the company's recently released, next-generation pressure-based instrument system.Shortly after its release last year, this novel instrument was named a finalist for the vaunted 2017 R&D 100 Awards, also known as the "Oscars of Innovation".
If readers are unfamiliar, PCT is an enabling platform technology based on the natural, physical process of pressure. More specifically, the Barocycler 2320EXT instrument is capable of cycling pressure between ambient (around 14.5 psi) and ultra-high levels (45,000 psi), at controlled temperatures and specific time intervals, to rapidly and repeatedly control the interactions of bio-molecules, such as proteins, DNA, RNA and lipids. Essentially, this method is gentler and more controllable than other current methods. The Barocycler instrument finely controls the pressure, number of pressure cycles, and length of each pressure cycle to allow the researcher to exert just the right amount of pressure to carefully open the cell in order to release the thousands of proteins and lipids within the cell for study, as well as any RNA and DNA that may be present.
In December, the Barocycler 2320EXT received a software enhancement that made it one of the few Good Manufacturing Practices ("GMP") compliant, computer-controlled, sample preparation systems available. The GMP label is difficult to achieve and is a big deal, as it speaks of the highest quality standards. Adding this to the Barocycler 2320EXT allows the instrument to be used in multiple departments within the same company and at multiple points of drug discovery, design, development, manufacturing, and quality control – well beyond where the instrument was primarily used previously. The bottom line is the new GMP feature gives Pressure BioSciences the ability to sell many instruments (and associated consumables) to many divisions in a biopharma company, which gives it a leg up on the competition.
Dr. Lawrence added in the press release, "GMP compliance is not only mandated by the U.S. Food and Drug Administration and equivalent regulatory bodies worldwide, it is also widely accepted by the world's biopharmaceutical companies as the best – if not the only – way to bring a new product to market. Thus we believe that the addition of our new GMP-compliant software and other added features now available with the Barocycler 2320EXT give our current and future biopharma customers the tools they need to comply and excel in this highly regulated industry."
"We believe the new GMP-compliant software will significantly expand the utility of the Barocycler 2320EXT within the biopharmaceutical market," Roxana McCloskey, Director of Sales and Marketing – North America, added. "Over the past few years, PCT has become an enabling technology in many discovery labs. It will now be exciting to watch the PCT platform expand past discovery and into the multiple QC workflows required in the design, development, and manufacture of a final product. With new software and streamlined protocols, we believe multiple labs in the same facility will find the 2320EXT to be very beneficial to their work and that this will translate into a significant increase in sales of instruments and consumables in 2018."
These recent milestones are some of the reasons why Pressure BioSciences generated record revenue – mostly all by word of mouth – in the first three quarters of 2017. This makes it an attractive prospect ready for vertical and horizontal growth. Also, it is important to note these record revenues came before some of the catalysts outlined above, specifically, the new field sales team that is locked and loaded with a GMP-compliant PCT system that appears to have no equal. In conclusion, Schumacher and his team are one of the premier players carving out a market share in this $160-billion industry, and connecting the dots on their recent moves, it is hard to see Pressure BioSciences slowing down anytime soon.
---
In the interest of full disclosure, we call the reader's attention to the fact that Equities.com, Inc. is compensated by the companies profiled in the Spotlight Companies section. The purpose of these profiles is to provide awareness of these companies to investors in the micro, small-cap and growth equity community and should not in any way be considered as a recommendation to buy, sell or hold these securities. Equities.com is not a registered broker dealer, investment advisor, financial analyst, investment banker or other investment professional. We are a publisher of original and third party news and information. All profiles are based on information that is available to the public. The information contained herein should not be considered to be complete and is not guaranteed by Equities.com to be free from misstatement or errors. The views expressed are our own and not intended to be the basis for any investment decision. Readers are reminded to do their own due diligence when researching any companies mentioned on this website. Always bear in mind that investing in early-stage companies is risky and you are encouraged to only invest an amount that you can afford to lose completely without any change in your lifestyle. Equities has been compensated with cash, common shares and/or warrants for market awareness services provided.