~ Keep an eye on the 2018 Farm Bill, which may get a vote in Congress next week ~
According to the National Institute on Drug Abuse (NIDA), part of the NIH, more than 115 people die every day in the US from opioid overdose due to misuse and addiction. Data from NIDA show that up to 29% of patients prescribed opioids for chronic pain misuse those drugs, and up to 12% develop an opioid use disorder. The CDC estimates that the total economic burden of just misuse of prescription pain relieving opioids, heroin and synthetic opioids such as fentanyl is "$78.5 billion a year, including the costs of healthcare, lost productivity, addiction treatment, and criminal justice involvement."
While the search for effective non-opioid pain relief is certainly not a new endeavor, there has been a significant increase in interest in the study of cannabidiol (CBD), the non-psychoactive ingredient in cannabis derived from the industrial hemp plant, as an effective pain treatment. While CBD is readily available in every state across the US, it is still considered to be a Schedule 1 drug as classified by the Drug Enforcement Administration (DEA) despite the growing state-by-state movement to legalize cannabis for both recreational and medical use. Actual enforcement of the federal law, however, is a gray area, even for the DEA.
In an interview last year with WTHR in Indiana, a DEA spokesperson made it clear that the agency understands that patients are finding CBD to be helpful for pain and other medical uses and that CBD users are not a priority for the agency
It would not be an appropriate use of federal resources to go after a mother because her child has epileptic seizures and has found something that can help and has helped. Are they breaking the law? Yes, they are. Are we going to break her door down? Absolutely not. And I don't think she'll be charged by any U.S. Attorney.

-Rusty Payne, Spokesperson, DEA
We've been following Jackson Center, Pennsylvania, based Premier Biomedical BIEI, which is developing and marketing a line of products derived from hemp oil extract to provide generalized, neuropathic and localized topical pain relief. The company has been collaborating since 2012 with the University of Texas at El Paso in the research and development of treatments for post traumatic stress disorder, cancer and other diseases. In 2017, Premier Biomedical decided to develop its hemp oil based pain relief products in order to fund on-going research and development in its biologics division. The current product line encompasses eight products for pain relief, including patches, roll-ons, sprays and ointments.
The company announced today that it has signed a sales and distribution agreement with CBD Hemp Distributing Company to sell Premier Biomedical's pain relief products in four northeastern states. According to Premier Biomedical, CBD Hemp Distributing has an extensive network of sales contacts in the retail pharmaceutical and pain management medical industry.
The experience and expertise in distribution to retail pharmacies and medical pain relief outlets is the reason Premier decided to partner with CBD Hemp Distributing Company. We see this as a way to get our products into the hands of more people suffering from pain in order to combat the use of dangerous opioid medication.

– William A. Hartman, President and CEO, Premier Biomedical.
Investment issues to consider

Premier Biomedical has been trading on the OTCQB Venture Market since July 2018, so it is a fully reporting SEC company that is subject to an annual verification and management
certification process. We note that the company had to effect a 1-for-250 reverse stock split in order for its stock price to qualify for OTC's QB tier. The stock is a true nanocap, trading at $0.07 now with a market capitalization of less than $300,000. The company derives only nominal revenue from its topical pain products so far, posting sales of less than $31,000 in the nine months ended September 30, 2018. CEO William Hartman attributed slower sales in Q3 to issues with a new merchant account processor that interrupted credit card transactions on the company's retail site for several weeks. The company reported about $63,000 in cash on the balance sheet as of the end of September.
In an October 2018 CEO Letter, Mr. Hartman stated that the company was in the process of negotiating non-dilutive financing, but didn't disclose any details. He did assure investors, "We have verified that our bank will make loans available to us at very low rates based on purchase orders in-hand."
The company is clearly on the speculative end of the risk-reward spectrum and is likely best suited for investors with a long-term horizon. While we don't typically follow companies under $1 million in market cap, there is a key upcoming legislative action that is being followed very closely by all companies associated with hemp and CBD oil and that we think would be especially impactful to the fortunes of Premier Biomedical and its shareholders.
The 2018 Farm Bill
The Farm Bill reauthorizes farm and nutrition programs nationwide about every five years. According to Megy Karydes, writing yesterday in Forbes, "Congress is expected to vote on it as early as next week." In 2014, President Obama authorized states to permit, for the first time, hemp to be grown as part of state-approved pilot programs. That set the stage for this next Farm Bill, which calls for the legalization of hemp at the federal level. While passage of this bill would be the next step toward federal legalization of all cannabis, the near term impact for all hemp related companies would be the reclassification of hemp, moving off Schedule 1 and becoming simply an agricultural commodity. For a company as small as Premier Biomedical, the change could have a materially beneficial effect on revenue and cash flow.
If the Farm Bill passes in its current form, it could create a stable and predictable revenue base for Premier Biomedical and its line of hemp oil based pain relief products. The company would then be in a better position to manage the development of its biologics division, which investors may currently view as virtually a free call option. Investors should watch for the Farm Bill next week, and, in the coming months, signs that the company is shoring up its balance sheet in a non-dilutive way.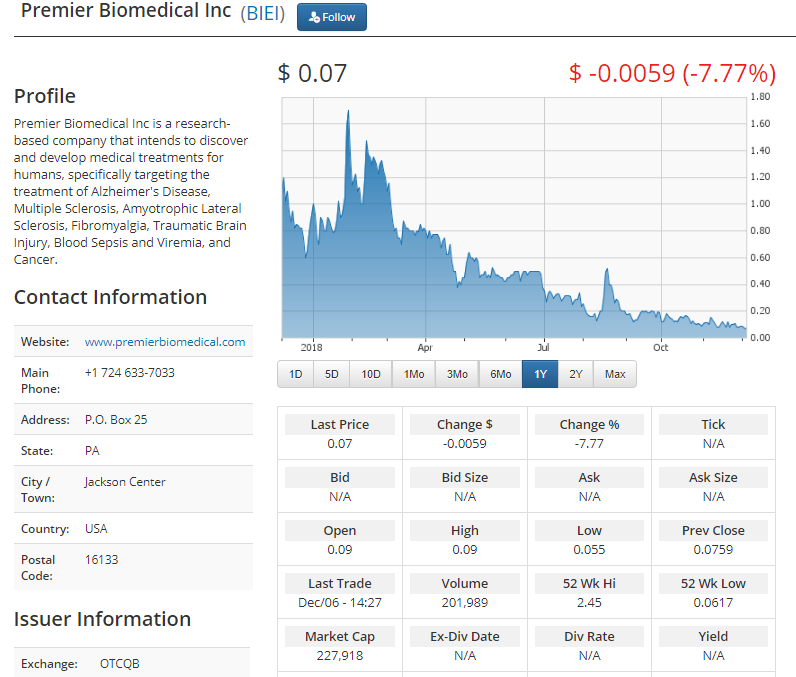 Please email us at [email protected] to see our Case Studies and Testimonials.
Please click here for information on our new trading platform.
Please click here to receive our free daily newsletter.