According to the Parkinson's Foundation, about one million people in the US live with Parkinson's disease—more than the combined number of people diagnosed with multiple sclerosis, muscular dystrophy and Lou Gehrig's disease—with 60,000 new diagnoses each year. Over 10 million people globally have some form of Parkinson's.
Melbourne, Australia, based Prana Biotechnology PRAN announced this week that it had enrolled and dosed its first patients in the Phase I clinical trial of its lead candidate, PBT434, for the treatment of Parkinsonian diseases. PBT434 has been shown in animal models to reduce the abnormal accumulation of certain proteins—alpha-synuclein and tau—that are implicated in neurodegenerative diseases such as Parkinson's disease and atypical parkinsonism.
Multiple system atrophy (MSA) and progressive supranuclear palsy (PSP) are two forms of atypical parkinsonism with no approved therapies. Sufferers experience especially rapid deterioration compared to Parkinson's disease and typically have motor symptoms that respond poorly to available treatments. Patients with MSA also have difficulty maintaining their blood pressure along with bowel and bladder dysfunction, while PSP patients suffer from unsteady gait, frequent falls, visual difficulties and cognitive impairment.

Alpha-synuclein is an important disease target for Parkinson's and other neurological diseases. In addition to The Michael J. Fox Foundation for Parkinson's Research—which provided Prana with a research grant to help develop PBT434 in 2011—firms such as AstraZeneca AZN, Biogen BIIB, Roche RHHBY and Takeda TKPYY all are pursuing alpha-synuclein programs. Further, Prana has a collaboration with Takeda to study PBT434 in the slowing or prevention of neurodegeneration of the gastrointestinal system.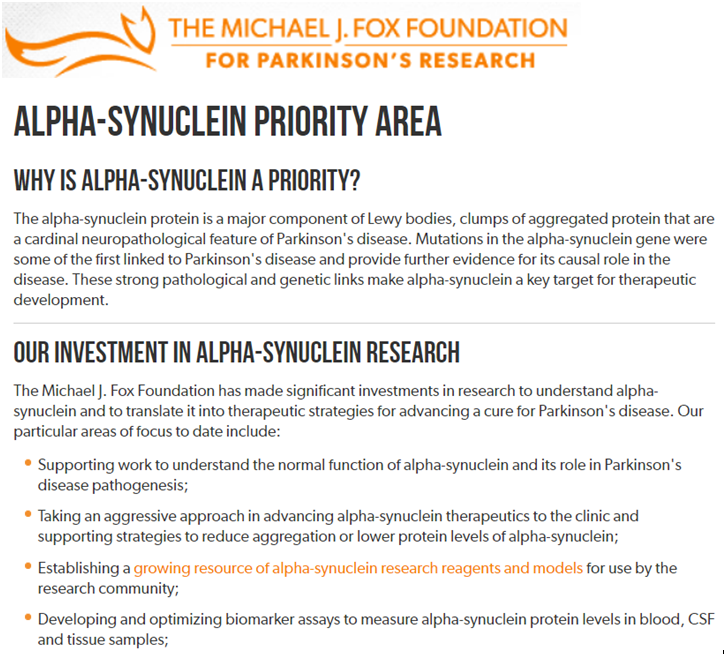 Source: The Michael J. Fox Foundation for Parkinson's Research
The development program for PBT434 is being led by David Stamler, MD, who has been Prana's Chief Medical Officer since June 2017. He was previously Vice President, Clinical Development and Therapeutic Head, Movement Disorders, at Teva Pharmaceuticals TEVA, where he led the development of Austedo (deutetrabenazine), which was approved by the FDA for the treatment of Huntington's associated chorea and Tardive dyskinesia.
The first human administration of PBT434 is a major milestone for Prana. MSA and PSP are devastating diseases with no effective treatments and this is an important first step in developing a therapy for individuals with these diseases.
– David Stamler, MD, Chief Medical Officer, Prana Biotechnology.
Investors have been justifiably wary given Prana's previous struggles in the clinic with its Huntington's and Alzheimer's candidates. The failures of those drugs in clinical trials in 2014 highlighted the chasm between success in animal models and success in human patients, and the move in the stock since Tuesday has raised the market capitalization to only $22 million. We believe that there may be cause for cautious optimism this time, however, given the new clinical target, Dr. Stamler's track record and current modest valuation.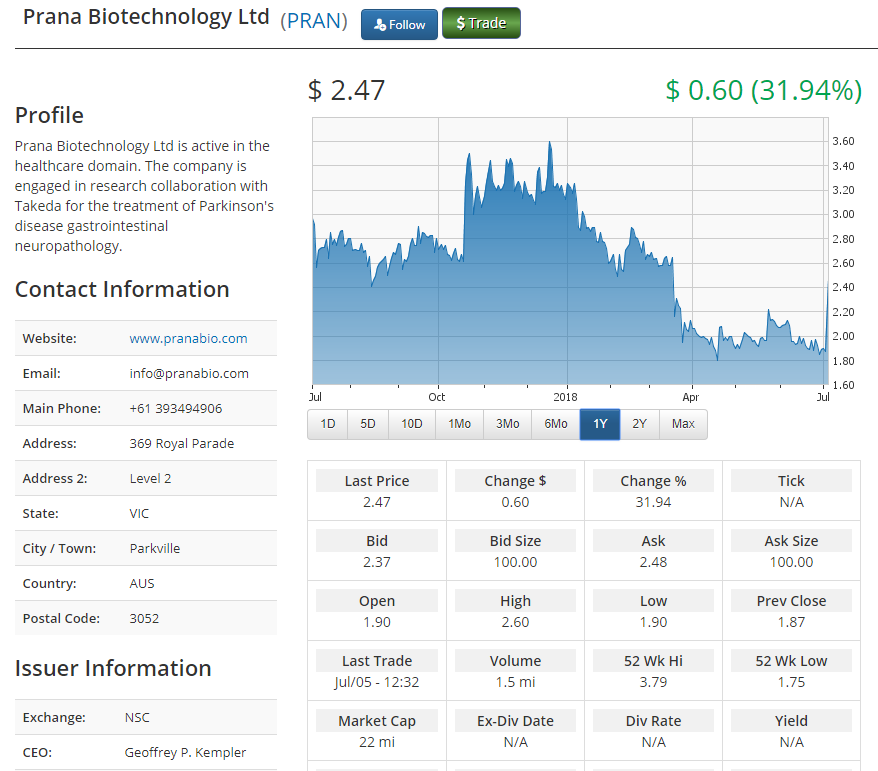 Please email us at [email protected] to see our Case Studies and Testimonials.
Please click here for information on our new trading platform.
Please click here to see our weekly newsletter.