Anticoagulants such as Janssen's Xarelto (rivaroxaban) and Bristol-Myers Squibb's Eliquis (apixaban) are blood-thinning medicines known as Factor Xa inhibitors that can stop blood from clotting and are frequently prescribed to reduce the risk of stroke. A dangerous side effect from these medicines, however, is that life-threatening or uncontrolled bleeding can occur. In the US alone in 2016, there were approximately 117,000 hospital admissions attributable to Factor Xa inhibitor-related bleeding and nearly 2,000 bleeding-related deaths per month.
Portola Pharmaceuticals (Nasdaq: PTLA) announced after the close yesterday that it had received FDA approval for Andexxa (andexanet alfa) as the first and only antidote indicated for patients treated with rivaroxaban and apixaban, when reversal of anticoagulation is needed due to life-threatening or uncontrolled bleeding.
The FDA had initially rejected Andexxa in 2016, asking for additional information primarily related to manufacturing, along with additional data to support inclusion of additional anticoagulants in the label. Portola resubmitted its application in August 2017 and announced FDA approval yesterday under the Accelerated Approval pathway based on the change from baseline in anti-Factor Xa activity in healthy volunteers. We note that improvement in hemostasis was not established, and Accelerated Approval means that Portola will have to conduct a post-marketing study to demonstrate such improvement in patients. The company said that the trial is scheduled to be initiated next year and be reported in 2023.
The approval of Andexxa was supported by data from two Phase 3 studies (ANNEXA-R and ANNEXA-A) published in The New England Journal of Medicine. As described in the label, results demonstrated that Andexxa rapidly and significantly reversed anti-Factor Xa activity. The median decrease in activity from baseline was 97% for rivaroxaban and 92% for apixaban.
Source: New England Journal of Medicine
Interim data from the ongoing ANNEXA-4 single-arm, open-label study in patients with major bleeding also were assessed by the FDA as part of its review and approval. Data from 185 evaluable patients showed that Andexxa rapidly and significantly reversed anti-Factor Xa activity when administered as a bolus and sustained this reversal when followed by a 120-minute infusion. The median decrease from baseline was 90% for rivaroxaban and 93% for apixaban.
Today's approval represents a significant step forward in patient care and one that the medical community has been eagerly anticipating. Andexxa's rapid reversal of the anticoagulating effects of rivaroxaban and apixaban will help clinicians treat life-threatening bleeds, where every minute counts.
– Stuart J. Connolly, MD, ANNEXA-4 Executive Committee chairman, Professor in the Department of Medicine of the Faculty of Health Sciences at McMaster University.
Portola expects to launch Andexxa under an Early Supply Program with Generation 1 product in early June. Broader commercial launch is anticipated in early 2019 upon FDA approval of its Generation 2 manufacturing process.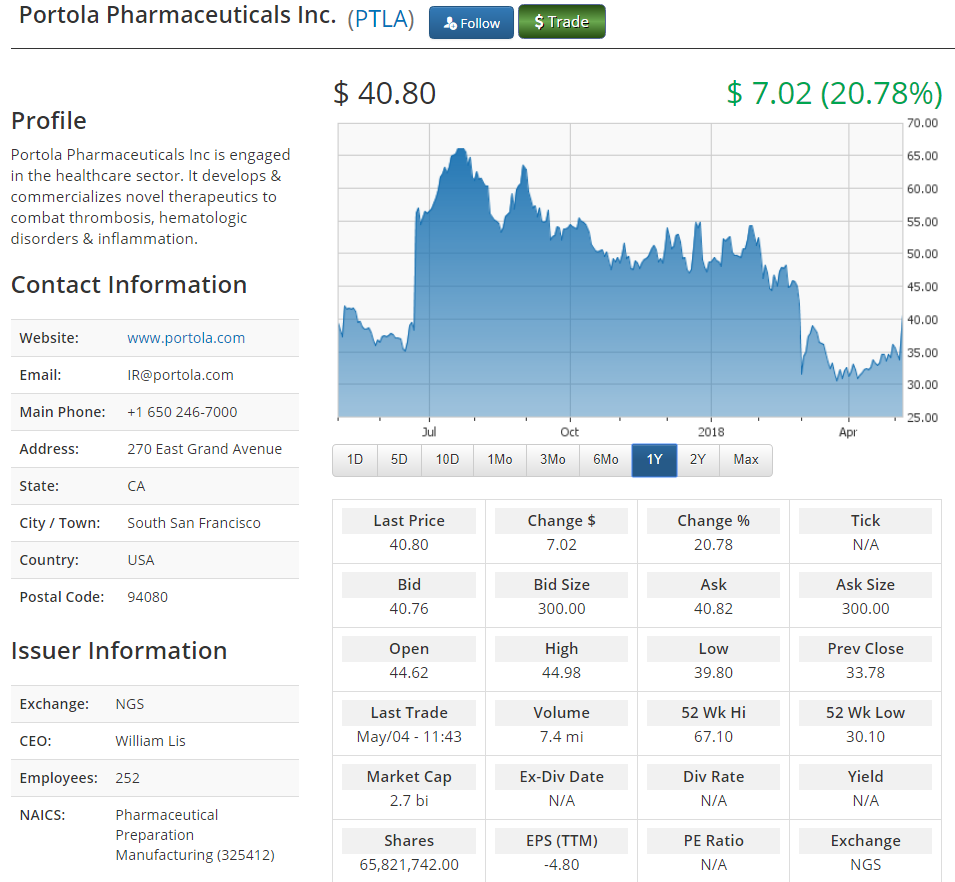 Please email us at [email protected] to see our Case Studies and Testimonials.
Please click here for information on our new trading platform.