With Oklahoma's vote last week that permits the prescribing of cannabis to patients whom doctors believe will derive medical benefit, there are now thirty states plus Washington, DC, that permit the legal use of cannabis for medical use. Nine states plus DC permit legal recreational use. Voters in Michigan, which already permits medical use, will vote on recreational use this November, while Utah voters will be voting on medical cannabis use, according to Z. Byron Wolf, who wrote, "This feels like a tipping point on marijuana legislation," for CNN after the Oklahoma vote.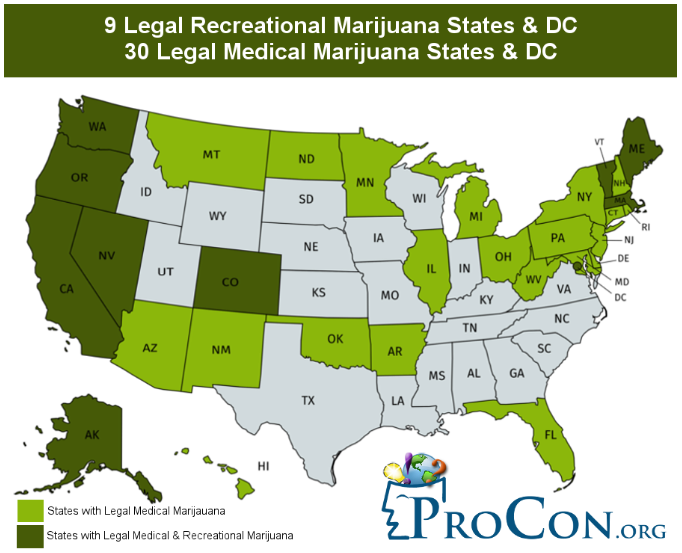 Source: ProCon.org
President Trump stated in June 2018 that he "probably will end up supporting" a bill introduced by Senators Cory Gardner (R-Colorado) and Elizabeth Warren (D-Massachusetts)—who rarely find themselves on the same side of an issue—that would give states autonomy over their own laws regarding the use of cannabis. This would be consistent with the president's campaign promise and would greatly benefit the cannabis industry as a whole, though it does create yet another point of contention between the president and Attorney General Sessions—who remains steadfast in his opposition to legalized marijuana and in his support of federal control.
Players Network (PNTV)
We've been following a Las Vegas based company called Players Network PNTV that appears to be well positioned to capitalize on the continued wave of state-by-state legalization of cannabis. In May 2018, the company acquired the assets of a 56,000 sq. ft. fully operational greenhouse complex in Salinas, California, that is licensed to cultivate cannabis. The acquisition price of $5 million is being paid in installments, and Players Network expects the facility to generate $11 million in annual revenue.
The Salinas operation is being run under the company's Green Leaf Farms subsidiary and gives Players Network an operational foothold in California, the world's largest cannabis market, to complement its existing Nevada business. The company has four licenses in Nevada to cultivate and produce marijuana for both medical and recreational use. Chairman and CEO Mark Bradley has committed to executing the company's "plans to expand operations in both states internally and through additional acquisitions."
Source: Player's Network
Restructuring
Players Network also announced in May 2018 that it had restructured its business to refocus on its core seed-to-sale cannabis operations, including cultivation, production and retail sales. The company also committed to narrowing the scope of professionally produced content for its WeedTV lifestyle channel and has placed all marijuana media assets into a separate holding company called MJ Media, wholly owned by Players Network.
Capital challenges… with potential legislative relief in California
The primary challenge facing Players Network will be maintaining sufficient operating capital while limiting further dilution to shareholders. The company reported over 594 million shares outstanding as of May 18, 2018, when it released its Form 10-Q for the first quarter of 2018. It will be critical for the company to obtain non-dilutive or, at least, minimally dilutive financing in order to execute on its business plan.
The cannabis industry has long been hampered by federal law which prevents banks and credit unions that are federally regulated and insured from accepting money from cannabis businesses. We highlighted in this space in April 2018 the legislative efforts of California State Senator Bob Hertzberg (D-Van Nuys) to facilitate traditional banking for the growing cannabis industry. Senate Bill 930, which would enable these institutions to offer limited banking services to California's legal cannabis businesses, has made steady progress through the state legislature, with passage by the Senate, the Assembly Banking Committee and the Assembly Business and Professions Committee. Next stop is the Assembly Appropriations Committee.
California's Department of Finance estimates that the state will collect $600 million in cannabis taxes this year, according to a press release by Sen. Hertzberg's office when he first introduced the bill in April. "Unlike most businesses, cannabis businesses arrive to government offices with duffel bags of cash to fulfill their tax obligations." As Nick Cahill wrote in Courthouse News last week, "State officials estimate that the industry could generate up to $20 billion in revenue by 2020."
Mr. Cahill wrote further that Fiona Ma, Vice Chair of California's Board of Equalization—the state's tax administrator—believes that California's legislation "could spark a nationwide trend" if it gets approved. "We believe if this does pass, at least 30 states will be trying to pass similar legislation," said Ms. Ma.
Outlook
We believe that management's decision to streamline its focus on the core business of cannabis is the right one, and the recent expansion into California will be significant if the company can produce anything close to management's projections of $11 million annually. Revenue for the 12 months ended March 31, 2018, was only $280,000. Recognizing that recreational use of cannabis in Nevada has been legal only since July 2017, we eagerly await the company's second quarter numbers to see if they reflect continued growth from the modest base.
Mr. Bradley is an experienced digital media executive who, upon the legalization of medical cannabis in Nevada in 2015, founded Green Leaf Farms. He has acknowledged that the company had spread itself too thin in 2017—which was reflected in the decline in stock price last year—and affirmed that management "intends to divest assets not aligned with its investment philosophy."
The stock trades on the OTCQB Venture Market, which means the company is current with its reporting and is subject to annual verification and management certification by OTC Markets. At the current market capitalization of about $26 million, the stock may be viewed almost as a call option, both on the industry momentum for state-by-state legalization and on management's ability to integrate and monetize its most recent acquisition successfully.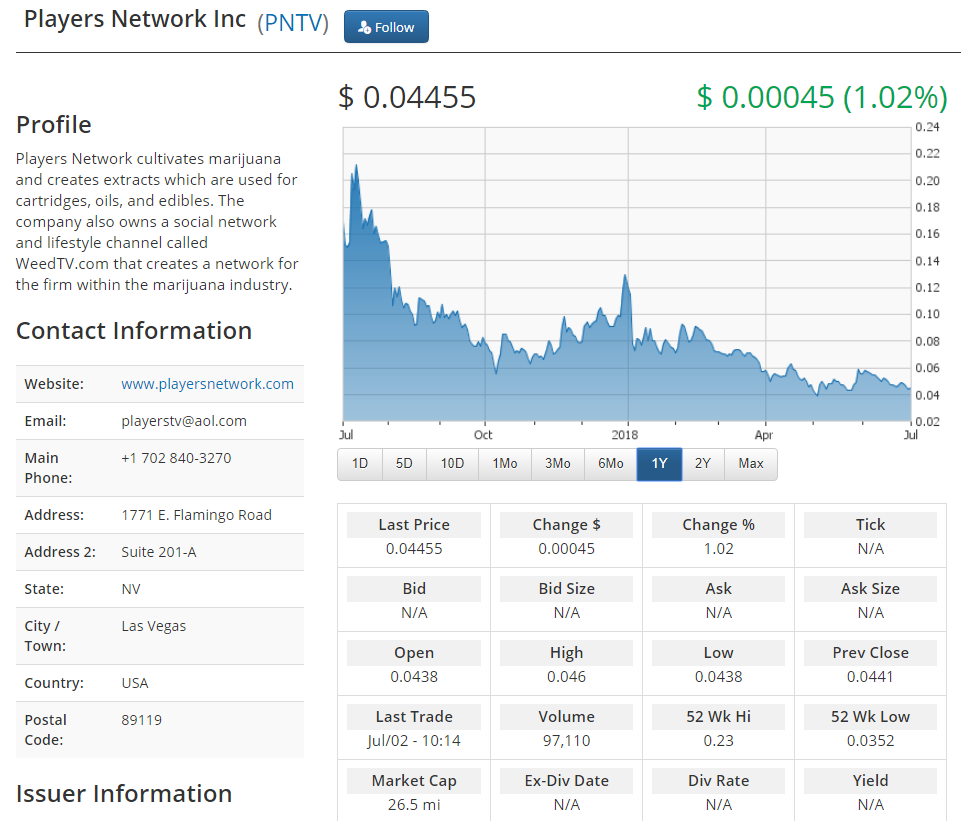 Please email us at [email protected] to see our Case Studies and Testimonials.
Please click here for information on our new trading platform.
Please click here to see our weekly newsletter.