A study published in April 2018 in the UK-based Journal of Archaelogical Science found evidence that early humans from as far back as 14,000 years ago in the Paleolithic Era had been caring for dogs as pets. Further examination of a well known gravesite in Oberkassel, Germany, led researchers to conclude that a puppy had not only been domesticated but had also been cared for through an extended period of illness.
The connection between people and their animal companions has obviously continued unabated across the centuries. Pet owners will spend over $72.1 billion in the US in 2018, up from $69.5 billion last year, according to research and estimates from the American Pet Products Association, with over a quarter of this expenditure, $18.3 billion, comprising veterinary services. A June 2018 report from Grand View Research estimates the broader animal health market—encompassing companion animals as well as production animals—will grow from $42 billion in 2017 to nearly $65 billion by 2025.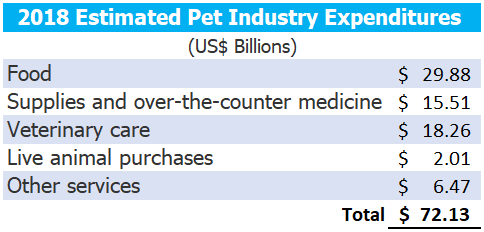 Source: Estimates by American Pet Products Association. Chart by Equities.com.
PetVivo
We've been following a company based in Edina, Minnesota, called PetVivo PETV that is adapting human biomedical technology for the veterinary market to treat pets suffering from arthritis and other afflictions. The company represents a speculative play on the $18 billion veterinary care market. PetVivo's initial product, just launched in Q2 of this year, is the Kush System, a medical device featuring injections of patented gel-like biomaterials into the afflicted body parts of dogs suffering from osteoarthritis and horses suffering from lameness due to navicular disease, a problem associated with misalignment of joints and bones in the hoof and digits.
The Kush System is veterinarian-administered and consists of a mix of elastin and collagen, natural lubricating components that are designed to cushion like cartilage does while providing a healing scaffolding for injuries, along with heparin, which is commonly used to prevent or reduce clotting.
About one quarter of pet dogs in the US are diagnosed with some form of arthritis, according to a 2015 paper by Stephanie Bland at Southern Illinois University. Based on the American Pet Products Association's estimate of 89.7 million pets dogs in the US, that equates to about 22.4 million arthritic dogs. PetVivo believes this to be a $7.7 billion market opportunity for the Kush System.
Additionally, the Kush System has been demonstrated to treat equine lameness due to a diseased navicular bone, or distal sesamoid bone. Damage to this bone is a frequent cause of chronic forelimb lameness, according to Kentucky Equine Research. typically arising in mature riding horses. PetVivo estimates that one million owned horses in the US and EU suffer from lameness and/or navicular disease each year, creating a market opportunity of $600 million annually.
Investment issues to consider
The company has achieved no commercial revenue to date and states in its most recent Form 10-Q for the quarter ended September 30, 2018, that it "will need to raise substantial additional capital through private or public offerings of our equity or debt securities, or a combination thereof, and we may have to use a material portion of any capital raised to repay past due debt obligations." The company reported less than $44,000 of cash on the balance sheet at the end of September.
Additionally, the company trades on the OTC Pink Open Market, which entails no financial standards or disclosure requirements. The stock trades very thinly, with average daily volume over the past three months of less than 6,000 shares. As the OTC Market itself states, "The Pink Market is for professional and sophisticated investors with a high risk-tolerance for trading companies with limited information available and limited regulatory oversight."
Bearing this in mind, we see indications that this past third quarter may have served as a positive inflection point operationally. PetVivo's Form 10-Q for the September quarter was filed in a timely fashion; many OTC Pink companies miss their filing deadlines, if they bother to file at all. Further, the company launched its new website in August 2018, and we've found it to be more informative than many companies of this size and financial condition. The site includes case studies of its canine osteoarthritis treatment in veterinary settings.
PetVivo also added three new board members in Q3, with experience on public biotechnology company boards, investment banking, corporate advisory, consulting and institutional investment. The company also shored up its management team with the additions of a Chief Science Officer, Senior Project Manager and Manager of Manufacturing, Analytical and Process Engineering. These are all harbingers of a company that believes commercial milestones are just ahead.
At $0.26 per share, the stock carries a market capitalization of about $5 million. Investors should watch this company closely as we approach 2019 to see if it can successfully raise the capital it needs and if it can execute on the promise of its canine and equine arthritis treatments. Veterinarians in the case studies have reported positive results with no adverse side effects with the Kush System, and the treatments address a very large and growing potential market opportunity of pets and the people who care for them.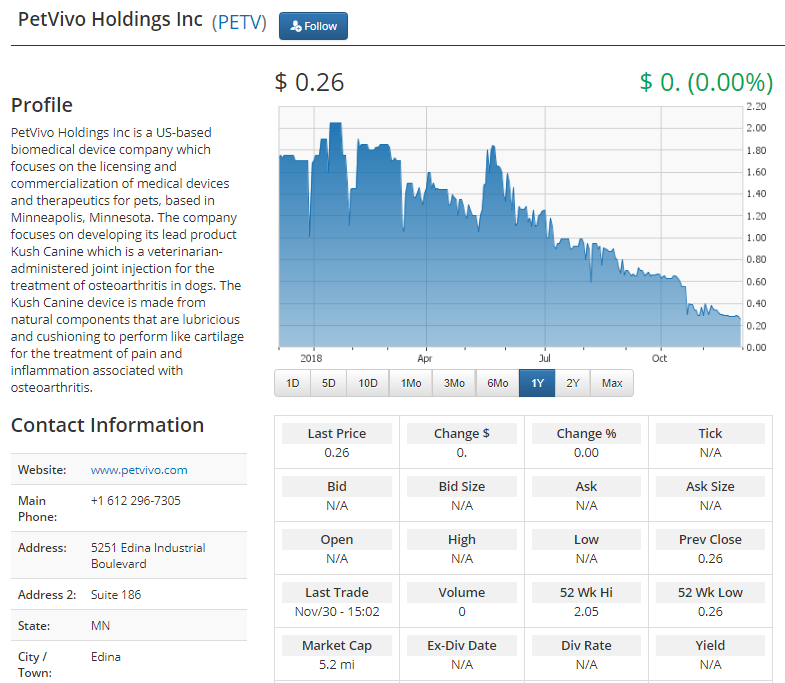 Please email us at [email protected] to see our Case Studies and Testimonials.
Please click here for information on our new trading platform.
Please click here to receive our free daily newsletter.