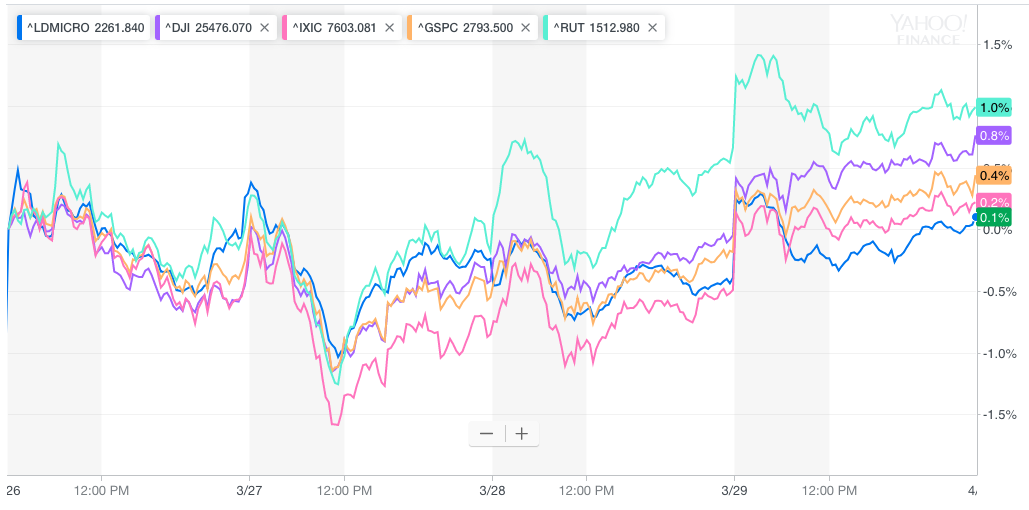 A relatively serene week in markets, which all closed in the green.
It was a relatively flat week for the micro-cap world and the LD Micro Index. Sidoti had their event in New York City and Sierra Monitor SRMC was bought out for over a 50% premium by MSA Safety. Sierra was active at our events in the past year, and we wanted to congratulate Mr. Jeff Brown and the team on a successful exit.
We are two months away from the Invitational and have a new found focus in-house on strictly compelling names. Without divulging secrets or things that others can easily replicate (which has been the norm over the past few years), I shall provide some rare insight into how we go about selecting companies for our bi-annual extravaganzas.
The perfect company is the one where half of the room is bullish on its prospects, and the other half is either negative, or uncertain.
In this case, the polarity is your friend, but you need a "secret" ingredient to stir up the pot. You need the sides to be vocal and passionate about their beliefs, and in person. Strong, constructed arguments, and a little bit of humility go a long way, but the trick is an active dialogue between the opposing parties.
Very few companies have had this distinction. One is a very popular company from Houston, and the other released a shareholder letter this week.
Something to be wary of is "herd mindset." One of the biggest red flags in my short career has been "unanimous conviction" or total agreement from a group of very intelligent investors. When a lot of smart people all unanimously agree that something is a compelling buy, or a "big time short," seldom does it make money for those involved.
Naturally, everyone is wondering what we have in store for April Fools this year. Well, for one thing, I am not leaving. Cross that out. LD is not being acquired by a frozen food packaging company, although many synergies probably exist. We are not signing a partnership deal with XM to talk about horror stories in the financial world.
What is happening behind the scenes is that we are losing control. Outside of our universe, the valuations that are currently being printed are beyond absurd. Value investing is a lost art for those of us who have three, five, and ten-year views.
For me, it is a combination of greed, fast money, excessive liquidity, and above all else, stupidity.
If this article does not signal the "top," I don't know what will.
The biggest regret I've had professionally is not working for a hot tech start-up that has access to copious amounts of capital and little or no desire for profitability. FCF has been replaced with WTF.
In golf, we call it, "Drive for show, putt for dough."
For the past five years, we have been working on a secret tech project code-named "Hawkeye," for the hawk that resides right next to our home, poops actively on my rooftop, but keeps the local rodent population in check.
The valuation for this company is exponentially greater than anything currently on the market. Outside of a time machine, nothing can be more disruptive.
One of the few people who has changed my life for the better, and someone I strongly recommend to anyone who wants to be a better communicator, is Mr. David Nour.
The ability to start a conversation with someone you do not know is quickly becoming a relic of the past. Eye contact is a fright fest of sorts. A handshake, "get away from me or I'll call the cops".
In my opinion, it is the hardest part of communication.
When starting conversations, the first thing that always pops into my mind to ask is "Where are you from originally?" This gives me tremendous insight because you can focus on specific geography.
If someone says "Cleveland," I have no further questions to ask. Outside of that (Toledo and Cincinnati are acceptable), we can have fun.
This week, I sat on a bus for the first time in 20+ years just to see what it was like. Of course, the bus was at capacity and I noticed an elderly man who did not have a seat. It was the easiest decision made all week. I asked him if you would like my seat, and with great reluctance, he finally agreed to take my offer. Sure enough, the lady sitting next to him left at the next stop, and the seat was available. He asked if I wanted to sit next to him and I was grateful (the dude next to me reeked of what smelled like parmesan).
His name was Earl, and he asked me a question no one else in my life has ever asked.
"If you had a time machine, would you go back or into the future, what year specifically, and why?"
For whatever reason, this made me cry and I tried not to show it. I said it was allergies.
I give him my answer, and then ask why this was his first question.
Earl then responds, "Because no question gives me more visibility into a person than this one. There is a high probability that you and I will never see each other again, and I want to make the best of the short time we have together."
We all need to make the best out of the short time we have together.
My answer was:
Ft. Worth, Texas
January, 1st, 1947
CL
---
Impact.
Highlighting Anomalies Amongst the Week's Biggest Gainers, Losers, & Volume Leaders.
by Christian Galatti (Phase 4 Research)

Curis CRIS, 114x Average Volume on March 25th
Funding the Future with Legacy Products.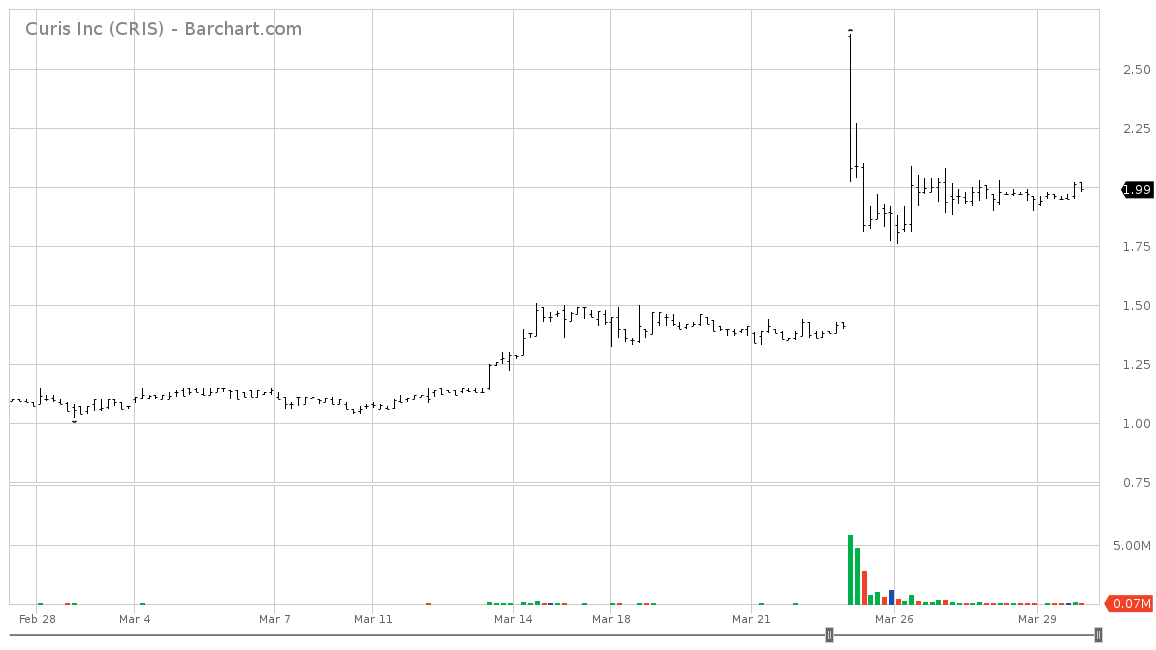 MARCH 25, 2019 – 5:30 AM PDT
Curis Sells Portion of Erivedge Royalties to Oberland Capital for up to $135.7 million
– Curis received upfront payment of $65.0 million – Curis eligible to receive an additional $70.7 million in milestones and share in annual royalty amounts

Although the LD Micro volume indicators picked up Curis this week, the stock actually started to move up two weeks ago when CRIS started coming off a $1 bottom. Trading 20 million shares to a double this week when it sold a portion of Erivedge, a drug that Curis developed with Genentech RHHBY seven years ago.
01.30.2012 Genentech said today that a cancer drug it developed with Curis…was approved by the FDA to treat basal cell carcinoma, a common form of skin cancer. The drug, called vismodegib (Erivedge), will be prescribed to patients with carcinomas that have spread to other parts of the body or that have returned after surgery or prior treatment. "These are patients who until now had no effective treatments," says Genentech's Jennifer Low, global development leader for vismodegib. "We're really excited to be giving them new hope." (Link.)
In 2012 valuations for Erivedge pointed toward a sales peak in 2022, with royalties to Curis of about $43 million. So when they sold a portion of their rights for up to $135M in payments it became immediately obvious to the market that the valuation surrounding CRIS was misunderstood.
11.28.2012 Cowen's Simos Simeonidis and Yatin Suneja have pegged peak potential sales of Erivedge at $533 million in 2022, worth $43 million in royalties.
By selling a portion of Eviredge for $65M up front, with the potential for $77M more, the sale could successfully fund the company for another two years. Creating optionality around their technology rather than waiting for another round of dilution.
(Analyst Note: $40M burn last year (10K), with $23M in cash + $65M up front from Erivedge = 24+mos of cash without additional milestone payments).
---
ACQUISITION: Sierra Monitor ($SRMC, +51%) to be acquired by MSA Safety to Expand Reach in Connected Safety Products
ACQUISITION: Onex ($ONEX.TO) Agrees to Acquire Gluskin Sheff ($GS.TO)
ACQUISITION: Enghouse Systems Limited ($ENGH.TO) to Acquire Espial Group Inc. ($ESP.TO)
$IDWM Exploring Strategic Relationships and Alternatives
Curis ($CRIS, +81% pre-market) Sells Portion of Erivedge Royalties to Oberland Capital for up to $135.7 million
Nemus Bioscience, Inc. Changes Name to Emerald Bioscience, Inc. ($EMBI) and Provides Update of Recent Research Accomplishments
ON Semi (ON) Acquires Quantenna (QTNA) for $1.07B, or $24.50 Per Share, All Cash
Sony Pictures Television and Chicken Soup for the Soul Entertainment ($CSSE) Form Joint Venture "Crackle Plus"
Flux Power ($FLUX) Selected to Provide Lithium-Ion Walkie Pallet Jack Batteries to Major Global Forklift Manufacturer
LiqTech International, Inc. ($LIQT) Pre-Announces Record First Quarter 2019 Revenue and Profitability, Growing Order Backlog, and Intent to List on Nasdaq
Natural Health Farm Holdings, Inc. ($NHEL) Issues Statement About Recent Promotional Activity Concerning Its Common Stock Pursuant To OTC Markets' Request – down 77% for the week
Cutting fat…Fatburger ($FAT) Goes Skinny, Re-Branding as Skinnyburger
FTE Networks ($FTNW) Receives Reprimand Letter from NYSE Regulation
$25 Million Infusion by SolarWindow ($WNDW) Chairman Drives Multi-Million Dollar Equipment Order & Expansion