Image source: Penn National Gaming's "Powerful Combination" Deck
With the Super Bowl just a few days away, the economy around sports gambling is in the middle of a seismic shift. Since the repeal of the Professional and Amateur Sports Protection Act in May 2018, states have made incremental moves toward allowing sports gambling. Twenty states and the District of Columbia have passed sports betting regulations, while more states are looking to follow suit in 2020.
For this reason, the U.S. legal sports betting market is estimated to reach $13 billion, according to Jefferies Group. James Wheatcroft, the equity analyst who provided the estimate, noted this was a conservative number.
The Penn National and Barstool Sports deal
For these reasons, the deal between Penn National Gaming, Inc., a casino operator with 41 facilities across the country, and Barstool Sports, the controversial sports and pop-culture blog, makes a nice pair.
Under the terms of the agreement, Penn National will pay Barstool Sports $163 million (~$135 million in cash and ~$28 million in non-voting convertible preferred stock) for 36% interest in the company and secured, exclusive rights to the Barstool Sports brand for use at Penn National online and retail sportsbooks including Barstool branded restaurants. Penn National's sports betting ads will also appear in Barstool content. The deal values Barstool at $450 million, and Penn National will up its stake in to 50% after three years following an incremental investment of $62 million.
"We needed to find a sports media partner that had a great brand, had a loyal audience, that wanted to fully integrate and align with Penn National Gaming and that wanted skin in the game with us," Jay Snowden, CEO of Penn National, told CNBC. "And Barstool is that partner."
As an aside, the deal represents a successful exit for Peter Chernin, a Hollywood executive and investor. Chernin acquired a majority stake in Barstool in 2016. Entities affiliated with his Chernin Group will own 36% of Barstool after the deal, with the remaining 28% held by Barstool employees.
Image source: Penn National Gaming's "Powerful Combination" Deck
Investors seemed to be in favor of the deal as Penn National shares increased nearly 12% after the news broke of the Barstool media integration. We can understand why they might like the move. When Dave Portnoy started Barstool Sports, it was a gambling rag. Today, the site boasts 66 million "Stoolies," and 62% of them gamble on sports. Moreover, the presentation released yesterday added that 44% of those 66 million Stoolies gamble once a week, and 41% of them say their average bet is $51.
A gamble on bringing in a younger demographic
One of the critical reasons for Penn National to do this deal is to bring in a younger audience. Sixty-five percent of Barstool's audience falls between the ages of 21- 44, whereas Penn National's average casino customer is in his mid-50s. "Sports betting is a great nexus for us to start attracting and converting younger sports bettors," Mr. Snowden told The Philadelphia Business Journal. Barstool brings a majority male audience to the table, and sports betting typically attracts an affluent, younger male audience.
In addition to the deal with Barstool, Penn National already has agreements with DraftKings, PointsBet, theScore and The Stars Group to operate online betting inside its casinos, specifically catering to the fantasy sports wagering economy.
The deal follows other media-betting partnerships in the industry. Fox Corp. negotiated a partnership with The Stars Group, the parent company of Poker Stars. Meanwhile, ESPN brokered a partnership with Caesars Entertainment Corp. to open a TV studio for betting fans in the Linq Casino in Las Vegas.
Dave Portnoy and Barstool's controversial history
Penn National might have hedged its bets across the online sports gaming landscape because of Barstool's less than stellar reputation. In 2017, ESPN nixed a Barstool-themed sports show after only one day on the air. The abrupt cancellation came after employees at ESPN brought attention to derogatory comments Portnoy and other Barstool staff members made about sportscaster and ESPN Sunday NFL Countdown host, Samantha Ponder.
Then, on Tuesday, January 21, 2020, Portnoy and the company reached an informal settlement with the National Labor Relations Board. The deal called for the deletion of tweets and other anti-union material created by the company. The controversy began when Portnoy re-posted a 2015 article stating he would "smash" any employee union effort. Initially, Portnoy did not back down from the tweets. Instead, he reiterated his position in subsequent tweets, posting a shirt for sale with his face and the words "Union Buster."
When asked about barstool's checkered past, Jon Kaplowitz, head of Penn Interactive, told Bloomberg those issues did give the company pause, but Kaplowitz was "confident it [Barstool] can avoid trouble."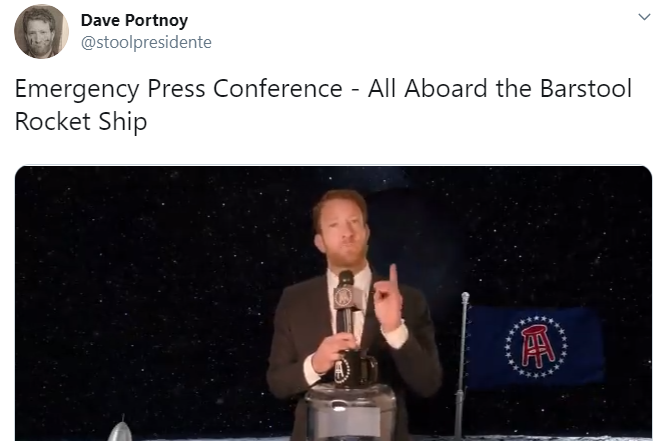 In a surprise to no one, after the news of the deal broke, Portnoy launched a fake press conference from the surface of the moon. Later in the day, he went on Mad Money and said the deal "is so big, I'm trying to get to, like, buy-sports-team-type mogul."
One thing is certain, the convergence of sports, gambling and media is happening.
At the time of writing, Penn National Gaming was up 7.1% in mid-day trading.