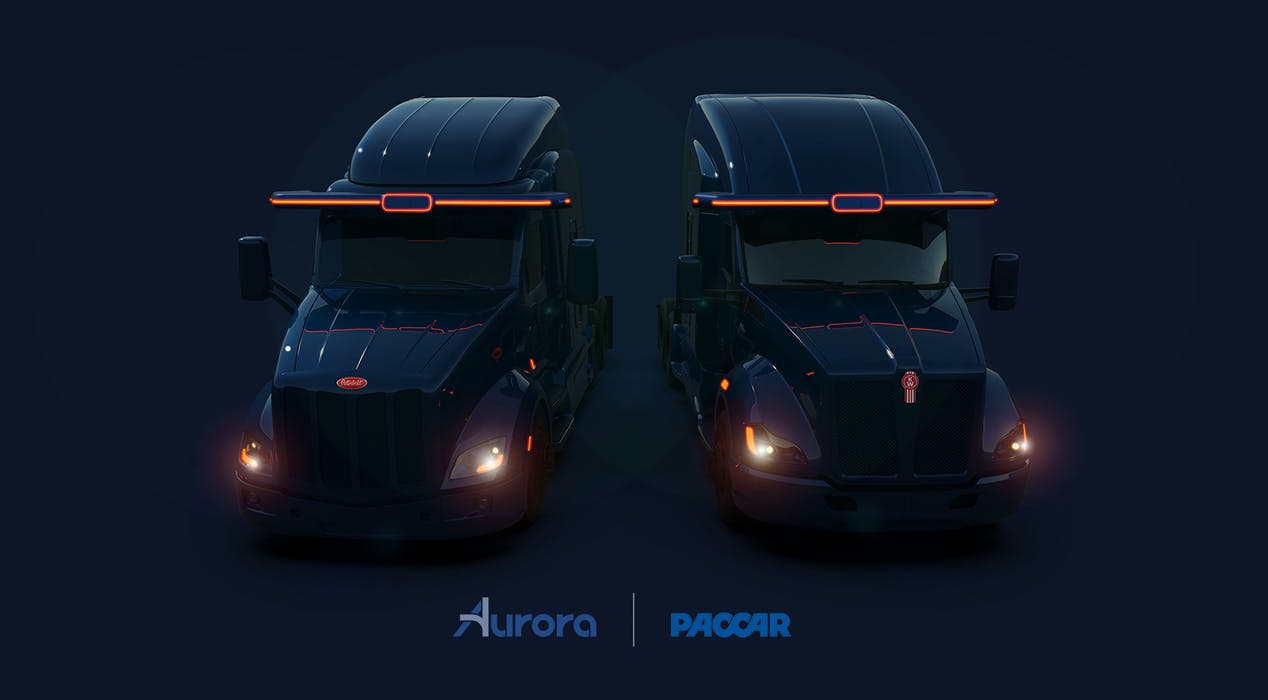 Image source: Aurora Innovation
Aurora Innovation, a Silicon Valley start-up backed by Amazon, has partnered with leading truck manufacturer PACCAR to develop self-driving big rigs.
Under the partnership announced Tuesday, the two companies will develop, test and sell trucks powered by Aurora's autonomous-driving technology in an effort to improve freight efficiency and safety for PACCAR's customers.
Aurora will also collaborate with Washington-based PACCAR on "an expansive commercialization plan for the deployment of these trucks at scale over the next few years," Sterling Anderson, Aurora's co-founder, wrote in a blog post.
Preston Feight, Paccar's chief executive officer, said in a press release, "PACCAR looks forward to partnering with Aurora because of their industry-leading autonomous driving technology and impressive team. This strategic partnership complements PACCAR's best-in-class commercial vehicle quality, technology and innovation."
The two companies expect to deploy "driverless-capable" trucks based on PACCAR's Peterbilt 579 and Kenworth T680 models in North America within the "next several years."
Since being founded in 2017, Aurora has developed an autonomous system that has been integrated into six different types of vehicles. Now, it is focused on creating the first fleet of self-driving semis.
Chris Urmson, Aurora's co-founder and chief executive officer, believes the partnership "brings us one step closer to unlocking the autonomous freight market and delivering goods to those who need them."
The announcement follows last month's news that Aurora had agreed to acquire Uber's self-driving vehicle business and that its first market-ready product would be an autonomous truck. The $4 billion deal reportedly closed on Tuesday.
PACCAR and Aurora are the latest companies to partner in an effort to develop self-driving trucks, according to the Wall Street Journal. Other truck makers including Navistar International and Daimler have struck similar alliances.
Proponents believe using self-driving technology to haul freight could help improve highway safety, reduce costs for trucking companies and speed up shipping times.
The COVID-19 pandemic, some experts believe, will hasten adoption of self-driving vehicles for delivery. Besides minimizing the spread of the virus, autonomous trucks could help fulfill a spike in local truck traffic to meet consumer demand.
_____
Source: Equities News