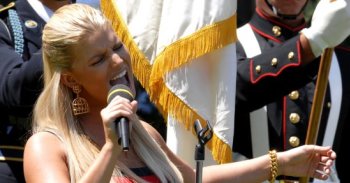 Sequential Brands Group Inc. ($SQBG) bought the Jessica Simpson brand in April and continues its aggressive acquisition strategy with an offer to buy Martha Stewart Living Omnimedia, Inc. ($MSO) for $370 million or $6.45 per share. Final details of the sale are still being negotiated according to sources close to the deal, but the sale price is a 25% premium above the Wednesday closing price and $MSO shares were halted briefly during Thursday trading. It should be noted that shares of Sequential Brands were also higher on the rumored deal.
Sequential Brands acquired Jessica Simpson's brand in April which is expected to bring in $1 billion in revenue sending shares 60% higher so far in 2015 and now with the addition of the Martha Stewart Line to its burgeoning portfolio of high profile celebrity brands SQBG is making a splash. I follow the small cap apparel sector, and wrote about the Jessica Simpson acquisition and the growth story SQBG is building in a recent article "The Jessica Simpson Effect." Again, I want to reiterate the strategy for the company doesn't look to be slowing anytime soon, shares added a surprising 12% yesterday on news of the deal when normally the acquiring company shares trade lower, not the case here with Sequential Brands proposed acquisition of Martha Stewart.
The Final Chapter for Martha Stewart
Shareholders of Martha Stewart must be relieved that Sequential showed up as the white knight to snap up this struggling company, whichhas had negative annual sales since 2007, with sales declining 12% in 2014 - and 2015 didn't look much better. It seemed like the final chapter for Martha Stewart, a lifestyle icon who founded the company in 1997 in New York.
Daniel Dienst, the current CEO hired in 2013 tried to save the struggling business, but had little success, no doubt encouraging this final act for Martha Stewart shareholders. Her foray into owning a public company was a disaster - which included insider trading, jail time for Stewart, losses of 90% of shareholder valuation and constant criticism over the last decade, eroding a once highly touted brand. For the most part, Martha has endured all the personal criticism, but shares of her public company never regained the $35 share price post-IPO, and fell to as low as $2. Since then, it's seemed destined to wallow at these levels. This is the final attempt to salvage a highly recognized American brand and hand over the reins to a pro.
Sequential Brands' 34 year-old CEO Yehuda Shmidman pulls off another great deal for the company bumping valuation of his company closer to the billion dollar mark, which no doubt pleases shareholders. However, he will be required to squeeze value from the Martha acquisition. This will require his team to close the deal quickly and not drain all of his cash or leverage his cash flow. He also must execute in Q3 or Q4 of this year to arrive at the billion dollar valuation the company seeks.
The apparel brand consolidation continues and Sequential Brands sits squarely in the driver seat. Now the company needs to turn celebrity brands into stable revenue for the remainder of 2015, knowing that analysts will be anxiously awaiting earnings numbers to see how CEO Schmidman is molding his growing company.
DISCLOSURE: The views and opinions expressed in this article are those of the authors, and do not represent the views of equities.com. Readers should not consider statements made by the author as formal recommendations and should consult their financial advisor before making any investment decisions. To read our full disclosure, please go to: http://www.equities.com/disclaimer